The Highlanders traveled 300 miles north to Arcata on May 22 for a second round North Coast Section (NCS) Division 4 play-off game. Arcata junior Merick Sears pitched a complete game gem, holding Piedmont to one run in the Tigers' 3-1 win. Senior right fielder Mason Trapkus drove in two runs for Arcata.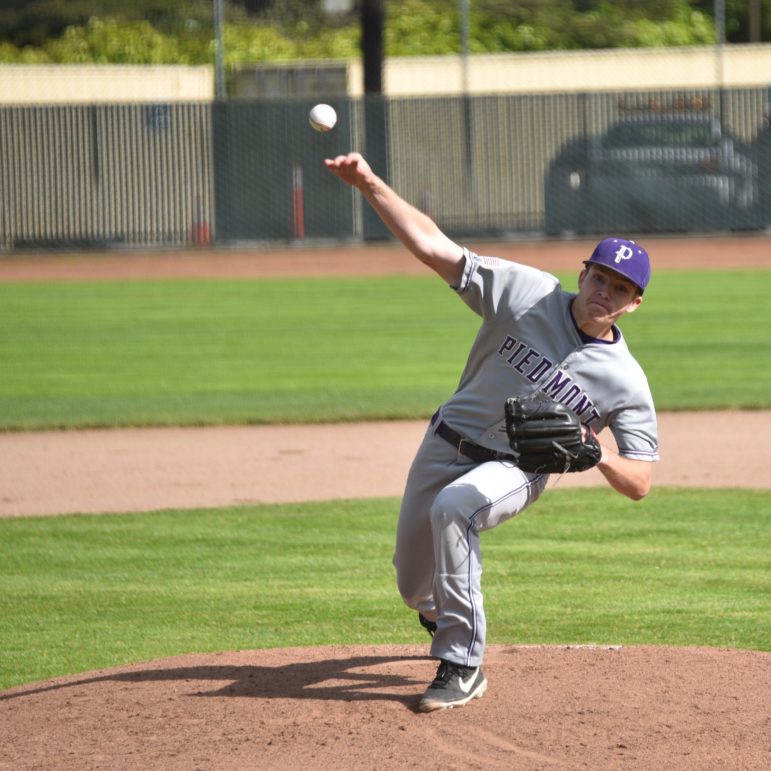 For the Highlanders, pitcher Ryan Fitzgerald delivered another stellar performance.  He gave up only one earned run, but Arcata took full advantage of four Piedmont errors to push across two more. Alex Hilton came on in relief in the 6th. Catcher Cal Barna caught three Arcata runners trying to steal.
Cal Barna

Alex Hilton
Arcata kicked off the scoring in the bottom of the second inning.  After a single and a wild pitch, Trapkus singled home the first run of the game.
The teams entered the 4th with the Tigers still up 1-0, when Piedmont struck for a run.  Joe Sassi singled and stole second base.  Kyle Spanier then lined a single over the third baseman's head to plate Sassi, and the Highlanders tied the game at 1-1.
Kyle Spanier

Joe Sassi
Arcata answered in the bottom of the 4th with a run of their own.  The lead-off batter reached base on a Piedmont error and advanced to second on a sacrifice bunt.  The next batter walked, and a single knocked in Arcata's go-ahead run.  With runners at first and third, Barna caught the runner trying to steal second, and Arcata led 2-1.
In the 5th, a Piedmont error put an Arcata runner on first with two outs.  He advanced to third on a steal and over throw, and scored on another single by Trapkus, pushing Arcata's lead to 3-1.
Sears shut down the Highlanders in the last two innings, finishing the complete game with 108 pitches. In addition to Sassi and Spanier's hits, Lars Derr had Piedmont's other hit.
Jonah Sanders

Abe Barnes leads the cheers

Trent Settlemier
The Highlanders finished an historic season at 16-9, having won the West Alameda County Conference (WACC) title outright for the first time in Coach Eric Olson's tenure. Arcata, now 22-6, beat St. Patrick-St. Vincent of Vallejo 5-4 on May 24 to reach the NCS finals. The Tigers play McKinleyville, 22-3, on May 29 for the Division 4 title.
Photos by Julie Moll