The Highlanders ended the regular season with two more wins in the West Alameda County Conference (WACC)-Shoreline Division. They went 14-7 overall, and 11-3 in the WACC. Next up is the WACC-Shoreline tournament, where the top-seeded Highlanders face 4-seed Hayward on May 7 at 4PM. That game will also be senior day for Piedmont, with a celebration for the 10 graduating seniors starting at 3:30PM.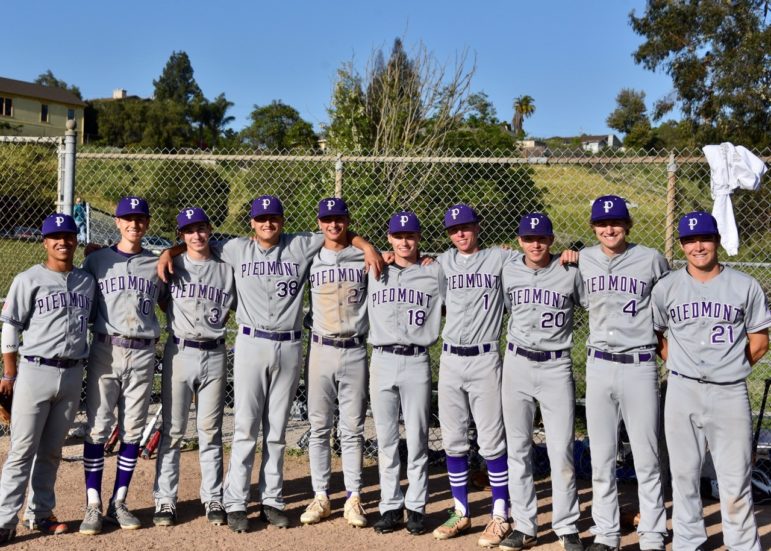 Piedmont 11, Hayward 4
On April 30, the Highlanders won their final regular season game against the Hayward Farmers, 11-4.
Abe Barnes started and earned the win with 4 and two-thirds innings of 3-hit ball. He also struck out 4 batters. Barnes was supported in relief by Lucas Derr, Lars Derr, and Josiah Rubinson, who made his first varsity appearance.
Lucas Derr delvers

Abe Barnes confers with pitching coach Steve Thobe

Josiah Rubinson finishes a pitch
Piedmont had 2 big innings, scoring 4 runs in the 1st and 6 runs in the 5th. In the first inning, Owen Levinson was hit by a pitch and proceeded to steal second base. Joe Sassi followed with an RBI single, and raced to second when the center fielder misplayed the ball. Paul Woolcott reached base on a single to center field. For the second consecutive game, Trent Settlemier smacked a big first-inning triple, bringing in Sassi and Woolcott. Settlemier made it home on the hit on an error by the shortstop, and Piedmont led 4-0.
Owen Levinson

Joe Sassi slides into second

Paul Woolcott runs the bases
Hayward rallied for two runs in their half of the first on a home run. Piedmont got one of those runs back in the second, though, when Luke Harris singled, stole second, and scored when Sassi singled up the middle.
Hayward scored a run in both the 4th and 5th innings, and the game entered the sixth inning with the Farmers cutting Piedmont's lead to 5-4.
Piedmont put together a big inning in the 6th. With singles by Ryan Fitzgerald, Jonah Sanders, and Owen Levinson; walks drawn by Settlemier and Sassi; a hit-by-pitch for Harris; and 3 Hayward errors, Piedmont pushed across six runs to seal the game. Pinch-runner Nick Parker, Sanders, Harris, Levinson, Sassi, and Settlemier all crossed the plate in the inning.
Jonah Sanders makes the play

Trent Settlemier scores a run

Ryan Fitzgerald rounds third
Highlander pitching and defense shut down Hayward in the 6th and 7th innings, with Rubinson closing out the game with a scoreless inning. Settlemier had 3 RBI's, Sassi had two, and Levinson, Woolcott, and Sanders each added one. Levinson, Sassi, and Fitzgerald had multi-hit games, while Harris, Levinson, Sassi, and Woolcott each scored 2 runs.
Piedmont 4, Mt. Eden 2
On April 29, Piedmont traveled to Mt. Eden and secured a 4-2 victory behind the efficient pitching of Alex Hilton and Cal Barna.
Alex Hilton

Brian Cain

Cal Barna
In a tightly-played game, the Highlanders had only 4 hits. The first was a lead-off triple by Trent Settlemier in the 1st. Joe Sassi followed with a walk and a stolen base. Settlemier and Sassi both scored when Kyle Spanier reached base on an error by the left fielder, and Piedmont had a lead they would not relinquish.
Hilton cruised through the first inning, but Mt. Eden scored a run in the second inning on a single and a double. The 2nd ended with Piedmont up 2-1.
Lars Derr

Kyle Spanier

Aidan Dixon
In Piedmont's half of the 4th, Paul Woolcott singled and advanced to second on a productive Lucas Derr ground-out. Alex Hilton helped his own pitching cause with a sharp single to right field, driving in Woolcott. Hilton stole second and scored when Brian Cain reached base on an error. Piedmont led 4-1.
Mt. Eden put Hilton to the test in their half of the 4th. The lead-off batter hit a double, advanced to third on a wild pitch, and scored on a ground out to first baseman Woolcott. With two outs, Mt. Eden loaded the bases on a single, a walk, and a Piedmont error. Hilton struck out the next batter to shut down the rally, and the Highlanders had a 4-2 lead.
Hilton again shut down the Monarchs in the 5th inning, and Barna came in to pitch in the 6th and 7th. Mt. Eden had runners at second and third base in the bottom of the 7th when Barna closed out the victory with a big strikeout.
Myles Smith

Ben Levinson

Luke Harris
Hilton and Barna combined to strike out 10 Mt. Eden batters while allowing 7 hits. Hilton struck out 6 in five innings, and Barna struck out 4 in two innings. Piedmont's defense backed the strong pitching with only one error. Piedmont's four hits came from Settlemier, Woolcott, Hilton, and Ben Levinson. Levinson, Hilton, and Sassi combined for 3 stolen bases.
Photos by Julie Moll