Piedmont High School's Joy Zhou and Jeremy Yiu won the mixed doubles title at the North Coast Section (NCS) Division 2 badminton championships on May 11 at Piner High School.
Zhou and Yui defeated Piner's team of Anna Carlson and Ryan Le in the final, 21-10, 21-14.
Zhou and Yui were one of three Highlanders teams to finish in the top three. The girls doubles team of Vanessa Tang and Isabelle Griffis finished second, dropping the championship match to University-San Francisco's Amy Yu and Eva Krueger, 21-8, 21-12.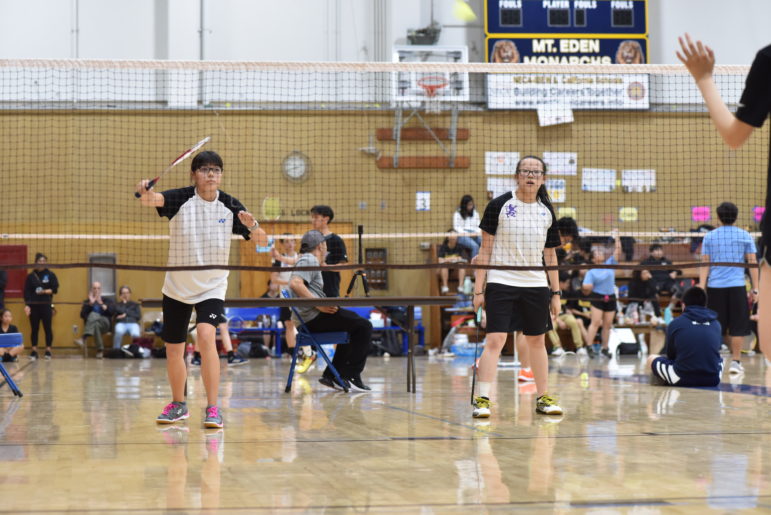 The boys doubles team of David Zhou and Thomas Yu took third place, beating the Hercules team of Royce Chan and Ricky Kuang in the third place match, 21-8, 21-8.
Piedmont took second in team scoring with 21 points, behind Kennedy-Fremont, which had 38 points.
Zhou and Yiu opened the tournament with a 21-4, 21-5 win over Petaluma's Miranda Grevin and Ethan Shahbazian. Next came a victory over the Moreau Catholic team of Katherine Tran and Alex Nguyen, 21-8, 21-6.
In the quarterfinals, Zhou and Yiu downed Analy's Emmy Rio Garcia and Sean Stanley, 21-18, 21-18. In the semifinals, Zhou and Yiu beat University's Catherine Ko and Alex Sheft, 21-17, 21-13.
Amy Foo & Ann Mulgrew

Vivian Wu & Lucian Lin

Joseph Haggerty & Niko Rapport
Tang and Griffis started off with a 21-9, 21-18 win over International-San Francisco's Anoosha Hudson and Annabel Menendez. They followed that up with a 22-20, 21-8 victory over Moreau Catholic's Anza Vo and Micaela Ang.
Tang and Griffis then made the finals with a 21-19, 21-17 win over University's Tulasi Holdridge and Lauren Teotico.
Rohan Marangoly

Kyle Chan
The boys doubles team of Zhou and Yu lost their opening match and had to fight through the consolation bracket to get third place. Kennedy-Fremont's Eric and Brandon Wang – the eventual champions – beat Zhou and Yu, 21-18, 21-19. Zhou and Yu rebounded with a 21-11, 21-11 win over Petaluma's Anton Horyath and Mike Ayala. Next came a win over San Domenico-San Anselmo's Andrew Xiang and Mark Yang, 21-4, 21-9.
Zhou and Yu then beat Analy's Richard Harsano and Jacob Louvam, 21-15, 21-18 to take the third place match.
Photos by Fin Lee