Sam Reynolds scored five goals to help lead the Highlanders to their first North Coast Section (NCS) championship game. The host Highlanders defeated University-San Francisco 10-5 on May 14 to advance to the final. Piedmont will play at No. 1 seed Novato on May 16 at 5:30 p.m.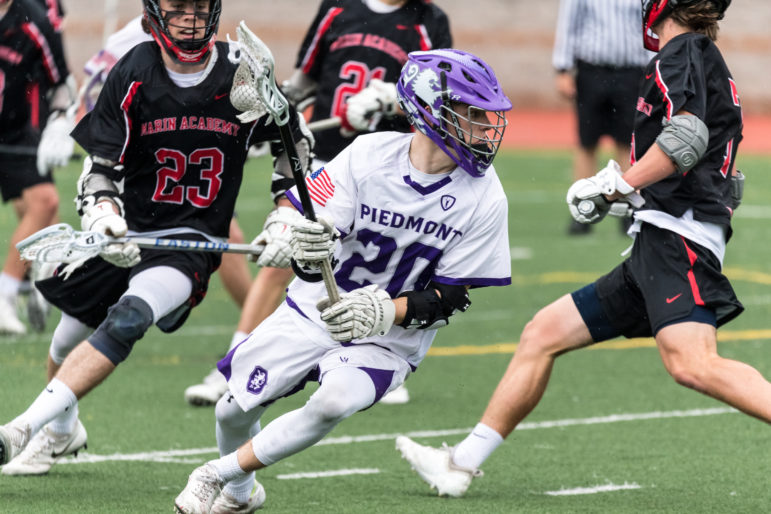 "It means a lot," Reynolds said. "First time in Piedmont history that we've been to the finals. It's crazy because these are my closest friends. We've been playing together since we were nine years old."
Said senior Marshall Petty, "We have a senior-heavy team, so at the start of the year, we had this set on our minds.
"Lacrosse, we've always gone to semis. Sports has been a big part of my life and I've never gone to a final in anything, so I'm really excited."
Petty had two goals and three assists for the Highlanders, now 15-8.
Piedmont got out to a 5-2 lead in the first quarter and was never threatened. University plays a tough zone defense, and the Highlanders never quite had their offense break out. But they controlled the ball for most of the game.
"That team, they play very disciplined, very conservative," Piedmont coach Ryan Price said. "They get you to fall into their traps. They try to get you to press too much, they try to make you take outside shots."
However, once Piedmont had the lead, it stayed more or less in control. Miles Fawcett scored the first goal of the game for the Highlanders. Paris Gakuba evened it up at 1-1, but then Reynolds scored his first goal off of a pass from Petty. Nate Gudzar then set up Rex Peters to make it 2-1 in favor of Piedmont, and the Highlanders led the rest of the way.
Rex Peters

Ian Joseph
Fawcett finished with two goals. Ian Joseph had two assists. Gakuba had three goals to lead the Red Devils (16-5).
Next up is a rematch with Novato (17-7). The Hornets advanced with a 13-6 win over Justin-Siena-Napa in the semifinals. Novato beat Piedmont 15-9 on April 27.
"It feels good, but we're not satisfied," Price said. "First championship game for Piedmont so we're pumped, ready to go. Earned one more practice."
Photos by Sam Deaner & Julie Reichle