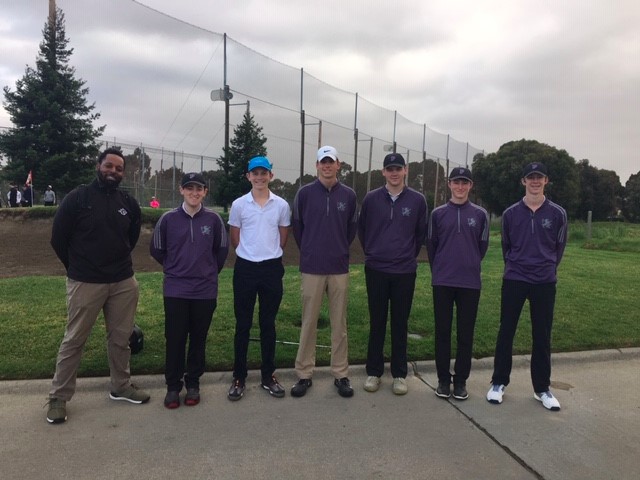 The 10-3 PHS Golf team transitioned from 9-hole matches to 18-hole tournaments over the past few weeks, as the 2019 season winds down.
Right after Spring Break, the team competed in the Transbay High School Invitational, which raises funds from the teams' entry fees to fund scholarships for golfers with financial hardships. Piedmont's entry fee was covered by an anonymous donor, negating the need to use PHS High School or PHS Booster funds. Twenty-one teams competed in the tournament at the moderately short, but incredibly narrow, Dollar Ranch Course. Many golfers saw their shots fly out of bounds off the tee and around the greens.
Nate Wilson

Gavin Kordetani with Coach Oliver

Henry Lambert
Piedmont shot a 436 total and placed 10th out of 21 teams, with Nate Wilson posting the team's low score of 82. Las Lomas High had the overall best team total of 377 while John De Benedetti of San Ramon was the overall medalist, shooting a 2-under 69.
A week later, the Highlanders competed in the West Alameda County Conference (WACC) tournament at Monarch Bay in San Leandro. Piedmont placed 3rd out of 9 teams with a team score of 439.
Henry Lambert paced the team with an 81, putting him 7th overall among 42 WACC golfers. Castro Valley's strong team took advantage of the tournament being played at their home course and posted a solid 397 to win, featuring a 1-over 72 by Travis Miller (medalist). Bishop O'Dowd placed second at 403.
Golf team pre-match

Patrick Filler

Boys golf warms up for a match
Piedmont's 3rd place WACC finish was high enough to secure an at-large bid to the North Coast Sectional (NCS) tournament this coming Monday, May 6th, at Peacock Gap in San Rafael.
Photos by Howard Oliver & Helen Lambert