Evan and Debbie McConathy with Emmy
Persons: Mike, Debbie, Evan and Ryan McConathy
Pet: Emmy
Age: She'll be 2 in June, or maybe July — we're not exactly sure of her birthdate.
Breed: A mix of Labrador Retriever, hound, and Pit Bull. But everyone says she looks like a Dalmatian.
Adoption story: Emmy is originally from Tijuana, Mexico. We got her right before Thanksgiving 2017. We're not exactly sure how she got to California, but she came to us when a friend of a friend realized that having a newborn baby and a new puppy at the same time was a bit much. She began calling around to friends, and we said "yes!"
Likes: Emmy loves to learn and picks up new tricks quickly. She can circle and sit, shake, high five and pick the hand where we are hiding a treat.
Dislikes: Eating the same food every day. We buy her a variety of flavors and different brands of canned food.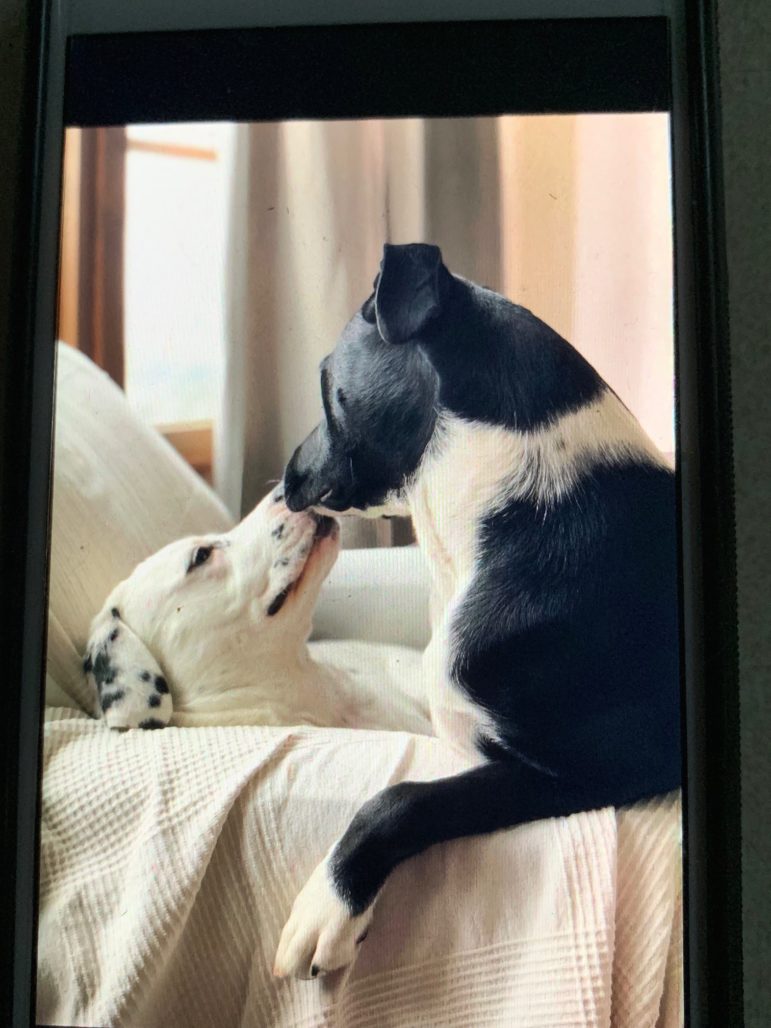 Interesting facts: We also call her "Chewy" because when she wakes up in the morning she almost sounds like the character Chewbacca from Star Wars.
Anything else we should know: Emmy came with a best friend named Jackson (who almost looks like a mirror image of her). Jackson was adopted by another family but he and Emmy have a play date every Tuesday. Jackson always waits by the window for Emmy to arrive. So cute! They love each other so much and spend the first 15-20 minutes going crazy and biting each other's faces.