Known for her role as a moderator at the center of Piedmont's growing art scene, Valerie Corvin has developed into an artist in her own right. She will show her work April 12-14 at the Piedmont Center for the Arts as part of the group show "Personal Truth," alongside artists Katie Korotzer and Dee Tivenan.
Hidden Treasure #1

Another Step

Smoke on the Water
Corvin's path to becoming a painter was unconventional. Her father was a successful jewelry designer, but Valerie steered away from studio art and earned a Master's degree in museum administration. She worked, raised three children, served behind the scenes at both SFMOMA and the Oakland Museum of California, and did not begin painting until she was in her 40s. At first, she says, painting was not what she wanted. "I found it unfulfilling. There were already a lot of expectations on me to perform in a certain way: as a mother, wife, volunteer, daughter, sister, public relations jack-of-all-trades, museum administrator."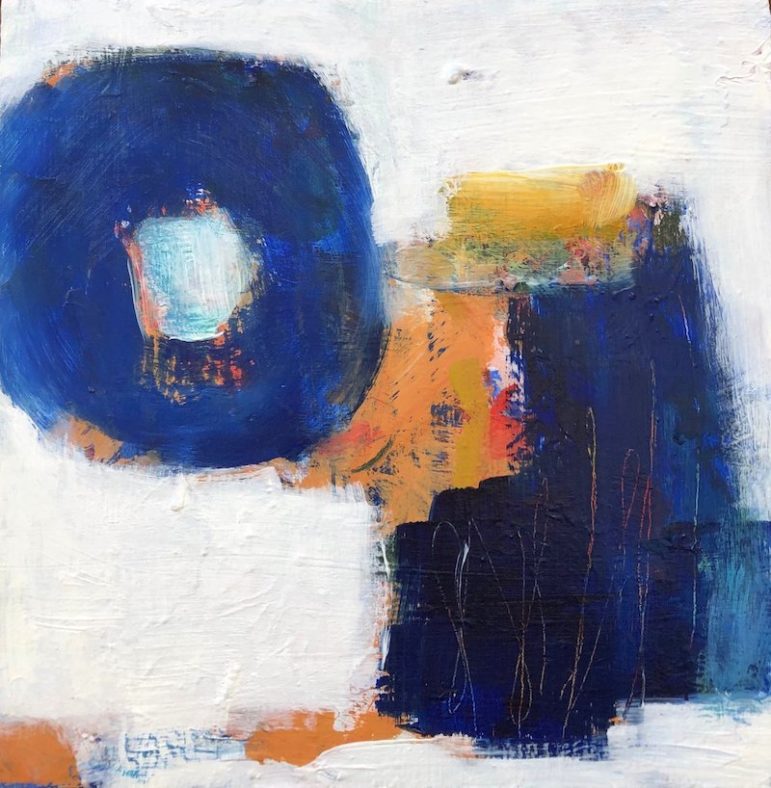 But as she grew as an artist, moving away from representational painting, she discovered that abstract art was the ideal forum for exploration. "You end up finding yourself," she says. "It's all a journey to your personal language that comes only with time," she says.
"I want to be as expressive as I can be. The world is so chaotic. We need to see more meditative spaces."
Corvin describes the work she'll display at the "Personal Truth" show as some of the most revealing she has ever created. "In abstract art you don't have to meet expectations that a round apple looks like a round apple. But you explore your inner self, looking to express yourself through color, texture, line. It's reflective."
Her technique usually involves applying three to five layers of paint and etching she calls "mark making." Her series titled The Space Between includes marks resembling modern day petroglyphs, leaves falling, hopscotch grids or empty calendars, sailboats, sunspots that linger long after closing the eyes, and more.

Hope Fills My Dreams

Corvin prepares the PCA for a juried art show
Corvin says that the Piedmont community and Bay Area women have played a strong role not only in nurturing her artistry, but in strengthening Piedmont's support of the arts.
For instance, public response to a letter art center founders sent out several years ago asking the people of Piedmont to contribute to renovating the Christian Science Church building at 801 Magnolia Avenue launched an amazing journey. "Nearly $100,000 just showed up," Corvin recalls. "And from the day of opening, people have just showed up. They're so happy and proud that we exist."
With exhibits, poetry slams, film festivals, speaker events and music concerts featuring local, national and international artists, Corvin says the staff and volunteers remain open to suggestions. "Obviously we struck a chord. It's truly exciting."
---
Learn more about Corvin and her work at www.valeriecorvin.com.
.