Piedmont High School's softball team ended a tough week on March 30 with a 12-2 nonleague loss to host El Cerrito. The Highlanders had to forfeit a game the day before because two players collided on a play and had to leave the game.
El Cerrito used an eight-run third inning to take control of that game. The Gauchos (10-2) ended the game with three runs in the bottom of the sixth to trigger the mercy rule.
Piedmont got its runs in the fourth. Chiara Lundin led off with a single and came home to score on Kyra Gardner's double. Maeve Gilbert then singled in Gardner. But the rally stopped there.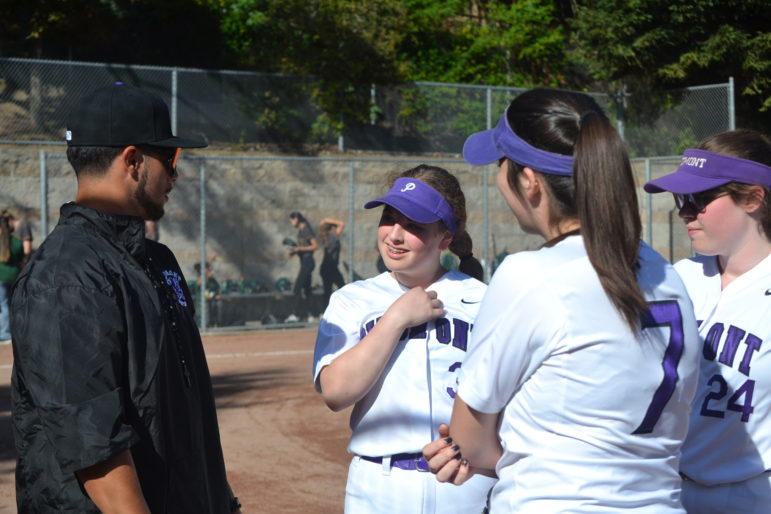 The Highlanders (2-5) had other opportunities. Caroline Strauch led off the game with a single, but was stranded at second. Rachel Elliott led off the fifth with a single, but that came to naught after three consecutive infield grounders. A walk and an error in the sixth put Camille Creighton and Gardner aboard, but Creighton was cut down at the plate trying to score on a grounder.
Piedmont played the El Cerrito game without Caitlin Kennedy and Isabelle Epstein after the two of them crashed into each other on a play in the March 29 game against Castro Valley. It happened in the top of the third inning and both girls had to leave the game. As the Highlanders had only nine players before the injuries, they had to forfeit with only seven left to play. They were behind 4-0 at the time.
Both players were checked for possible concussions. Kennedy also injured her knee on the play.
Caitlin Kennedy

Maeve Gilbert & Assistant Coach/PHS Alum Georgia Hill

Rachel Elliott
Piedmont next plays on April 2 at Miramonte. The Highlanders will then host St. Mary's on April 3 and Bishop O'Dowd on April 5. All games are scheduled for 4 p.m.
Photos by Len Gilbert