Piedmont High School's girls lacrosse team improved to 12-2 on the year with wins over Oakland Tech and Marin Catholic-Kentfield. The Highlanders beat the Bulldogs, 20-6, at Oakland Tech on April 12, and the Wildcats, 18-15, on April 11, also on the road.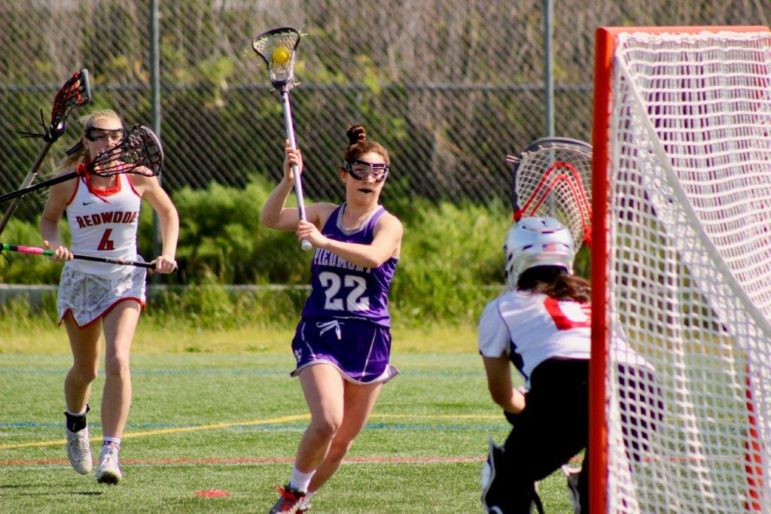 Zoe Torok scored four goals and had an assist in the win over Oakland Tech. Ashley Nelson and Lily Keville also scored three goals apiece, with Keville adding an assist. Ellie Cole, Widdy Tevis, Charlotte Theut, and Tenley Elvekrog each scored two goals.
Piedmont jumped out to a 3-0 lead with goals by Tevis, Keville and Torok in the opening minutes. By halftime, the Highlanders had a 13-2 lead, and they cruised home in the second half.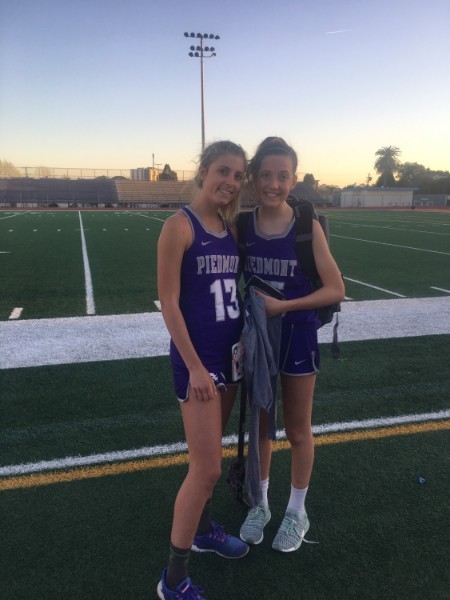 Coach Carlton Chan said that "the defense had a number of takeaways. Goalie Sara Zimmerman had two really nice long clears to a middie near midfield to start fast breaks leading to scores. Most of the shots were assisted." He also noted "little sister Eliza Keville giving big sister Lily an assist. This was a pass from the future of PHS lax to the soon-to-be past."
The win over Marin Catholic was a wild one. Keville, Cole and Torok led the way with five goals each. Tevis added three. Sadie Tschider had four assists. Sara Zimmerman had 10 saves.
Coach Chan said that "Sara had 5 huge saves. Caroline Devine was ill but played anyway. And it was a physical game. Lucy Merickel took a big hit on a key defensive stop."
Sadie Tschider

Elie Cole and Widdy Tevis

Ashley Nelson
The game was tied at 4-4 when Torok put Piedmont up with 10 minutes, 57 seconds to go in the first half. Tevis scored 49 seconds later to make it 6-4.
Miranda Jacobson got one back for Marin Catholic, but the Highlanders then scored the final four goals of the half to take a 10-5 lead at the break.
The Wildcats scored the first two goals of the second half. Torok scored Piedmont's first three goals of the second half as the teams battled back and forth.
Maria del Rosario Chan

Ivy Smith in goal, Maya Galbreath (23) & Lucy Merickel (8)

Margi Brayer
Kayla Conroy led Marin Catholic with four goals, while Jacobson and Paige Scherer each had three.
The Highlanders next game is senior night, on April 23 at 7pm at home against Las Lomas. Piedmont also has a home game against University-SF on April 26 at 6PM.
Photos by Ben Costello