Piedmont High School girls lacrosse coach Carlton Chan had one request of Lily Keville before Spring Break: Don't get sick.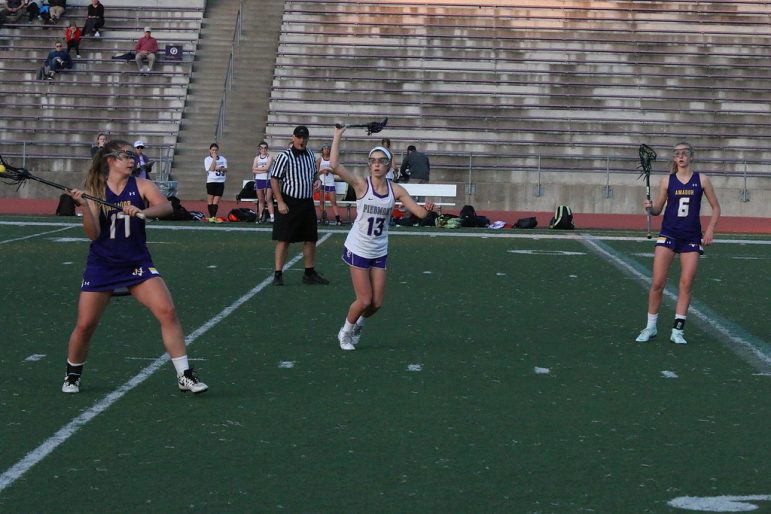 Last year, as a junior, Keville had traveled to Mexico to build houses for charity during Spring Break and came home sick. So what do you think happened this year when Keville traveled down south again to help build houses.
Uh huh.
But somehow, Keville didn't show any ill affects on the field. She scored three early goals, two on long runs up field, to help the Highlanders beat Las Lomas, 14-2, on senior night at Witter Field on April 23.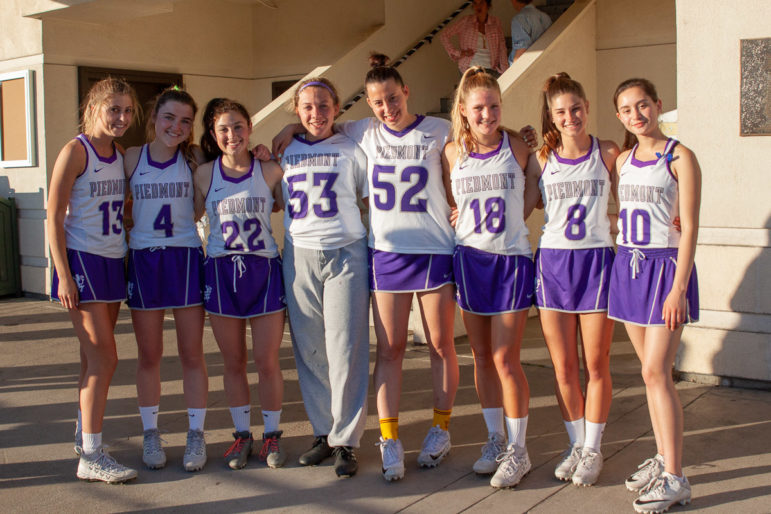 In addition to Keville, fellow seniors Margi Brayer, Zoe Torok, Ivy Smith, Sarah Zimmerman, Elie Cole, Lucy Merickel and Lani Shea were honored in a pregame ceremony.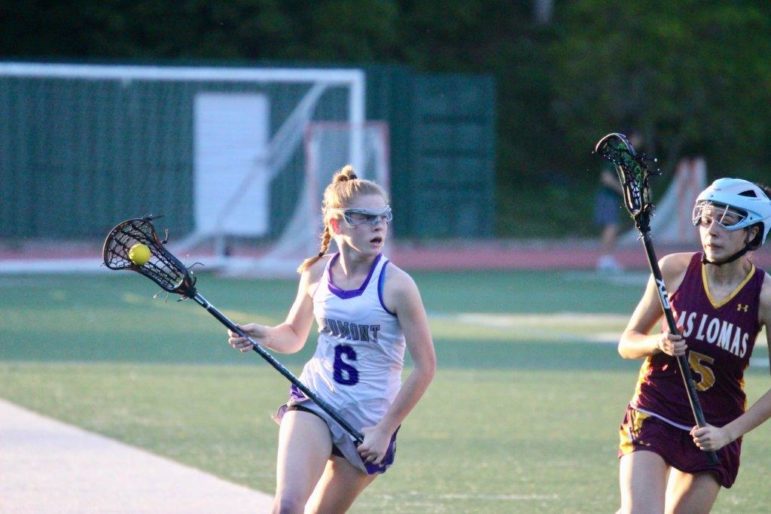 About Keville, Chan said," I was thinking about giving her just five minutes. But we looked at her and she said she was good."
Was she ever. With her team already up 1-0 early in the game, Keville took the ball midway in Piedmont's end and went nearly coast-to-coast, covering three-quarters of the field and outrunning any Las Lomas player that dared to try to mark her, firing a shot past Rylee Orenstein with 17 minutes, 37 seconds to go in the first half.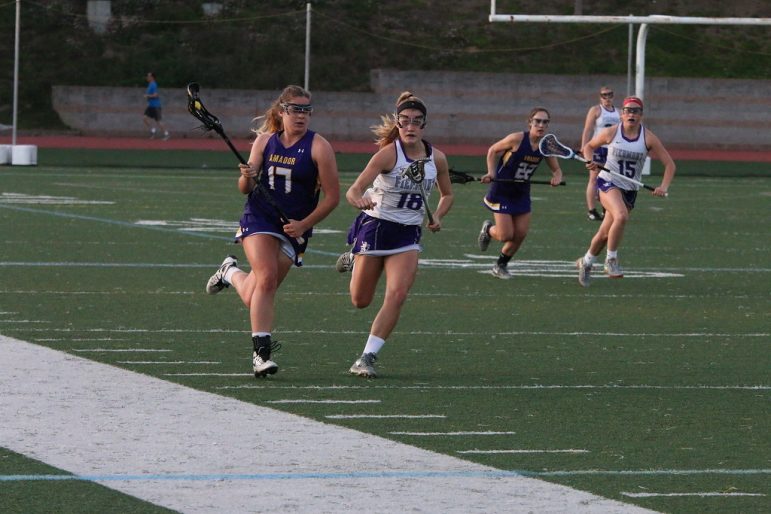 A few minutes later, Keville took a pass from Caroline Devine in front to beat Orenstein to make it 3-0. Then, with 11:53 to go in the half, she got the ball at midfield and went the distance for a third goal to make it 4-0.
Keville's play seemed to spark the Highlanders (13-2), who built an 11-0 lead at halftime. Zoe Torok and Sadie Tschider also had hat tricks for Piedmont. Tschider also had two assists, and Devine finished with two goals and three assists. Maria Del Rosario Chan had two goals and Elie Cole had one.
Sophie Tschider

Maria del Rosario Chan

Zoe Torok
Ivy Smith and Sara Zimmerman each played a half in goal. Smith had four saves and Zimmerman had one.
Paris Lisi and Carol Halpin scored for Las Lomas (9-9). Orenstein had four saves for the Knights.
Lucy Merickel & family

Lily Keville & family

Lani Shea & family
The Highlanders have one more regular season match on April 26 at University-San Francisco. Then come the West Alameda County League playoffs and the North Coast Section playoffs. Piedmont should be one of the favorites in NCS Division II.
"I think our team is doing a great job already so just keeping up the momentum and keeping the team connected will keep us going," Keville said. "We're a D2 school and we've already beat a lot of the D1 teams, so hopefully NCS will work out for us. But also we can't be too confident because everyone wants to knock off the team to beat."
Ivy Smith & family

Margi Brayer & family

Sarah Zimmerman & family
Said Chan, "This is still high school lacrosse, so trying to get all the girls on the same page (is key). We've been working on the seniors, especially the captains, to talk to the team at the end of practice to make sure that they're still focused. They know that they have an amazing season, they know that they have the championship within their reach, and so the seniors are trying to keep the team together to stay focused on that prize."
Photos by Julie Reichle & Ben Costello