Rex Peters and Marshall Petty each scored four goals to help lead the Piedmont High School's boys lacrosse team to a 13-2 win at Berkeley on March 29. The Highlanders are now 7-5 on the season, and 3-0 in West Alameda County League play.
Piedmont got off to a 2-0 lead in the first quarter on one goal apiece by Peters and Petty. The Highlanders broke the game open in the second quarter, scoring six times to take an 8-1 lead into halftime. Peters scored three times in the second quarter, while Petty scored twice. Sam Reynolds had the other goal in the period.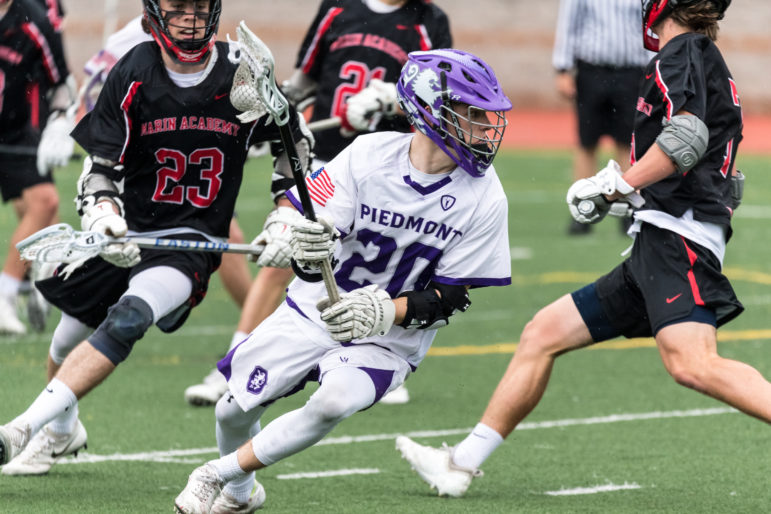 Petty also added four assists. Ian Joseph had two goals and three assists for Piedmont. Paul Pappas and Joe Hempeck split time in goal, with each recording two saves.
On March 28, the Highlanders dropped an 11-6 decision on the road against De La Salle. Piedmont took a 4-1 lead after the first quarter and still held a 5-4 edge at halftime, but the second half belonged to the Spartans. Petty had two goals and an assist to lead the Highlanders. Peters, Joseph, Braydon Ellis and Jake Richmond also had goals for Piedmont. Pappas made 12 saves in goal.
Georgie Brayer and Tommy McNeil

Hunter Settlemier

Jack Elvekrog
The Highlanders also lost to Marin Academy 18-4 on March 26, with several Piedmont players missing the game due to illness. Ellis, Petty, Reynolds and Jack Youkstetter had goals for the Highlanders. Reynolds also had two assists. Pappas played the first three quarters, making eight saves.
Joe Hempeck

John Roos, Georgie Brayer, Paul Pappas

Sachiel Newbrun
Piedmont hosts Bishop O'Dowd on April 5 at 7 p.m. This is the Highlanders' last Friday night home game of the season, and will celebrate the 11 seniors on the team.
Photos by Sam Deaner