Fitzgerald strikes out 9 in win over Alameda
On April 9, the Highlanders defeated Alameda, 2-1, in a make-up of a previously rained-out game.  Piedmont extended their winning streak to 4 games, and raised their season record to 9 wins and 5 losses.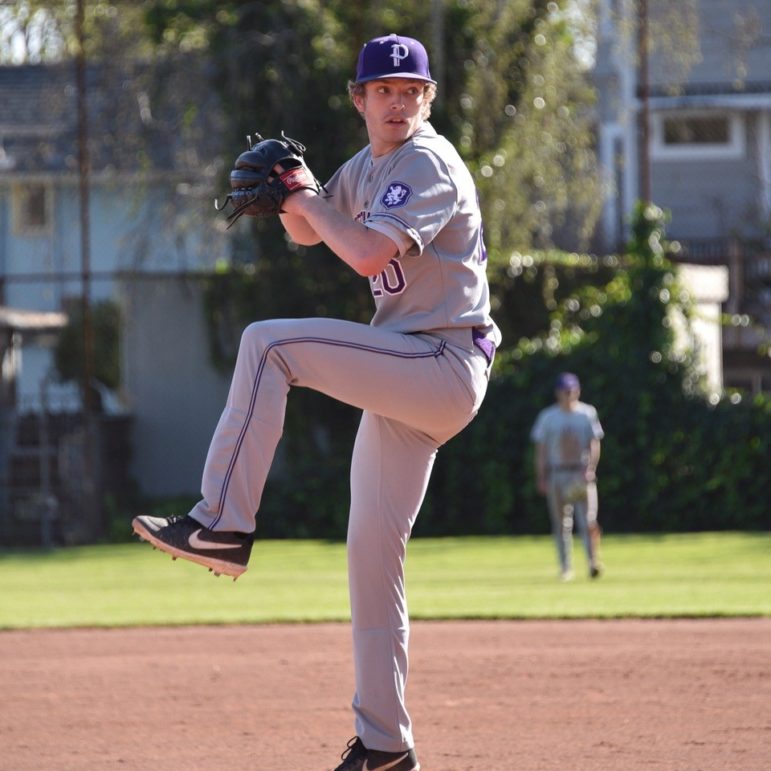 Ryan Fitzgerald threw a dominant, 2-hit complete game against last year's NCS Division 2 champs. He struck out 9 Hornets with no walks on only 73 pitches. Fitzgerald continued his strong season, lowering his ERA to 1.85.
After threatening in the first inning on base hits by Owen Levinson and Joe Sassi, Piedmont started the scoring in the second. With one out, Fitzgerald singled.  Jonah Sanders followed with a single of his own, and Fitzgerald advanced to third base. Still with one out, Abe Barnes executed a beautiful sacrifice squeeze bunt, scoring Fitzgerald with the first run of the game.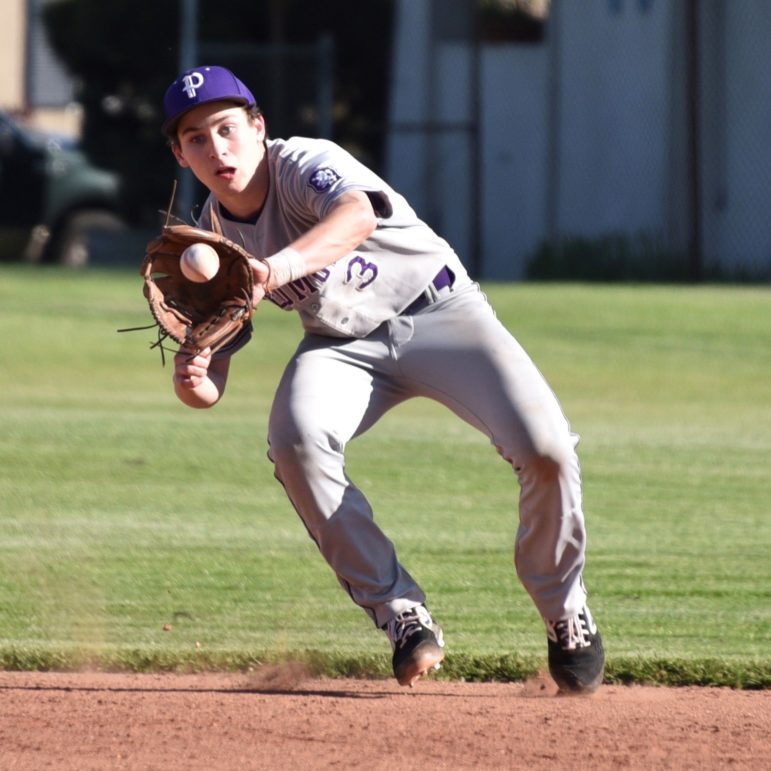 Fitzgerald shut down Alameda in their half of the second inning, but the Hornets scored in the third inning after a single and a double – the only hits Fitzgerald would allow all game.
The game remained tied through the fourth and fifth innings on strong pitching for both teams, with Alameda's Max Nyrop matching Fitzgerald frame for frame.  In Piedmont's half of the 6th, they again used small ball to push the go-ahead run across. Sassi led off the inning by reaching base on an error.  After a long fly out by Kyle Spanier, Lucas Derr came to the plate.  Sassi stole second base.  On the next pitch, Sassi also stole third base. With only one out and a runner on third, Alameda brought the infield in.  With two strikes, Derr laced a single to center field to put Piedmont ahead for good.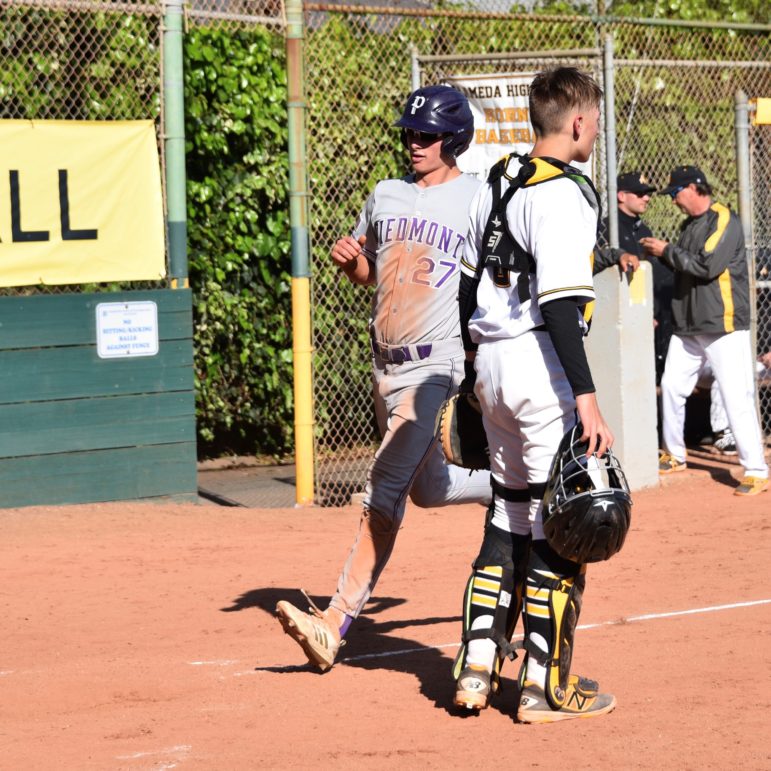 Fitzgerald took care of it the rest of the way, getting the next six Hornets out to sew up the victory.  Piedmont backed the stellar pitching with an error-free game. Sanders had 2 of Piedmont's six hits, as Derr, Levinson, Sassi, and Fitzgerald collected the rest. Barnes and Derr delivered Piedmont's 2 RBI's.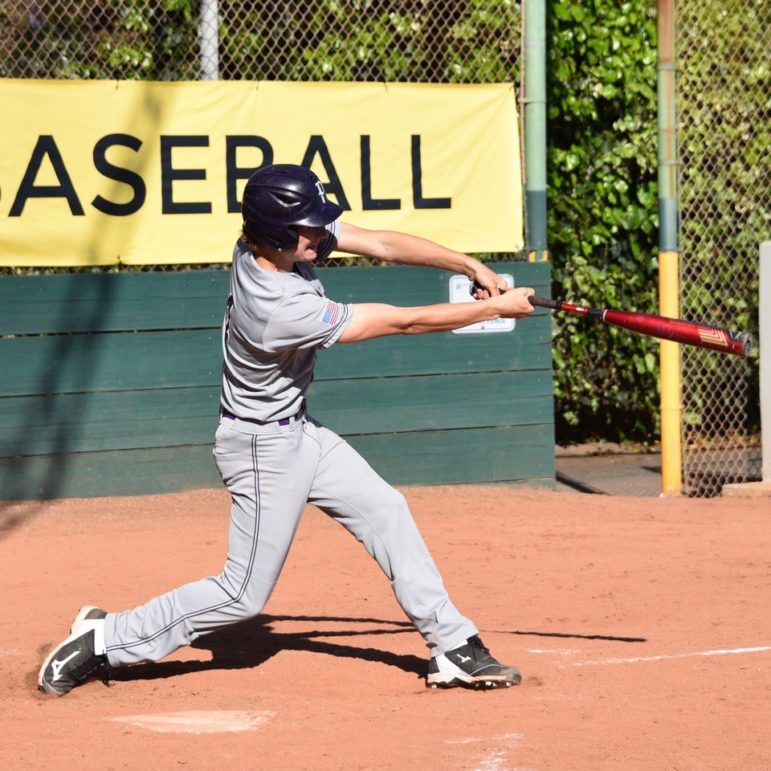 Head Coach Olson said, "Without a doubt, one of the best regular season wins during my time at PHS. Ryan Fitzgerald was simply dominating on the mound against the defending Division 2 NCS Champions. Fantastic defense and timely offense by Lucas Derr and Abe Barnes. A great team win and a big confidence booster that we can beat anyone, anywhere."
Two big innings lead comeback over Encinal
On April 10, Piedmont beat the Encinal Jets in the first of a key two-game conference showdown. The Highlanders prevailed, 14-7, on the strength of an 8-run 5th inning and a 6-run 6th inning.
Trent Settlemier reaches for a line drive

Owen Levinson beats out an infield single

Cal Barna applies the tag
The game started off with a spectacular defensive play. Center fielder Trent Settlemier chased a ball to the fence and threw a missile to second baseman Owen Levinson, who relayed a strike to catcher Cal Barna, who expertly applied the tag to cut down a Jets' runner at the plate, keeping Encinal off the scoreboard.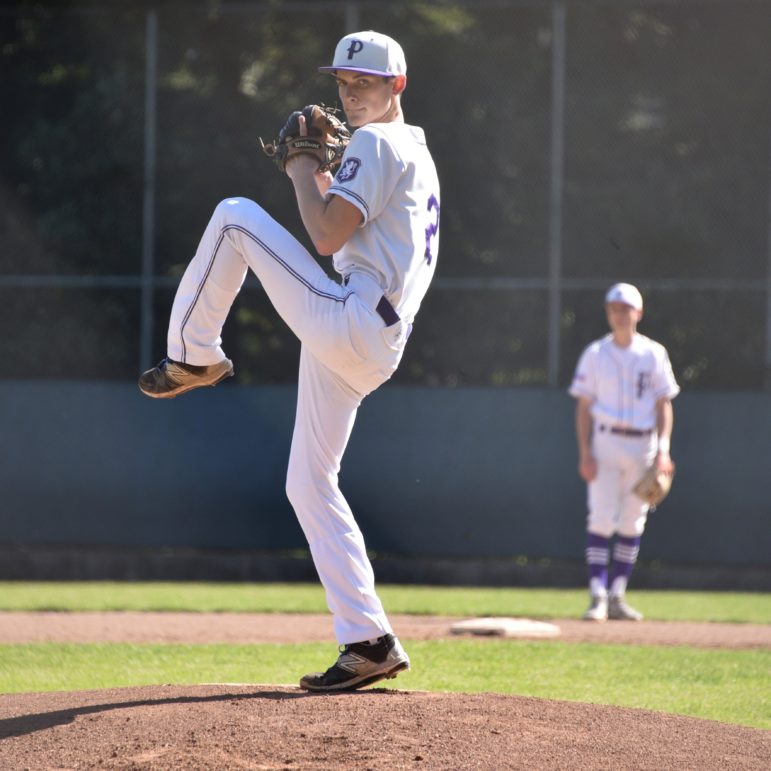 Piedmont fell behind 5-0 through the top of the 5th inning on strong pitching and hitting by the same player, Encinal's Cooper Vasquez. He held the Highlanders scoreless through 4 innings, while hitting 2 home runs and driving in 3.  For Piedmont, Ben Levinson started the game on the mound, and accumulated 5 strikeouts in 4 and two-thirds innings.  Settlemier finished out the fifth inning with a strikeout. 
In the bottom of the 5th, Piedmont's perseverance paid off.  The Highlanders mixed singles by Barna, Paul Woolcott, and Kyle Spanier with walks to Lars Derr, Lucas Derr, Barna, and Settlemier.  Owen Levinson, Joe Sassi, and Lars Derr were hit by pitches. Settlemier reached base on a key Encinal error as well.  Jonah Sanders added a sacrifice fly, and inning ended with the Highlanders up 8-5.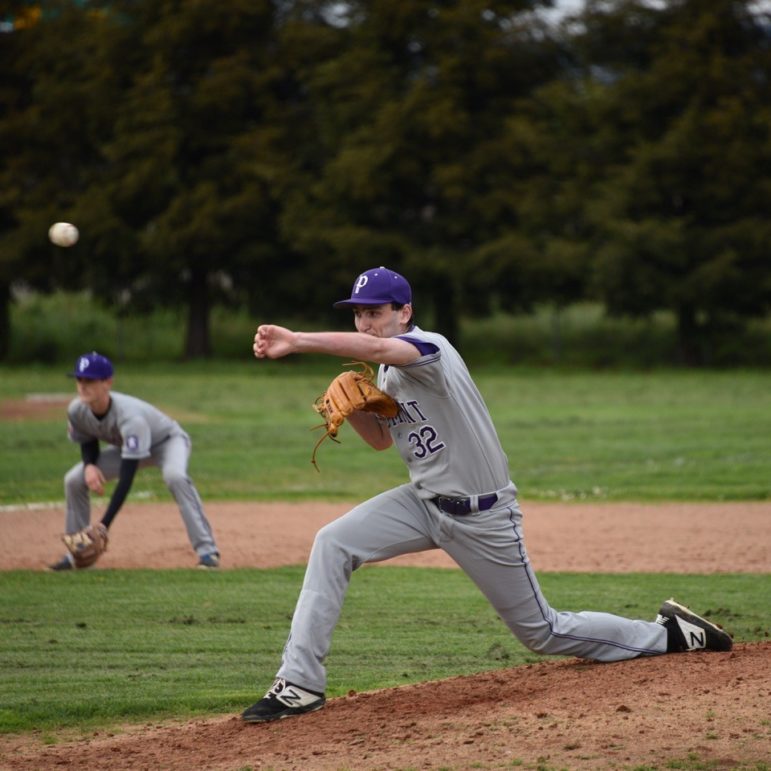 Abe Barnes took over the pitching for the Highlanders in the 6th inning.  Encinal rallied for 2 runs, but Barnes held the lead by keeping the Jets off balance. 
Up by a run going into the bottom of the 6th, Piedmont added 6 runs. Sassi led off by lacing a triple to deep center field, and Woolcott walked. Woolcott and Sassi executed a double steal, bringing Sassi home. Spanier ripped a double to nearly the same spot as Sassi's hit, scoring Woolcott. Barna hit a sacrifice fly, and Sanders walked. After Sanders stole second and advanced to third on an error, Ryan Fitzgerald followed with a sharp single to center.  Fitzgerald stole second, and Settlemier knocked him in with a single. Owen Levinson walked, and Settlemier scored on a Sassi grounder to third. Piedmont led 14-7.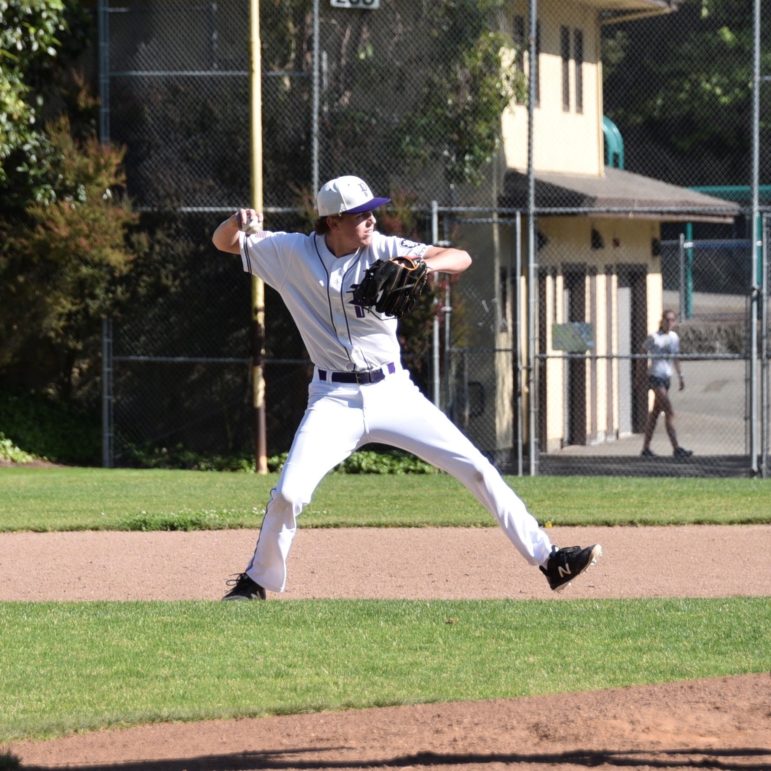 Barnes shut the door on Encinal in the 7th,  allowing only a single.  Piedmont's defense was sharp as they committed only one error and executed two double plays – including a game-ending one by Sanders, Owen Levinson, and Woolcott. 
Levinson, Sassi, and Spanier had multi-hit games.  Settlemeier, Spanier, and Barna had multi-RBI games.  Piedmont stole 7 bases, with Levinson and Sassi swiping two apiece.  Woolcott, Fitzgerald, and Sanders also stole a base.
Head Coach Olson said, "give Encinal credit.  They won the first 4 innings, but our players' confidence and talent came through in the late innings.  Ben Levinson kept us in the game with a solid start.  The two double plays that Lars Derr, Jonah Sanders, Owen Levinson, and Paul Woolcott all had a hand in made a difference. The offense was extremely unselfish in the late innings to get runners on and score runs."
Encinal evens up the series
On April 12, Encinal avenged the earlier loss with a 12-3 victory. Alex Hilton started on the mound for Piedmont. Encinal jumped out to a quick 5-0 lead, but Hilton steadied after the first inning and did not allow another run until the fourth. Lars Derr relieved Hilton for an inning and two-thirds, and Cal Barna pitched a scoreless last inning.
In the top of the 2nd, Piedmont pushed across their first run. Ryan Fitzgerald continued his hot hitting of late and started the rally with a single.  Luke Harris walked, and Jonah Sanders reached on a fielder's choice. Brian Cain was hit by a pitch to load the bases. Trent Settlemier then walked to drive in Harris.  
Luke Harris follows through

Brian Cain ready at the plate

Nick Parker makes solid contact
Piedmont scored again in the 4th on a double steal by Cain and Settlemier, but Encinal tacked on 6 more runs by combining 4 hits and 3 walks with a Piedmont error. The Highlanders added a final run in the top of the 7th, with Myles Smith walking, stealing second, and scoring on a single by Kyle Spanier. 
Piedmont's usually steady defense had a tough day in the field with three errors and some misplays, but Settlemier shined with good defense in center field.  Spanier led the offense with 2 hits and 1 RBI, while Settlemier added a hit and RBI, and Barnes, Sanders, and Fitzgerald also collected hits.
Coach Olson commented that "Baseball has a way of knocking you down.  Every team has a game during the season where nothing goes right.  Friday was that game for us, but we know it was an aberration.  We all look forward to getting back to work and putting Friday behind us."
Kyle Spanier flips over the Alameda win

Coach Steve Thobe hits grounders during warm-ups

Highlanders celebrate after Alameda game
Piedmont heads into spring break having won 7 of their last 9 games. Upon returning, the Highlanders have a busy week with a Tuesday home game against San Lorenzo, a Wednesday game at San Leandro, and home games on Friday against Berkeley and Saturday against St. Patrick-St. Vincent.
Photos by Julie Moll