It's only about two weeks in to the grand Piedmont Pickleball Experiment, but city recreation officials say that it's been a winner so far.
"We have four courts striped at Beach (Park), and four striped at Hampton Park, and both are working and working well," city recreation director Sara Lillevand told the city Recreation Commission Thursday night. "It's off to a good start."
The state of Piedmont pickleball will be more thoroughly considered in early May, when a four-week review is scheduled, Lillevand said.
Pickleball is a small-scale version of tennis, also including elements of badminton and table tennis. Its popularity has skyrocketed over the past several years, especially among seniors.
The Piedmont City Council on March 4 approved a four-week trial for pickleball, which began in early April. That could be extended to eight months if potential problems don't materialize.
Over many months of vigorous, sometimes contentious public discussion about pickleball, a key concern emerged — the noise of pickleball racquet-on-ball amplified by the concrete walls of the Oakland Avenue bridge.
Lillevand said Thursday she's been doing "real-time noise survey work" in the field, including spending an hour last week on a residential deck at a Howard Avenue home, above Beach Park.
Commissioner Dick Carter asked Lillevand whether the pickleball courts were being used. Lillevand said demand for court time hasn't been overwhelming, but "they're certainly not being un-used." And concerning complaints about noise or anything else, "To this point, nothing has come my way."
There also has been weekend pickleball at the Piedmont Middle School. Lillevand said the poor condition of the blacktop there has been an issue.
Pickleball hours at Beach are 10 a.m. to 12:30 p.m. Tuesdays and Thursdays, and 2-4 p.m. Sundays, "inclusive of set up and break down." Hours at Hampton are 12:30 p.m. to 3 p.m. Wednesday and Friday. Those courts will continue to be devoted to tennis all other hours both parks are open.
A new 'skate spot?'
While he said it won't exactly be new full-feature skate park, Commissioner Glyn Burge said part of a roadway between the Piedmont Community Pool and Magnolia Avenue could be made into a "skate spot" or "micro park" that could incorporate two or three features that serve as a relatively low-cost addition to Kennelly Skate Park next to Coaches Field.

Burge said that roadway is away from neaby homes and from Magnolia Avenue, and that adding a few skate-park-type features would be relatively inexpensive.

"I think it's kind of cool and has some opportunities," Burge said. Lillevand called the idea "a low-cost winning alternative to serve skaters."

There is no detailed cost estimate, said Burge, who hopes that and other plans could be more fully formed by May 15, when the next Recreation Commission meeting is. He and others encouraged local skaters to come to that commission meeting to offer their opinions and suggestions about the "skate spot" idea.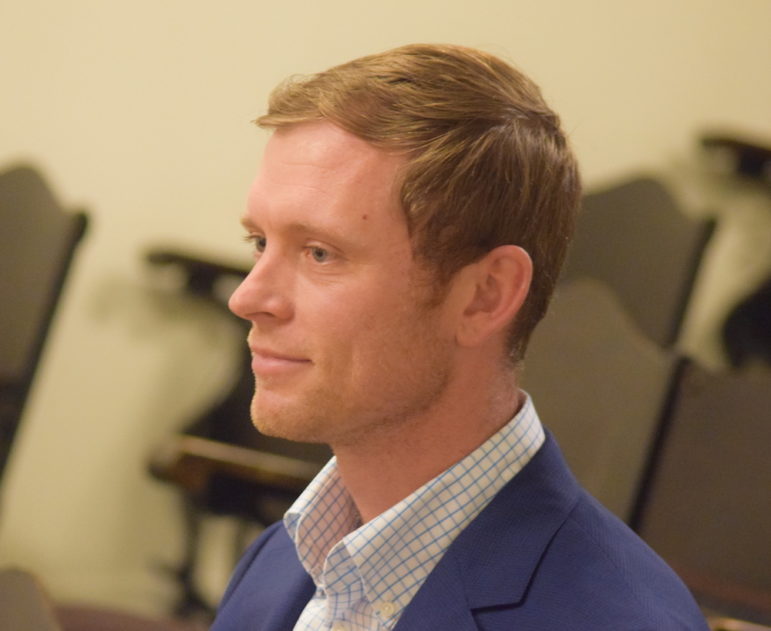 Jackson Stearns, recreation supervisor

Thursday night, Lillevand formally introduced Jackson Stearns, the city's new recreation supervisor. Stearns, an Oakland native, has worked recreation jobs in Oakland, Berkeley and Orinda before recently accepting the Piedmont position.

He will wear many hats in Piedmont, Lillevand said, including that of aquatics supervisor. He wears another hat — or rather, uniform — outside of Piedmont — that of member of the San Jose Spiders, one of 21 teams in the American Ultimate Disc League (ultimate Frisbee)

Betty C. Howard Award winners

Joanna Wood and Zack Jones have been named the 2018 winners of the Betty C. Howard award, given by the recreation commision every year since 1979 for an employee and a volunteer for dedicated and loyal service to the Recreation Department and the community of Piedmont.

The commission voted 6-0 Thursday on each of the awards.

Wood is a former longtime teacher at the Piedmont-based Highlands Preschool, and more recently a Piedmont Rec pre-K program director. Jones is a volunteer volleyball coach for Piedmont Rec, and is also Piedmont Middle School's first boys volleyball coach.

The award was named for former Piedmont Rec secretary Betty C. Howard, who served from 1950 until 1979.

Wood and Jones will be awarded at a community dinner, likely in June.

---
Photos by Sam Richards. Reach Sam at sam.richards4344@gmail.com