In Dee Tivenan's mixed media painting, Red Earth, vivid red-orange paint dances across a textured, blue-purple sky. White paint rendered with swift brushstrokes and flecked with burnt umber tones surges up from below, like wind-tossed ocean foam or an improbable glacier. Layered underneath and centered, black hues lurk, adding gravitas to the image.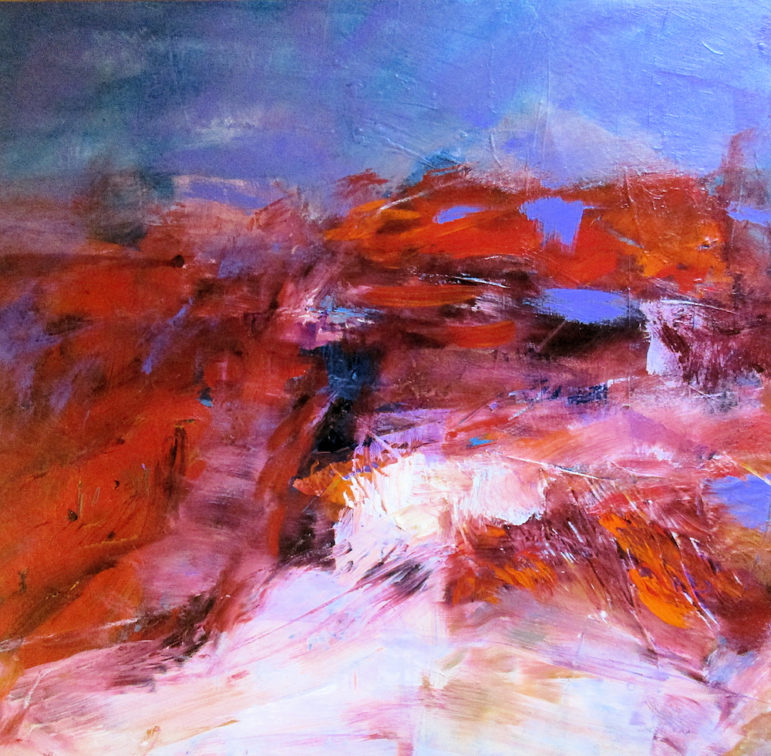 It is a terrific representation of the Bay Area-based psychotherapist's life; a life characterized by spontaneity, fluidity and joyful play anchored by diligent attention to developing a healthy, honest, open-to-learning mindset.
Tivenan's work will go on display April 12-14 as part of the "Personal Truth" show at the Piedmont Center for the Arts, where it will be joined by works from Katie Korotzer and Valerie Corvin.
After ten years as a painter, Tivenan says she is struck by the similarities between her professional work and her creative work.
"Art and psychotherapy are done in the moment. You don't control the outcomes of either one and creativity is required."
"My mom used to call me doodle bug," she recalls. "I drew on paper: circles or lines or anything. I always doodled, did watercolors and liked it—all while becoming a therapist—but then I didn't do much until my daughter went to college," she says.
Country of Blue

My House is a Very Fine House

My Garden
"Abstract art is free and meditative. I'm in the flow. I stand for three hours, then limp into the house. I don't feel constraints. If you told me to draw a pear, I'd feel restricted. I love the mood and subjectivity of abstract. Five different people looking at one of my paintings, we might get five different responses. I like that some of my best paintings have to do with the paint running or not drying in the way I expected."
Tivenan says the greatest thrills related to painting are two. "I find this joyful. I'm 68 and I love having this. Even when it's frustrating I enjoy learning. The paintings are not reflective of stress. It's a calmer part of me that might not show up in other areas of my life."
The secondary joy comes from finding community. In workshops that are mostly women, she meets people she might not otherwise encounter. "We're supportive, growing together, being silly, pushing ourselves out of our comfort zone. I had no idea this would happen with painting. I've found it incredibly supportive. That's just lucky."
---
Learn more about Tivenan and her work on her website HERE.