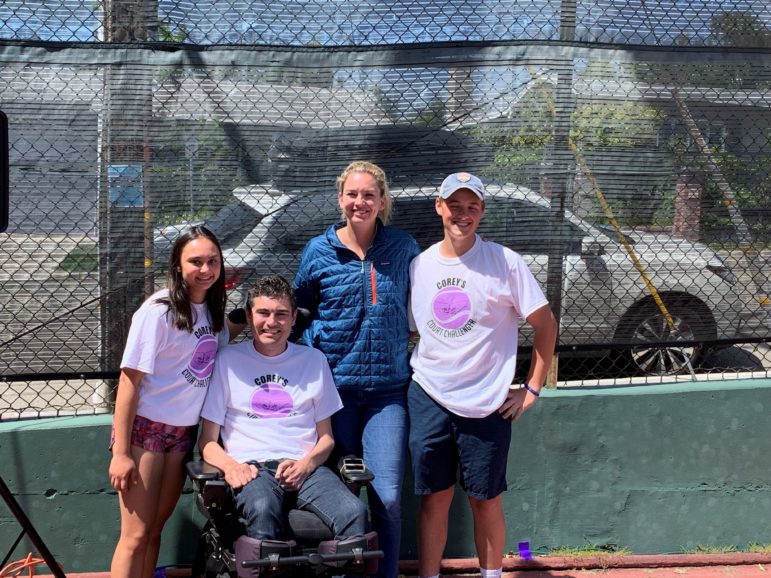 Piedmont High School tennis players from the class of 2020 held a fundraiser, Corey's Court Challenger, on Sunday, April 28, for the Corey Reich Tennis Center (CRTC) project. Participants enjoyed a fun day of tennis, including an exhibition between two high-level local players and an appearance by professional player CoCo Vandeweghe. The event raised over $3,000 for the project.
CRTC is a public-private partnership between the City of Piedmont, the Piedmont Recreational Facilities Organization (PRFO), and the broader Piedmont community. The project will completely renovate the Vista court facility (see www.prfo.org for more details), with work scheduled to begin after school ends in early June. The City has budgeted $250,000 for the work, with PRFO seeking to raise an additional $400,000. The private fundraising has brought in over $250,000 so far, with the proceeds from Sunday's event adding to that total.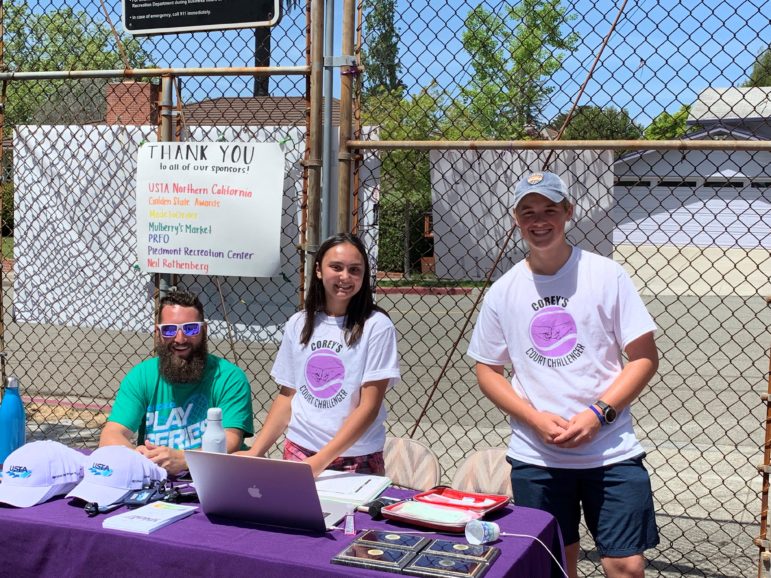 Juniors Nick Lalli and Emily Becker came up with the idea for the event in February. "We wanted to do something for Corey from the Class of 2020", said Lalli, who plays singles and doubles on the boys' varsity team. Becker, a member of the girls' varsity team, added, "We had a goal of raising $2,500, but with over 60 players signed up before the event and more today, we should exceed that target."
In addition to doubles play, attendees were treated to a singles exhibition between JT Nishimura, who played #2 at Cal, and Shaun Choudhuri, who, according to longtime Piedmont tennis coach Neil Rothenberg, played #1 at Monte Vista High School when Piedmont native Mackie McDonald (currently the #57-ranked man in the world) was a freshman at PHS. Rothenberg also noted that Choudhuri went on to play at Harvard and led his current employer, Apple, to the "tech cup."
JT Choudhuri shows how to hit a two-handed forehand

Corey Reich with Shaun Choudhuri & JT Nishimura

Shaun Choudhuri follows through on a bug serve
An additional treat was the presence of Vandeweghe, who signed autographs and did a running commentary on the play of Nishimura and Choudhuri. She's a close family friend of current PHS Coach Jim Landes, and stayed with Landes' family when she played, at age 16, in the national girls 18-and-under championships held at the Berkeley Tennis Club. Vandeweghe climbed as high as #9 in the world rankings after reaching the semi-finals at the Australian and US Opens in 2017.
USTA of Northern California was the main sponsor of the event, along with PRFO and the Piedmont Recreation Department. Troy Rondeau from USTA donated the tennis balls, brought the sound system, and helped with the tennis format. Additional sponsors included Neil Rothenberg, Golden State Awards, Made to Order, and Mulberry's Market.
Photos by Betsy Lalli & Julie Moll