A terrific solo show called "Things Known," by Foad Satterfield is currently on view at St. Mary's College Art Museum in Moraga, CA.
The show, sensitively presented in the hushed, beautifully lit galleries at the museum, is comprised of 12 large scale paintings, and is the result of several years of planning between the museum and Satterfield.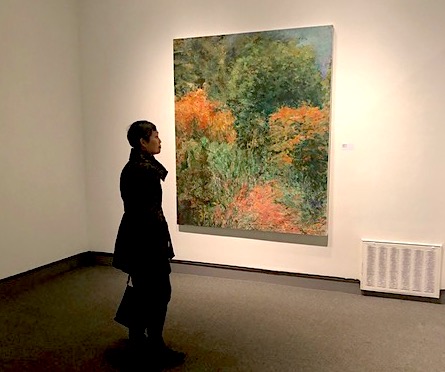 The St. Mary's College campus is in itself an inspired choice of location for this show; the peaceful setting is a perfect metaphor for the mindfulness meditation Satterfield practices. The paintings included in "Things Known" have been completed over the past decade as Satterfield has perfected and honed his intent to present a visual record of his experience of the natural world.

In a pre-opening talk at the museum on February 21, Satterfield, aged 70 and recently retired from his position as an art professor at Dominican University in San Rafael, described himself as a "sensitive kid who played outside" and who enjoyed spending a lot of time alone while growing up in the seclusion of rural Orange, Texas.
Born to a Merchant Marines father and a mother who became a fifth grade teacher after attending college on a basketball scholarship, Satterfield spent hours outdoors collecting leaves, sticks, rocks and organic matter along the nearby Sabine River.
These forays [into nature] served as the foundation of Satterfield's ability to, at first unconsciously, see the relationship between things, and to see himself in things beyond himself.
As a child Satterfield was surrounded by the 'elders' as he puts it, who spoke French at home and taught the youngster how to sew, knit, crochet and cook, all hands on skills that formed the basis for Satterfield's lifelong identity as a maker.





Big Fish Camp

Detail, Big Fish Camp
Satterfield's experience of living without the pressures of racism came to a close when the family moved from Orange, Texas to Lake Charles, Louisiana during the height of the era of Jim Crow south.  As an African American, Satterfield attended segregated public schools from elementary to high school. For the first time in his life, Satterfield became aware of terrible discrepancies such as that between schools named after important individuals (white schools) and schools that looked like prisons and were numbered rather than named (black schools).
Yet even with the indignity of having to use hand-me-down books and materials discarded by the white schools and which were typically defaced with insulting racist graffiti, Satterfield credits his teachers with giving the students the gift of using their imagination as a fundamental tool of personal wisdom.

Perhaps partially as a result of these early experiences, Satterfield has devoted much of his life to the practice of mindfulness and meditation. The teachings of Thich Nhat Hanh, an originator of a practice known as Engaged Buddhism, and studies with the Dali Lama have been important to Satterfield as a central part of his artistic practice, his teaching and his life in general.

Satterfield's paintings, seen in "Things Known" for the first time together, are dazzling and unabashedly beautiful, recalling the tradition of early 20th century Naturalism.
Almost meditative in expression, the paintings employ a consistent, almost rhythmic brushstroke. Satterfield's full-spectrum color palette, reminiscent of Impressionists such as Bonnard and Vuillard, conveys a loaded emotional narrative. The immersive landscapes are free of the distraction of unnecessary line and shape, yet are built on a strong compositional structure and combined with the large scale format the work is powerful and fresh. The viewer has a sense of what it sounds, feels and looks like to walk in these woods.

Satterfield has achieved his goal of creating a contemplative sanctuary to bring people together. During his talk, he noted his satisfaction that the work performs as he intended in a formal setting. As Satterfield described it, the show represents the culmination of a life spent in preparation to present an authentic visual record of his ability to focus in real time, to be aware of the natural world and free of distraction.

In his Emeryville studio, Satterfield works on one or two paintings at a time, having long ago learned the important lesson that keeping work out and accessible leads the artist to continue painting past the point of completion. As paintings are finished they are stored away; Satterfield feels that a certain detachment from the work is called for, stating that once done, the work "does what it does on its own".

When asked about his plans for the future, Satterfield acknowledged his distress at what he sees as the current degradation of the social structure, the environment and the problem of homelessness and plans to "use my skills to ameliorate suffering by going into the studio and make the most magnificent paintings I can." Wisdom we can all use.

Satterfield is represented by The Maybaum Gallery in San Francisco and the Studio Shop Gallery in Burlingame. Visit his website at foadsatterfield.com.
"Things Known" will be on view February 28 – June 9, 2019 at St. Mary's College Art Museum in Moraga, California.

---
All photos by Katie Korotzer