Rob James will be honored at the Piedmont Council, Boy Scouts of America (BSA) 98th Annual Recognition Dinner as the recipient of the prestigious Silver Beaver Award, the highest award a Scout Council can bestow on a volunteer.
The Silver Beaver Award, established in 1931 by the National BSA Council, honors an adult volunteer whose Scout leadership has had a significant impact on the lives of youth.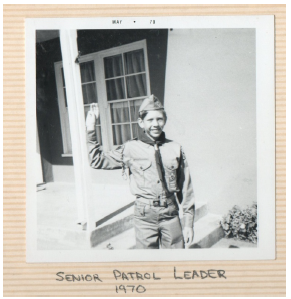 Rob began his career in Scouts as a Cub Scout in Salinas, California where he was born and raised. He achieved his Arrow of Light and Eagle Scout ranks, worked as a counselor at Pico Blanco Scout Reservation, and was elected a Vigil Honor, lodge chief, and section officer in the Order of the Arrow. After a latency period of a few decades, he re-entered Scouting along with his son.
As an adult, Rob has served in almost every role available from Den Leader and Committee Chairman to Board member and Council President. Most recently he served as an Assistant Scoutmaster to the National jamboree in West Virginia in 2017.
Rob lives in Piedmont with his wife of 24 years, Sarah, a pediatric physical therapist and constant schools volunteer. They have a daughter, Caroline (a past participant in the Piedmont Community Service Venturing Crew), and a son, Stewart (a Life Scout and NYLT graduate in Piedmont Troop 15).
Wes Smith, former Piedmont Council President and current National board member, notes "Rob has been invested in the Boy Scout program since he held leadership positions as a youth. Several years ago, he was instrumental in the development of the Council strategic plan and subsequently had the opportunity as Council President to conclude its implementation – with admirable results. Rob consistently demonstrates the work ethic, intellectual rigor and good judgement of an accomplished leader."
In addition to his exceptional service to Scouting, Rob has also led the Easter Seal Society of the San Francisco Bay Area as its Chair for three years, for the benefit of children and adults with disabilities. He has been long engaged in community service, including as a San Francisco Bar Association Volunteer of the Month for October 1989 for pro bono legal services for victims of the Loma Prieta earthquake.
On March 28th we will celebrate Rob and many other Piedmont Council award winners' in recognition of their significant contributions to the community. The dinner will take place in the Guild Hall of the Piedmont Community Church on Thursday, March 28th at 6:00 p.m. and it is open to anyone in the community who would like to attend.
For more information and to make reservations for the dinner, call the Piedmont Council Scout office at 547-4493 or reserve online at www.piedmontbsa.org.