Piedmont High School's track teams swept a league meet against San Lorenzo on March 20. The West Alameda County League meet at Castro Valley included Castro Valley, Hayward and San Leandro as well, but the Highlanders were only scoring against the Grizzlies.
Piedmont's boys beat San Lorenzo, 105-8. The girls won, 104-12.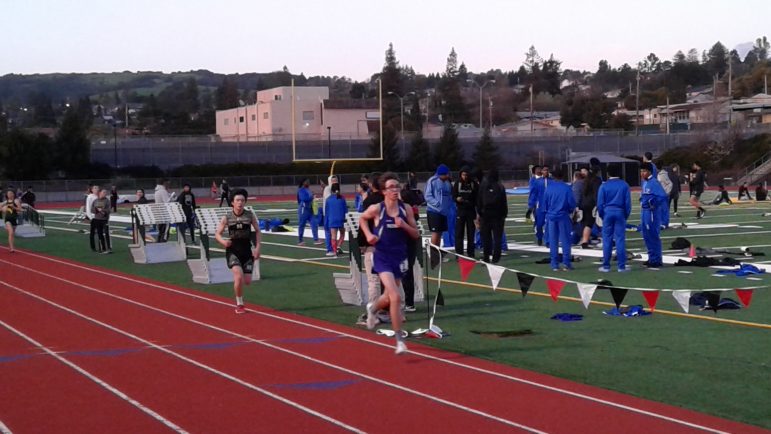 Freshman Seamus Chamberlain Carr won the boys 3,200 meters in 10 minutes, 45.41 seconds. Sophia Zalewski won the girls 1,600 in 5:27.51. Elizabeth Korn had the best time in the girls 100 hurdles at 16.63. Margo Donahue won the girls 800 in 2:35.72. Jasmine Gharderi won the girls pole vault at seven feet, six inches, while Skyelar Connelly won the boys pole vault at 11′ 6″.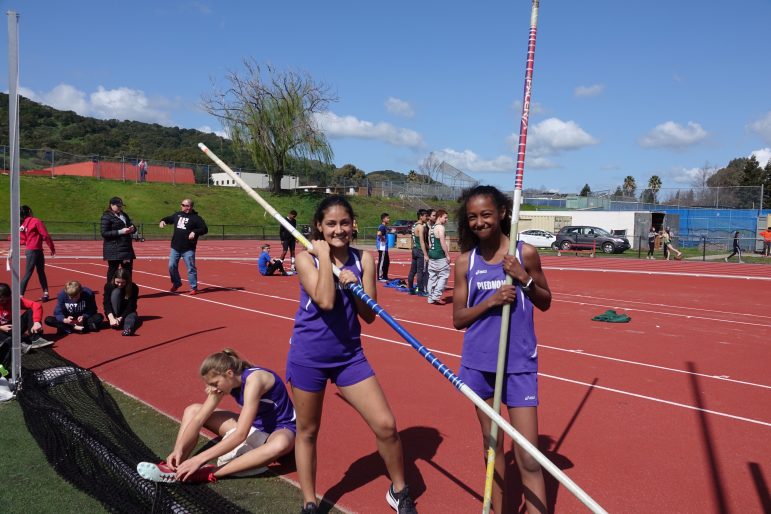 Chamberlain Carr was all alone in his race, winning by over 14 seconds. Teammate Rowen Connelly was second in 10:59.71. Chamberlain Carr said this was his fourth race of the season and his time was consistent with what he has been running.
"I think it's going to gradually keep on going down especially as more competition comes along," he said, adding that he'd like to run a 10:30 by the end of the year.
Chamberlain Carr said that his mom was "a hard core runner" and he picked it up in sixth grade. "I did soccer and a little bit of basketball," he said.
Does he like running? "I like winning," he said. "Running – it's fun but it has its ups and downs."
In the fall, Chamberlain Carr finished sixth in the West Alameda County League cross country championships, the top finisher for the Highlanders, helping his team to a fifth-place finish. The North Coast Section Division IV championships were canceled due to excessive smoke in the Bay Area due to the Camp Fire that hit the area last fall.
Quincy Munyan long jumps

Briggs Settlemier throws the shot put

Parker Morell in the 4×800 relay
Zaleski won her race by a large margin as well, finishing almost 11 seconds ahead of San Leandro's Ariana Chavez (5:38.49).
Korn was impressive in her win, taking the 100 hurdles by 1.8 seconds over Castro Valley's Tanya Pinthapataya.
Donahue was all alone in the 800 as well, finishing more than 15 seconds ahead of teammates Molly McWeeny (2:51.18) and Parker Morell (2:51.55).
Kihiro Lambert Jr. in the 100 meter dash

Wesley Jeng, Gabe Symkowick, Josh Lee, and Amir Singh before the 4×100
The next league meet for the Highlanders is scheduled for March 27 at Berkeley.