The Piedmont High School girls lacrosse team got its first real test of the season on March 12. The Highlanders traveled to Pleasanton to face Amador Valley, one of the top programs in the Bay Area and winners of two North Coast Section championships.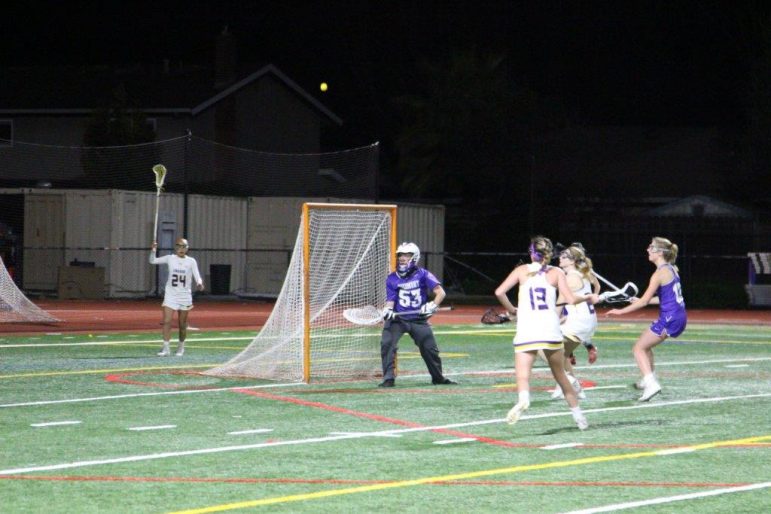 The Highlanders gave the Dons all they could handle, rallying from a 9-3 deficit to take an 11-10 lead before losing, 15-11. Ivy Smith, who just began playing in goal this season, was spectacular, making 13 saves for Piedmont.
"I play soccer too and I think the coordination helps," Smith said of her two-week old career as a goalkeeper. "Having a background playing lacrosse, I've played for five years or something like that. It just really helps to jump in."
Said Piedmont coach Carlton Chan, "She volunteered! I'm like, 'OK, let's see what you can do!' That was the biggest positive for our season so far."
Sara Zimmerman was expected to start the season in goal, but suffered an injury.
"Our goalie still isn't cleared to play," Chan said. "We're not going to let (Smith) out of the goal."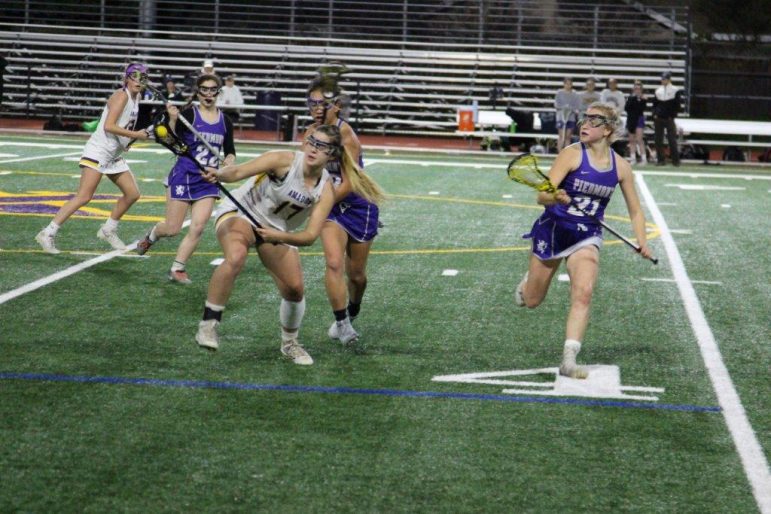 Piedmont had lost the past three seasons to Amador Valley by a combined 41-22. In the first half, it looked like more of the same as the Dons raced out to a 9-3 lead thanks to three goals from Bella Mayo and two more from Sophia Shiblaq. However, the Highlanders rallied with three goals in the final six minutes of the half. Sadie Tschider set up Maria Del Rosario Chan for the first score. Chan scored again on a penalty shot, and Zoe Torok found the net with 1:06 left to make it 9-6 at the break.
Lily Keville went coast-to-coast in the third minute of the second half to cut the lead to 9-7. Amador Valley then had a possession of about six minutes, peppering Smith and maintaining control of the ball. Finally, Isa Clark converted a penalty shot to make it 10-7.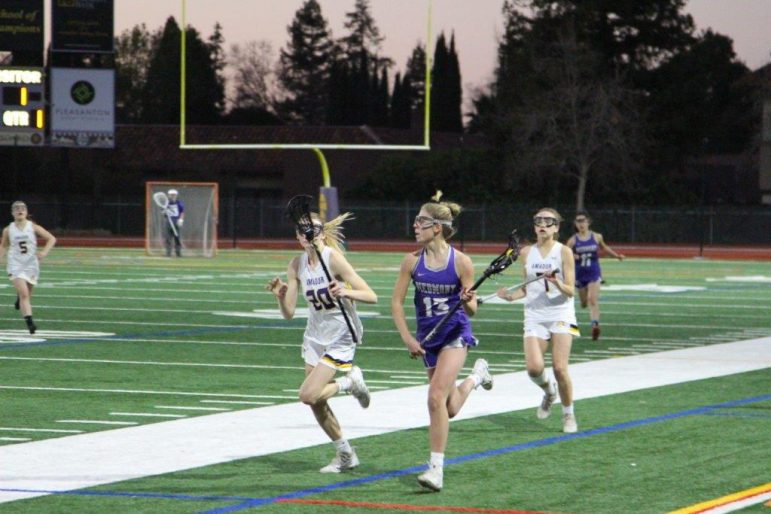 But the Highlanders took off from there. Caroline Devine scored, then Widdy Tevis put in a rebound. Elie Cole tied it on a penalty shot, and Torok fed Tschider to put Piedmont in front with 10:34 to go.
However, the Highlanders weren't able to hold the lead. Amador Valley had dominated draws and possession most of the night, and the Dons used that advantage to win the game. Isa Clark tied it and then set up the go ahead goal scored by Grace French. Mayo's penalty shot made it 13-11 with 5:07 to go. A breakway by the Dons, with Kalena Johnson feeding Lily Manos. all but ended it with 1:06 left.
Maria Del Rosario Chan finished with four goals, while Keville netted two. Mayo ended up with five for the Dons.
"Totally positive," Carlton Chan said of the game. "This is a team that the last couple of years really beat us pretty bad. We focused on our defense and I think it really showed. We focus so much on defense, our offense is almost automatic. Defense wins games like this."
Ashley Nelson

Elie Cole and Widdy Tevis

Margi Brayer
Keville agreed the game was a positive for Piedmont.
"I think we really grew a lot over this game," she said. "Our energy was up the whole time. Compared to last year, we're working so much better as a team. We're looking a lot better this year and we're probably going to get better throughout the season."
Piedmont's next game is at 6PM this Friday, March 15, at Berkeley High School.
Photos by Ben Costello