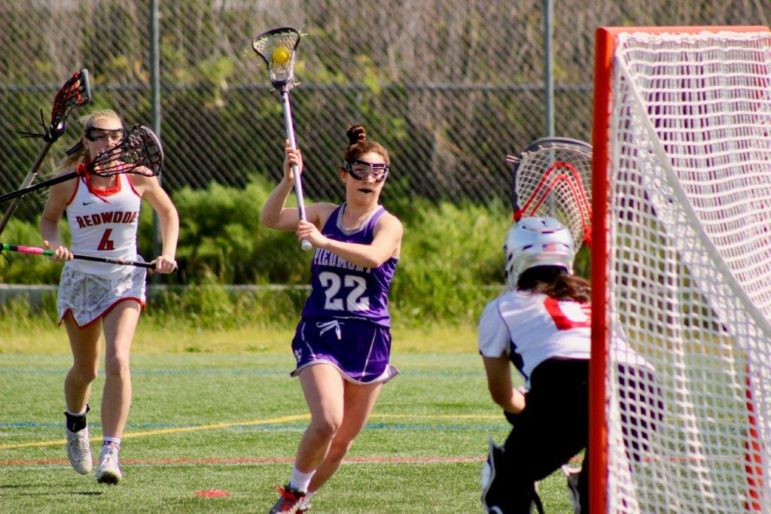 Zoe Torok scored three goals and dominated in draws to help lead Piedmont High School's girls lacrosse team to a 17-4 win at Acalanes on March 26. The Highlanders blew open a 6-3 game in the second half, surrendering an early goal and then scoring the final 11 goals of the match.
Piedmont improved to 6-2 on the season.
Torok won 12 draws on the night, helping the Highlanders control possession and set up their offense throughout a drizzly evening.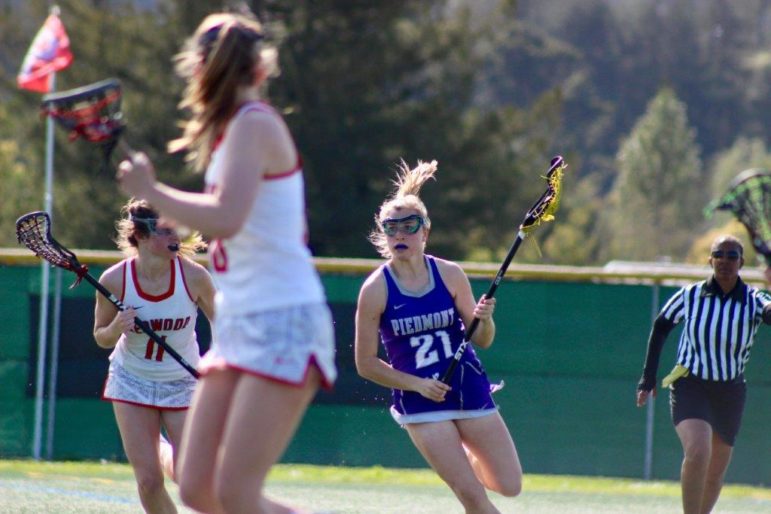 "A lot of the girls who take the draws are really, really tall and that's something where I'm kind of at a disadvantage," said Torok, who isn't tall. "A lot of the strategy with the draws is to get it up, but I like to direct it a little. Our team is winning the draws but it's usually not me but the girls on the circle. I'll try to get it to them instead of getting it straight up because I know I can't win them straight up. And because I'm a lot smaller, I have a lot more power low so it's easier for me to direct it to the girls on my team."
Said Piedmont coach Carlton Chan, "Zoe was playing amazing on the draw. It's carry-over from the last game she played. We won 16 out of 24 draws in the last game against Redwood (on March 23). And Zoe just kind of continued that.
"Having Widdy (Tevis) and Maria (Del Rosario Chan) on that line just getting it when Zoe was feeding it. She was feeding it really, really well."
Tevis scored four goals on the night and Sadie Tschider had three to go along with four assists.
It was a big win for the Highlanders on the road against a program with two North Coast Section championships. The Dons fell to 7-5 with the loss.
"This game was one I was really worried about because they've got some really good players on this team," Chan said. "We just continue to play our game and that really went well. They just kept their composure. Everybody contributed, including Maya Galbreath and Caroline Devine on defense."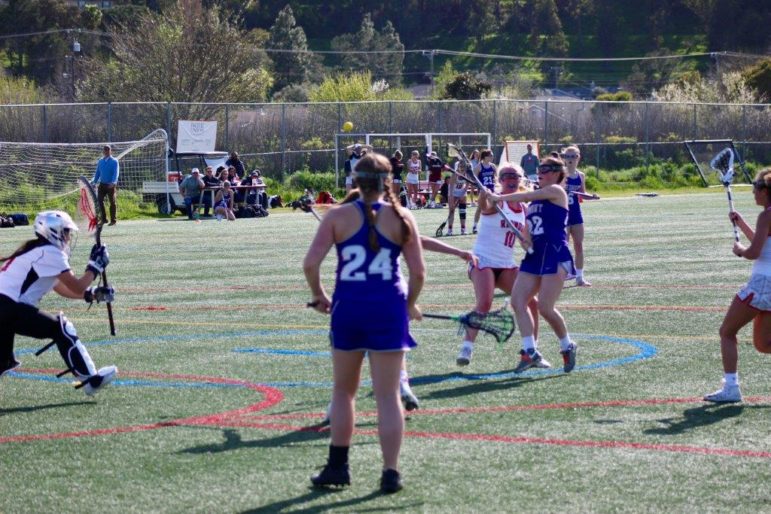 The first half was tight. Piedmont got out on top on a goal by Elie Cole, then went up 2-0 when Tschider set up Devine. Acalanes came back to tie on goals from Claire Gallagher (set up nicely by Emma Workman) and Grace Gebhardt.
The Highlanders scored the next three to go up for good. Torok netted a goal, followed by Tevis and Tschider.
It was 6-3 at the break. After Laura Westergren scored the first goal of the second half for the Dons, it looked like Piedmont was in for a battle. But the Highlanders exploded from that point on. Del Rosario Chan took a feed from Tschider for one goal, and Torok scored the next two. Torok set up Tschider to make it 10-4, and Tevis scored two in a row.
Campbell Lawson

Ivy Smith, Maya Galbreath (23) & Lucy Merickel (8)

Ellie Cole
"Our team really, really clicked this game," Torok said. "I think we've seen glimpses of how we played tonight in different games. This game we just played a complete game. I thought our transitions were so pretty. We would hit everybody coming down the field. That really gave us a step and an edge. We were just playing beautiful lacrosse. It was really fun."
Photos by Ben Costello from the Redwood game