Piedmont High School's boys tennis team continued to roll this week, winning two of three matches.
Nick Lalli prepares for a backhand

Matt Chan lunges for a return

Luke Hawkins focuses on the ball
On March 12, the Highlanders beat Bishop O'Dowd 6-1 in a home match. Matt Chan won No. 1 singles over Cole Forth, 6-2, 6-4, one of three points Piedmont earned in singles. No. 2 Nick Lalli defeated Grant Craney, 6-1, 6-2. Luke Hawkins lost to Brandon Khuu in three sets at third singles, 5-7, 6-2, 6-0, but Sajan Srivastava won No. 4 over T.J. Hicks, 6-4, 6-4.
The Highlanders swept the doubles matches. Nick Lynn and Walter Mahany beat the Dragons top team of Bruce Suzuki and Chase Anderson, 6-3, 6-1. Alan Rossi and Akash Kothari defeated Max Leandro and Owen Burlingham at No. 2, 6-1, 6-2. Zachary Pine teamed up with Colby Brookfield to win the No. 3 match over Justin Sin and Brendan O'Keefe, 6-4, 6-3.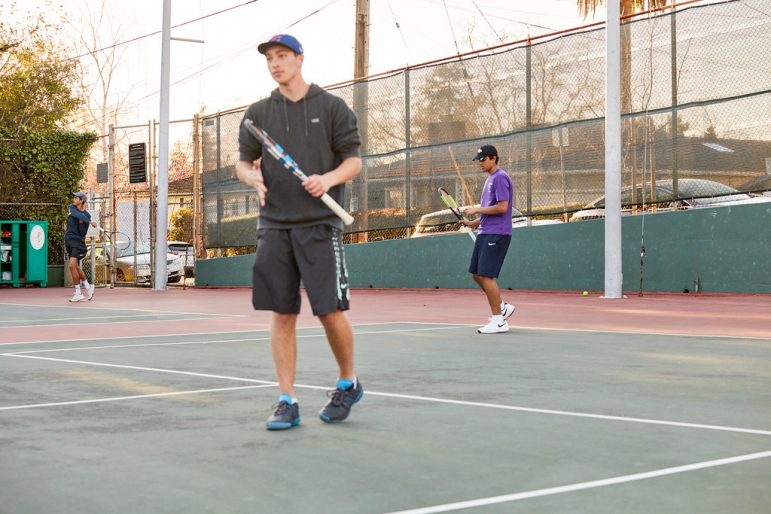 The next afternoon, Piedmont won a nonleague match at home over College Prep, 5-2. The Highlanders split the singles matches but again swept the doubles with all three going to tie-breakers. Lynn and Srivastava won No. 1 doubles over Jacob Glasky and Grady Florence in a terrific match, 6-2, 4-6, 10-6. Rossi and Mahany squeaked out a win at No. 2 over Niles Fitzgerald and Elliot Beamer, 6-4, 4-6, 10-5 while Pine and Kothari won the third match over Beckett Schafer and Kent Schecter in what was probably the best match of the day, 6-4, 6-7 (5), 10-7.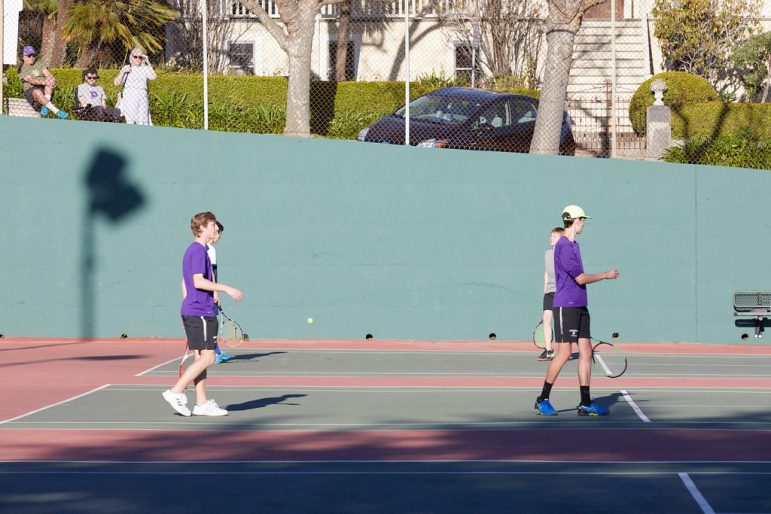 On March 14, Piedmont fell at Castro Valley, 6-1. Brookfield and Kothari had the only win for the Highlanders, winning the No. 3 doubles match over Leon Chen and Vizhur Kindinger, 3-6, 6-1, 6-1. All the losses came in straight sets. Chan lost No. 1 singles to Edward Wang, 6-3, 7-5. Charlie Lambert fell to Spencer Lin-Jones at No. 4, 7-5, 6-1.
The Highlanders have two home matches next week: Tuesday, March 19, at 3:30PM against San Leandro, and Wednesday, March 20, at 3:30PM against Marin Academy.
Photos by Brian Mahany