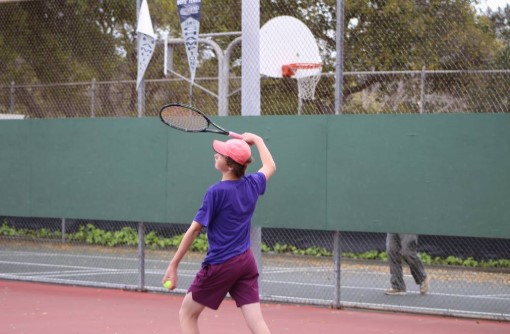 The Highlanders notched an easy win against the Hornets on March 26. The match against Mt. Eden on March 28 was interrupted by rain with Piedmont leading 3-1.
Piedmont didn't drop a set in sweeping all 6 macthes against Alameda. Luke Hawkins at #2 singles didn't finish due to rain.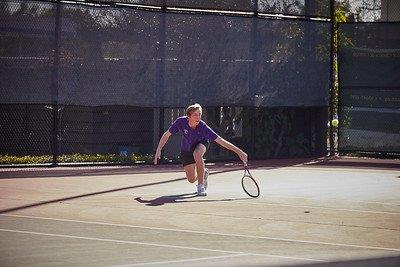 Nick Lalli at #1, Charlie Lambert at #3, and Will Wolfe at #4 won their singles matches. In doubles, Nick Lynn and Sajan Srivastava at #1, Alan Rossi and Walker Mahany at #2, and Zach Pine and Akash Kothari at #3 made quick work of their opponents.
The Mt. Eden match was a different story, at least in singles. Rain postponed Lambert's match at #1, with him down a set and 5-6 in the second. Srivastava lost his match at #2, 6-3, 6-4. Mahany's match at #3 stopped with him down a set, but up 2-1 in the second. And Rossi at #4 had won a set and led 3-1. All three of Piedmont's doubles teams won easily, with Lynn and Kothari at #1, Pine and Jaden Ferraro at #2, and Jake Cota and Linus Lee at #3.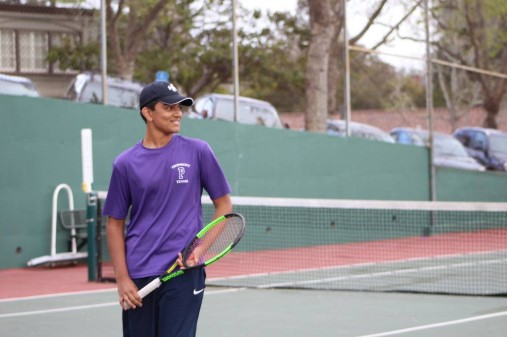 Coach Jim Landes said that the singles players "came up against two opponents, the one from Mt. Eden and the one at Mt. Eden – the wind. Both were tricky."
"Sajan's (Srvastava) opposing player was extremely quick", according to Landes. "He was able to run down some great shots by Sajan, including drop shots and powerful groundstrokes.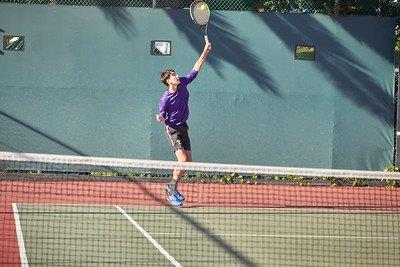 "The same was somewhat true in Charlie's (Lambert) match. His opponent had a few more offensive weapons, but still was very quick and played some great defense as well. Charlie hit some amazing shots and was in a very tight second set when they had to stop."
"After losing the first set, Walker (Mahany) was also coming on strong in the second before the interruption. Alan (Rossi) was in control the whole way, and I believe given a little more time he would have clinched the match for us."
Nick Lalli

Linus Lee & Jake Cota

Will Wolfe
The Highlanders face Arroyo twice next week, at home on Tuesday, April 2, at 3:30PM, and away on Thursday, April 4, at 4PM.
Photographs by Charlotte Hubbell