The Highlanders utilized a 12-run 5th inning to beat Castro Valley 13-10 on March 13 in front of a big home crowd.
This was a tale of two very different games.
Ben Levinson checks the runner

Joe Sassi leads off second

Jonah Sanders awaits the catcher's throw
Castro Valley had a tight 2-1 lead through 4 innings. Ben Levinson was on the mound for Piedmont and mixed up his pitches well, keeping Castro Valley off balance. Piedmont's defense was solid through four innings – including an Owen Levinson to Jonah Sanders to Paul Woolcott double play, and a nice outfield assist from Joe Sassi cutting down a runner trying to stretch a single into a double.
Piedmont's first run came in the second inning as Kyle Spanier blasted a lead-off double to left center field, and Luke Harris followed with a single to move Spanier to third base. Hot-hitting Sanders delivered a deep sacrifice fly to bring Spanier home.
Owen Levinson leaps for a throw

Kyle Spanier swings

Luke Harris corrals a deep drive to left
Castro Valley's two runs came on a short third inning rally and a 4th inning solo home run.
And then came the bottom of the 5th. Castro Valley added two runs in the top half of the inning on two hits and a Piedmont error. Now trailing 4-1, Piedmont battled back. Sixteen batters would come to the plate. Consecutive walks to Ryan Fitzgerald and Sanders set the stage. Brian Cain started the onslaught with a double on a 3-2 pitch that drove in a run. Trent Settlemier singled, Owen Levinson singled, Sassi walked, Woolcott hit a sacrifice fly, Spanier singled, Lucas Derr doubled, Fitzgerald singled, Settlemeier singled again, Owen Levinson singled again, Sassi drove in a run on a ground out, and the inning came to an end when Woolcott flew out. Piedmont scored 12 runs on 10 hits in the big inning. Eight different players drove in runs in the inning – Cain, Settlemier, Owen Levinson, Woolcott, Spanier, Lucas Derr, Sanders, and Sassi.
Lucas Derr connects

Trent Settlemier makes a catch in deep center

Brian Cain receives
Now down 13-4, Castro Valley battled back in their 6th inning. They used 5 hits to add three runs before Lars Derr came in to relieve Ben Levinson. Derr struck out a batter to stop the rally with the score now 13-7.
Castro Valley pushed across 3 more runs in the 7th due to 4 walks and a Piedmont error. Lars Derr persisted, ending the game with a strike out.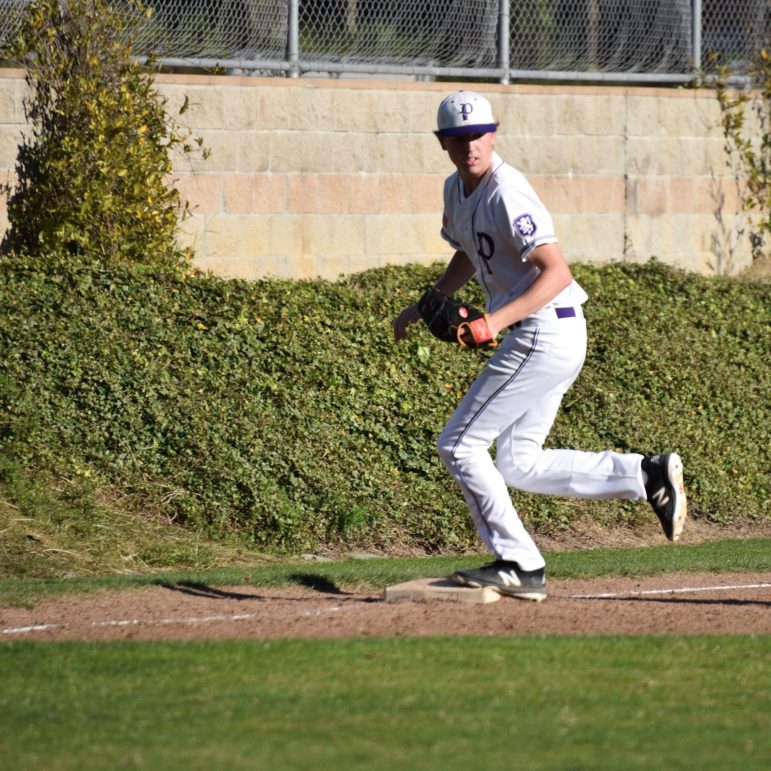 Coach Eric Olson was impressed with the team's teancity after a tough 18-7 loss to Miramonte the day before.
"I give our guys a lot of credit for fighting back after they fell behind against Castro Valley", Olson said. "We could have folded being down 4-1, but that comeback was amazing. I'm not sure if I've ever seen a 12-run inning at this level before."
In 1 and 1/3 innings of relief, Lars Derr struck out 3 batters and earned the save. Ben Levinson got the win while throwing 97 pitches. Settlemier, Owen Levinson, Spanier, and Cain had multi-hit games. Jonah Sanders kept his hitting streak going, with 7 hits in his last 7 official at bats.
The Highlanders have four games next week: Redwood Christian and Hayward at home on March 19 and 20, respectively; then Hayward away on March 22; and a big game at St. Mary's on March 23.
Photos by Julie Moll