The PHS Advanced Acting Class will present two comedic dramas in early March as the last plays in the Alan Harvey Theater before it is slated for demolition this spring.
---
FUDDY MEERS, by David Lindsay-Abaire: Thursday, March 7 and Saturday, March 9.

This comedic drama tells the story of an amnesiac, Claire, who awakens each morning as a blank slate. One morning, Claire is told by a limping, lisping man that her husband wants to kill her. Throughout one crazy day, Claire attempts to navigate fact from fiction with the help of the police, puppets, and the scariest people of all – her family. Author Lindsay-Abaire, who won the Pulitzer Prize for his play Rabbit Hole, says that Fuddy Meers is "a parable about people trying to forget who they are but needing to remember what they've done."
Senior Avni Wadhwani says that Fuddy Meers is a play where you think you know what's going on, and then five minutes later, you realize that your perception is distorted. Senior Margaret Faust adds, "Fuddy Meers combines humor, poignancy and mystery for a breathtaking performance you won't forget."
Fuddy Meers is rated PG-13 for adult language, violence and mature situations.
Cast members include Margaret Faust, Will Hosler, Tamir Menahemy, David Morris, David Schwarz, Avni Wadhwani and Olivia Wiebe.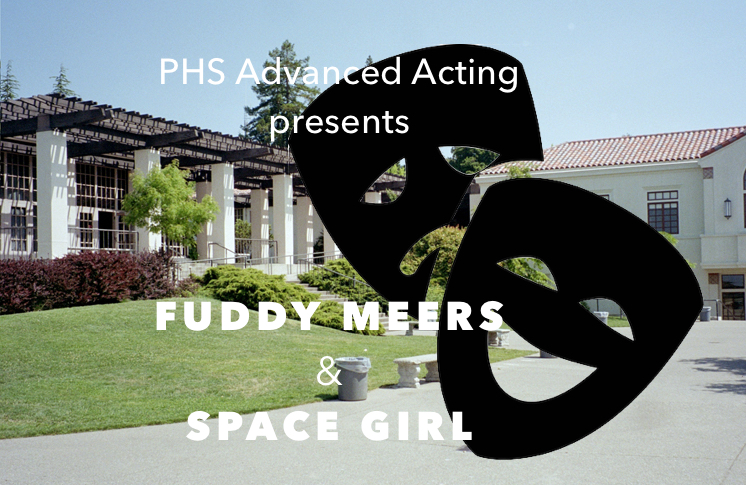 ---
SPACE GIRL by Mora V. Harris is produced on Friday, March 8 and Sunday, March 10.

Harris' brand new comedy is about Arugula, a teen alien who is navigating the American high school scene as her father collects data on human behavior. Toss roller derby and salad in the mix, and saving the human race has never been more complicated.
The cast of Space Girl features Domenic Arrabit, Gracie Ellis, Julie Ray, Jane Simonetti, Mia Webb, Will Wolfe and Kami Zimmer.
Senior Jane Simonetti says that "Space Girl is a comedy that shows a different type of outcast." Gracie Ellis adds that it's a comedic play that will keep audiences laughing while also adding unexpected poignancy.
Space Girl is rated PG for mild language and violence.
---
The shows will be the last ones in this version of the Alan Harvey Theater. The theater will close on March 12 in order to begin work on interior salvage and abatement of the building prior to its demolition during spring break. Construction will then begin on a new STEAM building on the theater site. Following completion of the new building, the 10s building will be demolished and replaced with a new Alan Harvey Theater.
---
SHOWTIMES
THURSDAY and SATURDAY, MARCH 7 and 9: Fuddy Meers
FRIDAY and SUNDAY, MARCH 8 and 10: Space Girl
All shows are at 7:30 p.m. in the Alan Harvey Theater at Piedmont High School.
TICKETS
General admission: $10
Students: $8
Reserved seats: $25
Tickets can be purchased at the door or online for Fuddy Meers or Space Girl.