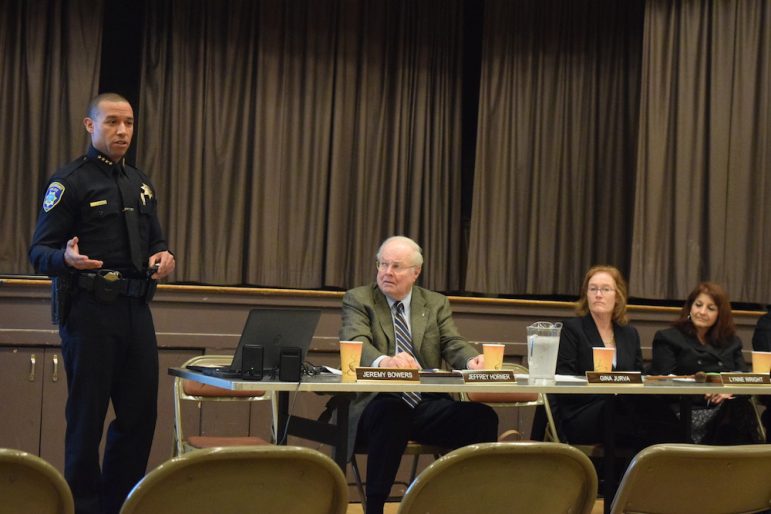 PIEDMONT — Rick Schiller's views on surveillance cameras in Piedmont have come into clearer focus in the past few years. And he's warming up to a proposal for more public safety cameras in his city.
"I was opposed to the ALPRs originally, but I was proven wrong," Schiller said of the city's license-plate reading cameras first installed in 2012. His reticence over privacy concerns, he said, has largely vanished.
"If our (police) department feels the need, and if the dollars are there, they should consider them," Schiller said.
The city already is looking seriously at them, which is why the city's Public Safety Committee held a special meeting Tuesday night at the Veterans Hall to talk about the benefits of public safety cameras, why they're being considered, prospective locations and projected costs.
"This is an extremely safe community, but crimes still do happen here," police Chief Jeremy Bowers told an audience of about 20 people. "Why would we want them? To make the community safer, and to prevent residents from being victimized."
The city's preliminary proposal is to keep the city's only trial public safety camera installation — three cameras at Grand and Oakland Avenues at Piedmont's main southern entrance — as well as at Grand and Wildwood Avenues, Grand and Rose Avenues, Sunnyside and Olive Avenues, Trestle Glen Road and Cavanaugh Court, and Kingston and Monte Cresta Avenues. These locations may change based on various factors, the city says.
These public safety cameras are different from Piedmont's automatic license plate reading cameras (ALPRs), which focus on vehicle license plates. The public safety cameras survey larger swaths of ground for whatever may happen within their view.
Thirty-nine license plate reading cameras are stationed at 15 Piedmont intersections; those cameras have helped lead directly to 118 suspect arrests, 183 stolen or otherwise sought vehicles recovered, and leads in more than 100 other cases.
One case took place on Jan. 24, 2018, on Lorita Avenue, where three armed men ransacked the house; Piedmont's license plate-reading cameras provided evidence that led to positive identification of the suspects' car, later located in Oakland.

The city's only public safety cameras helped police find the vehicle used by three suspects in a Jan. 12 home invasion robbery in the 500 block of Scenic Avenue.

"These cameras have been used in investigating dozens and dozens of cases," Bowers said.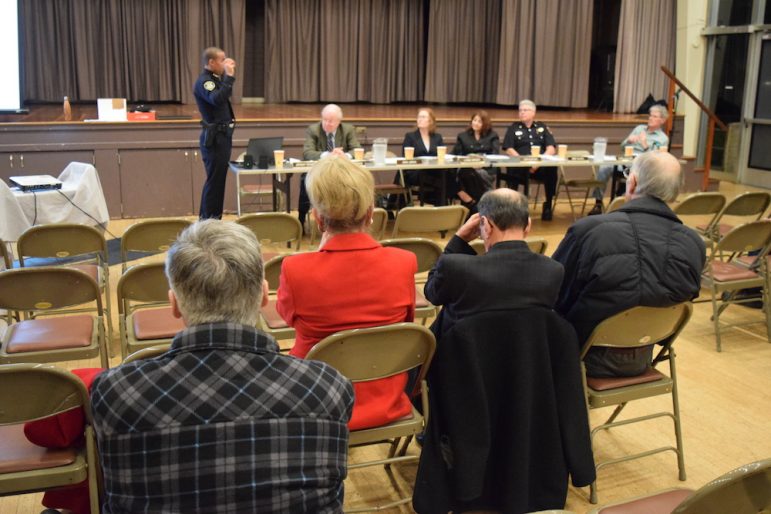 The chief also addressed questions of whether the safety cameras present a compromise of privacy. Since all cameras are proposed for street intersections — considered public places — their presence isn't generally considered an invasion of privacy, he said. The proposed locations for the public safety cameras, Bowers said, were determined using data, much of it from the ALPR cameras.

Jeffrey Horner, a retired Alameda County Superior Court judge and a member of Piedmont's Public Safety Committee, agreed.

"On a public sidewalk or street, there is no reasonable expectation of privacy," Horner told Tuesday's audience.

Bowers said that unlike hits on the city's license plate readers, which are shared with many outside law enforcement agencies, the safety camera video is seen only by police officers investigating specific cases. They don't figure to be shared with any members of the public, even those who make a formal public records request, Bowers said. An exception, he said, is cases of officer-involved shootings or cases in which police officers cause major bodily injury, as laid out by state Senate Bill 1421 and Assembly Bill 748, signed into law in September.

There will be more public meetings like Tuesday's, Bowers pledged, to talk about the cameras and to get public feedback. He said two neighborhood meetings will take place within the next couple of months.

The public safety cameras, Bowers said, would cost approximately $45,000 to $50,000 per intersection, making the cost of the city's preliminary plan about $300,000.

For Sunny Bostrom-Fleming, the cost is well worth it if it cuts down on detectives' time investigating major crimes. Piedmont has had them in the past, she said, and undoubtedly will again.

"Anything that can be done utilizing high-tech … will represent a tremendous saving to the city," she said. "It's always best to be ahead of the curve."
---
See related articles: Plan for pubic safety cameras focus of community meeting and Piedmont considers expansion of license plate reading cameras
---
Reach Sam Richards at sam.richards4344@gmail.com.