As city officials continue their ongoing evaluation of various municipal facilities and public amenities, they've enlisted the help of approximately thirty volunteers to knock on doors to query as many of Piedmont's 11,000 residents as possible regarding the condition of local sidewalks, civic buildings, trees, and more.
It's part of what City Administrator Paul Benoit said is Piedmont's first-ever widespread effort to take residents' temperatures on how much they use various city-owned facilities. Residents' responses, in turn, will eventually help the city with long-term planning for where those facilities fit into the city's future. The outreach is expected to last into mid-April.
"We don't really have a sense of how many Piedmonters use these buildings," Benoit said. "At this point, we're just trying to collect information."
As for the future, could this information be used to craft a ballot measure to ask Piedmont residents for money to renovate buildings, sidewalks or a swimming pool? The city has never pursued such a bond issue or tax measure, Benoit said.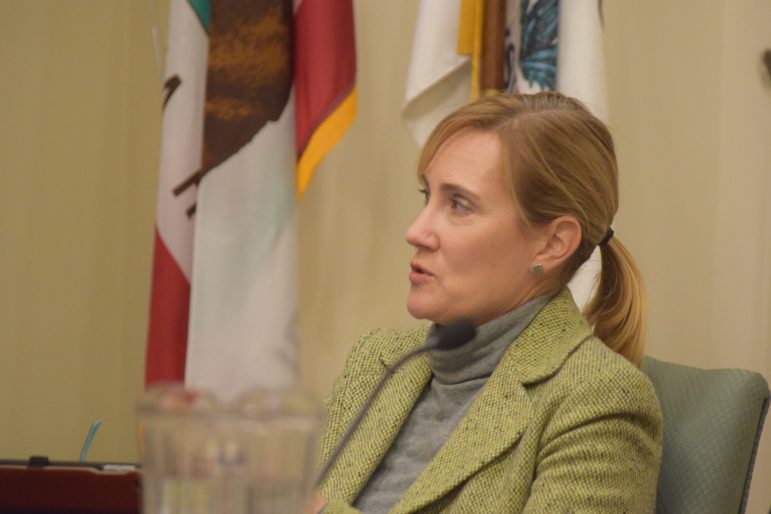 "It's far too early to know if there will be a measure of any kind," says City Councilwoman Betsy Smegal Andersen. "At this stage, we're two stages back from that. It's too early to have that discussion yet."
But she wants that discussion to start ASAP, and with as many people weighing in as possible. The results of this survey, she and others said, will help give city leaders information they'll use to start having those discussions.
"Our facilities are old, and people need to start thinking about these things," said Andersen said.
The survey asks seven questions, addressing local city-owned facilities, trees, and sidewalks; how often residents use Oakland libraries (there isn't a county library branch in Piedmont), and where people get information about their community. It also asks for residents' email addresses, Benoit said, to help build a database to better communicate with residents. No such database exists now, he added.
The city is getting significant help in this from Larry Tramutola, a political strategist, Piedmont resident, and veteran advisor of elected officials. He's helped school districts throughout the state (including Piedmont's) secure local funding to maintain educational programs and facilities, but this is his first time helping Piedmont city officials reach out to the community at large.
"My hope is that through this volunteer door-to-door effort, the city will hear from more people in the community as it does its work," Tramutola said in an email. He said that, given people's busy schedules, often making it hard to attend city meetings, he hopes that the city taking the time to come to people's homes will help the survey succeed.
"As the city develops plans to maintain and extend the useful life of its public resources, the results from the survey can help develop a sense of what the community's needs and priorities are," Tramutola said.
Benoit stressed that this survey work is not a "campaign" to generate interest in a bond issue or tax measure. "The volunteers are knocking on doors of people they live next door to, or down the block, and maybe having longer conversations," he said.
The Piedmont Community Pool was built in 1964, and an October 2018 city staff report says that to extend the pool's life beyond five years, about $1.5 million in renovation work is needed.
Money for the major work envisioned will have to come from somewhere. Andersen noted that the city does not have a capital fund to pay for major renovation work for these city facilities. (Regular maintenance needs have been budgeted for, she added.)
Zoe Clancy, the Piedmont pool's head lifeguard, hopes the work gets done. The pool has never had a major renovation, she said.
"I grew up coming to this pool, and it's a pool I want to keep alive," Clancy said.
Mimi Lee of Piedmont said she hasn't gotten a knock on her door yet — at least that she's aware of. She also said she doesn't always answer the door. Having an email database of local residents, she said, would have been a good way to get word out about the survey — and one reason the city is trying to compile those email addresses now.
"I don't think everyone answers their door, thinking it's just another ad or another salesman," Lee said. "But if you leave a survey in the mailbox, I think people will be open to that."