The hot topic when the City Council met Monday wasn't traffic and parking issues during upcoming construction at Piedmont High, or whether the city should spend more than $700,000 for a replacement fire truck, or even a badge-pinning ceremony for new police officers. It was pickleball.
To the uninitiated, pickleball might sound like the latest offbeat food offering at the county fair, but its enthusiastic adherents will tell you it's the fastest-growing recreational activity in the United States, particularly among seniors, the nation's fastest-growing demographic.
The council ultimately voted to give pickleball a four-week trial that could be extended to eight months if it is found that disruptions are minimal during the initial period.
The game is relatively new, first devised in Washington state in 1965. It is described as a cross between tennis, badminton, and table tennis, typically played on restriped tennis courts and using racquets and a hollow plastic ball similar to a Wiffle Ball. The attraction is that it is quickly learned, attractive to various age groups, and a lower impact alternative to sports such as basketball or tennis.
The idea of designating space at city recreational facilities to accommodate the sport was first raised three years ago, with discussions leading to a demonstration day held in April 2018. The question Piedmont faces is adding a new sport on existing courts that are already heavily used and minimizing potential disruptions to neighbors of the facilities.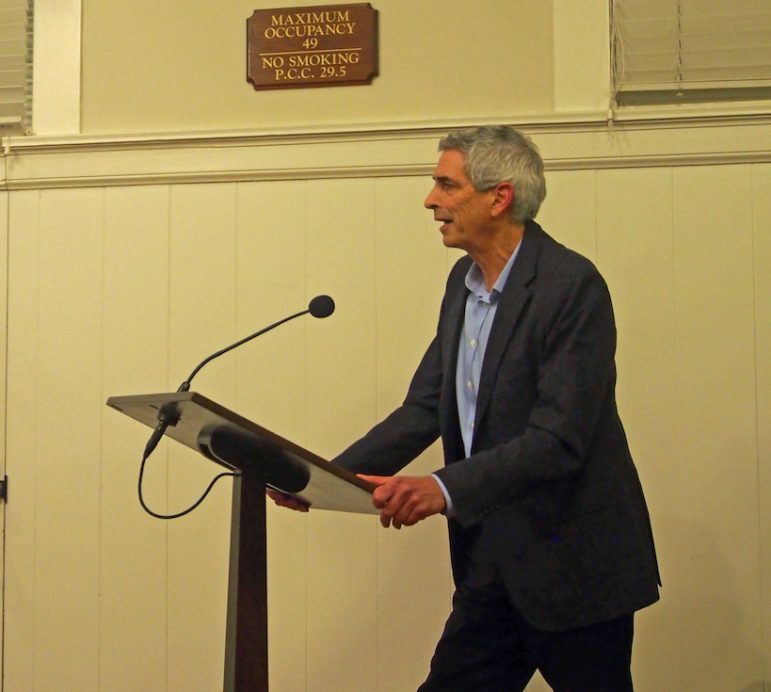 Those issues were studied by a subcommittee of the city Recreation Commission, which "got a lot of feedback" and "came armed with a lot of input" before presenting its recommendations Monday, commission member Steve Roland told the council in a presentation.
He cited "a dramatic increase in pickleball not only in Piedmont, but, I think nationally," in the past two years, coupled with a desire to add more activities for the city's growing senior population.
With no obvious space or funds to add new courts, the group studied carving out time at existing tennis courts at Piedmont Sports Field (Hampton Field) and Beach Playfield.
Tennis is well-established in Piedmont and courts are "actively used," Roland said, so the subcommittee studied the best way to share resources and "spread the burden" during the short-term trial period. Play could only be during specified days and hours, while the long range plan will be determining a possible permanent home for pickleball.
The existing courts would need additional striping and other modifications to add pickleball, which can accommodate several games at once in the space of a traditional tennis court.
In addition to an undetermined expense for staff time, short-term costs would include "$2,000 for temporary court striping, $1,200 for portable nets, and $100 for the neighborhood noise survey," according to the staff report.
Larger costs down the road could involve resurfacing the asphalt courts, which already have wear and tear from existing use, and installing posts for nets that can be adjusted for various sports.
Pickleball hours at Beach will be 10 a.m. to 12:30 p.m. Tuesdays and Thursdays, and 2-4 p.m. Sundays, "inclusive of set up and break down." Hours at Hampton are 12:30 p.m. to 3 p.m. Wednesday and Friday. "All other hours would continue to be designated for tennis only," according to the staff report.
More than 11 speakers addressed the council during public comment on the issue, most of them pickleball supporters who noted the sport's growing popularity, its accessibility to older residents no longer able to play tennis or pickup basketball, and its appeal to both young and old.
Pickleball is "very inclusive," resident Elaine Penzer said. "You can learn it really, really fast."
Sandra Ponce, a 1959 graduate of Piedmont High, said she is "really excited" at the prospect of joining a sport her friends already play in cities that have courts. Ponce said she can no longer play tennis, "but I think I can manage pickleball."
Another supporter said that Piedmont is "devoid of senior recreation facilities."
But speakers also included neighbors of the courts proposed for the trial run concerned about potential disruption, particularly noise.
Resident David Zweig conceded that the sport is popular and has a name that's amusing to say and said he hopes it finds a suitable permanent home. But he expressed skepticism that use would be limited to the specified hours, noting that soccer is played after dark on weekends during times when fields are supposedly closed. "We were told use of the the field would be limited and it expanded," he said, predicting there will be similar pressure to expand pickleball hours.
"This is our home, this is our investment," he said. "I hope the city will show greater concern for the people in the neighborhood."
Resident Kyung Hee Howard expressed similar views, asking for "concern about our well-being" living next to facilities already in regular use and adding "We're not saying 'Not in Our Backyard,' we're saying 'Our yard is already full."
In response to concerns, the subcommittee compiled a list of racquets that minimize noise and tried to choose times that least-disruptive, Roland said. At the meeting the recommended eight-month trial period was modified to allow an evaluation after the first four weeks, with the trial extended if disruption is found to be sufficiently minimal.
"If people are really annoyed by the sound we would suspend the trial."

Recreation Director Sara Lillevand
In the longer term, the city adopted the recommendation that a partnership with the school district be explored for allowing permanent pickleball space during off hours at the outdoor courts at Piedmont Middle School.
That proposal "would not have any immediate costs, but could result in a project proposal with costs upwards of $100,000" for full resurfacing, drainage work and other modifications, according to the staff report. "It would be staff's intent to approach this work as a public/private partnership between the City, PUSD, and Piedmont pickleball enthusiasts."
PUSD Director of Facilities Pete Palmer said he "is a huge fan of pickleball" and wants "to do what I can to make this happen."
PHS construction
Disruption of another kind was discussed in a report by Palmer on managing traffic and parking at Piedmont High when a major construction project begins next month.
Demolition of the Alan L. Harvey Theatre is set to start April 13, when school is not in session. "We are going to try and take the building down entirely during break," Palmer said, adding it is likely that demolition may continue past then.
Campus and street parking will be displaced during the project, the center driveway and main entrance to the campus will be closed, and a construction fence will extend to the center of Magnolia Avenue, restricting traffic and eliminating 20 on-street parking spaces.
Efforts will be made to keep large trucks from entering and leaving the site when students are being dropped off and picked up at PHS, Millenium and Piedmont Middle School, and a flagger will direct traffic.
The district is working with the city on finding temporary parking spaces. Tandem parking will be used on campus to fit as many vehicles as possible. Plans call for construction workers to park elsewhere and take shuttles in to lessen demand around Civic Center.
"My No. 1 priority is not parking, it's safety," Police Chief Jeremy Bowers said. "There are going to be hiccups, there are going to be bumps. There are more details to work out, but we're going to get there."
The district is "trying to do as much outreach as possible" to affected areas in advance of the project, which is expected to take 2 1/2 years. Work will include construction of a three-story main high school building with STEAM classrooms and a new theater. The project is funded by Measure H1, approved by voters in 2016.
The report was informational only and no council action was taken, though members did suggest possible locations for temporary parking.
Fire truck purchase
In other action, the council approved $714,740.28 for the purchase of a replacement fire truck.
The new Pierce Enforcer PUC – Triple Combination Pumper truck from Golden State Fire Apparatus carries a water tank, a pressurizing pump and fire hose. The cost includes a 5 percent contingency for changes or options that might arise, Fire Chief Bret Black said.
He explained that unlike police vehicles, fire apparatus is custom built at the factory.
The truck is described as "a purpose built and efficient apparatus that can meet a variety of missions for decades to come," in Black's report.
The new unit would become the city's frontline unit, replacing Engine 2843, which would be assigned to reserve status. Current reserve, Engine 2841, is the oldest unit in the fleet at 20 years. It will be scrapped.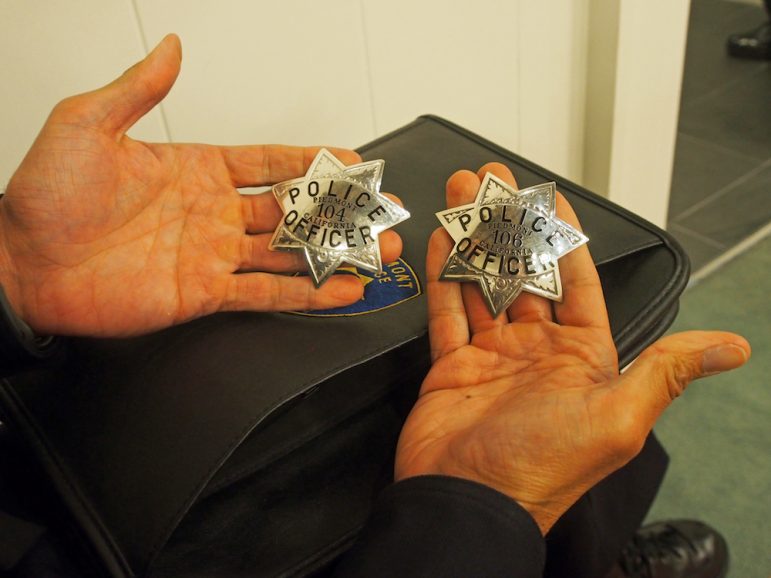 New officers
The meeting opened with a badge-pinning ceremony for Piedmont's two newest police officers.
Officer Iakopo Seumalo is a native of Hawaii who grew up in American Samoa. He is a graduate of the University of Hawaii at Manoa and served 12 years in the U.S. Army Reserves.
Officer Joshua Doughtie was born in Sacramento and moved to San Jose, where he graduated from San Jose State University with a degree in criminal justice.
New officer Joshua Doughtie with his in-laws Tim and Alexa Shannon, wife Tiffani and son Jaxson, and Police Chief Bowers.

Wife Tiffani Doughtie pins badge on new officer Joshua Doughtie, who is holding their son Jaxson, who is dressed for the occasion.

Iakopo Seumalo, who goes by the name Jake, poses with family members after being welcomed to the Piedmont Police Department.

New officer Seumalo give his sister the honor of pinning his badge.

Members of the Piedmont Police Explorers who competed in a national competition in Chandler, Arizona.
Also recognized at the meeting were 10 members of the city's Police Explorers program who competed in a 2019 national competition event in Chandler, Arizona.
---
All photos by Chris Treadway