This Saturday, March 16, the 3rd Annual "Big Art Show" will open with a Wine and Cheese Reception at the Piedmont Center for the Arts following the "Piedmont's Got Talent" Show at Piedmont Veterans Hall. The Big Art Show, hosted by the Piedmont Arts Fund (PAF), a merged PAINTS and CHIME organization, is a celebration of professional and student artists in the community and a fundraiser for performing and visual arts in the schools.  Art may be purchased during gallery hours and online at www.piedmontartsfund.org. The Piedmont Center for the Arts is located at 801 Magnolia Avenue across from Piedmont High School.  There is no fee for admission.

The Big Art Show will have select gallery hours through March 30th and will end with a closing concert of student performers. Gallery hours include special events and hands-on artistic activities.

The following is a calendar of gallery events. There are no fees for activities and the gallery hours are free and open to the public.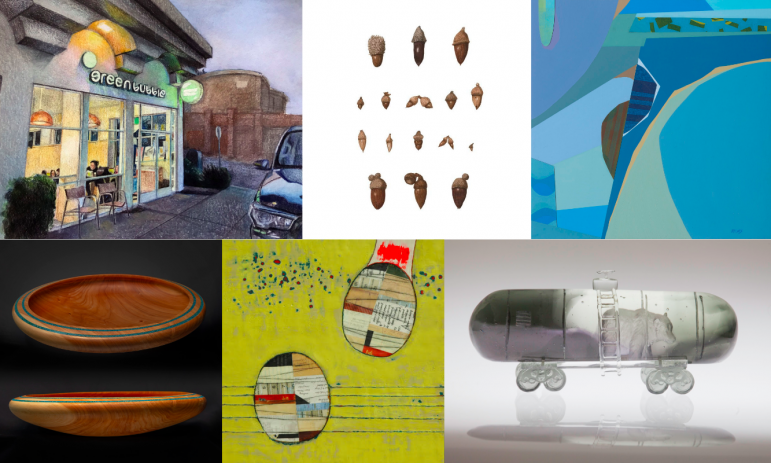 Saturday, March 16th 6-8pm: Opening Wine and Cheese Reception
Join us at The Big Art Show Opening. Meet the artists and be the first to purchase art and ceramic flowers. Get to know the Piedmont Arts Fund committee members and consider volunteering your time to create more arts opportunities for the students of Piedmont.

Sunday, March 17th: 12-3pm Silk Screen Printing
Learn about the silk screen printing process and help emblazon the new Piedmont Arts Fund logo on aprons, tote bags, and t-shirts. These items will be available for purchase to support arts in our schools. This activity is led by Maggie Mittan, Anna Chambers, and Jane Lin.

Friday, March 22nd 3-5pm: Quilting
A special display of quilts has been organized by quilter and artist Amanda Ward. Amanda will demonstrate English Paper Piecing. We encourage enthusiasts of quilts, knitting, crocheting, and sewing to bring your creations to share. Let's see your creations!!

Saturday, March 23rd 12-3pm: Marvel Comics Illustrator Yancey Labat
Come learn the process of creating comic books from concept to print. Illustrator Yancey Labat will cover character creation and effective visual storytelling. He'll share how he created his latest books, DC Superhero Girls. Kids will have a chance to make their own comics.

Sunday, March 24th 12-3pm: Watercolors and Collage
Christiana Reining, Lunchtime Art Teacher at Wildwood, will lead a fun watercolor and collage project that will be cut and dry!

Thursday, March 28th 3-5pm: Student Film Viewing
Piedmont Middle School teachers Anne Smith and John White have selected a set of student films that will have a special showing at this gallery session. Screening begins at 3:30pm, so grab a seat and see them before they are famous.

Saturday, March 30th 12-3pm: Closing Concert Event begins at 1pm
As a closing event to the Big Art Show, there will be a student concert. Come hear musically talented youth at an intimate venue and celebrate the visual and performing arts with us.

The Piedmont Arts Fund (PAF) contributed $65,000 this academic year to Piedmont Unified School District. The Piedmont Arts Fund relies on donations through the Piedmont Store and through special events to support art education in all of the schools in the Piedmont Unified School District. The PAF supports art for K-12 students including supplies, music instruction, integrated art, lunchtime art, 2D and 3D art, ceramics, photography, graphic design, band, orchestra, acapella, choir, theater, dance, poetry, film & animation, and arts-related books in the libraries. The breadth and depth of these offerings would be impossible to maintain without parent and community support.
For more information and to make a donation visit www.piedmontartsfund.org