It was a simple play. Jasmyne Huggins would drive through the lane, put the ball in, and draw the foul. The Piedmont High School girls basketball rode Huggins to a 60-45 win over visiting Pleasant Valley-Chico on February 26, advancing to the second round of the California Interscholastic Federation Division IV playoffs.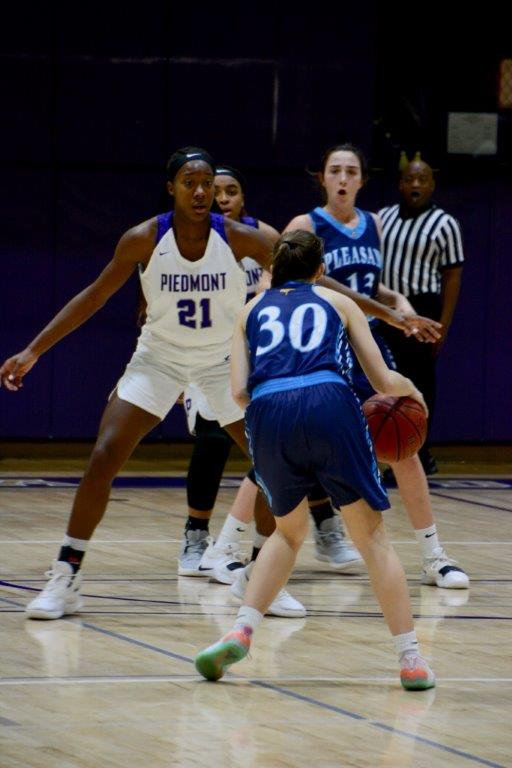 "During practice, we mainly ran this one play called Triangle," Huggins said after scoring 23 points and grabbing nine rebounds in the win. The play allowed Huggins to attack the middle against a Pleasant Valley team that had no answer for her.
Huggins was one of four Highlanders in double-figures. Kris Seyranian scored 12 points and pulled down seven rebounds. Ashely Gao overcame foul trouble to score 11, and Kai Johnson scored eight of her 10 points in the first quarter to help the team get off to a quick start.
"Every win is a good win, especially this late in the season," Piedmont coach Bryan Gardere said. "You'll take all the victories any way you can get them."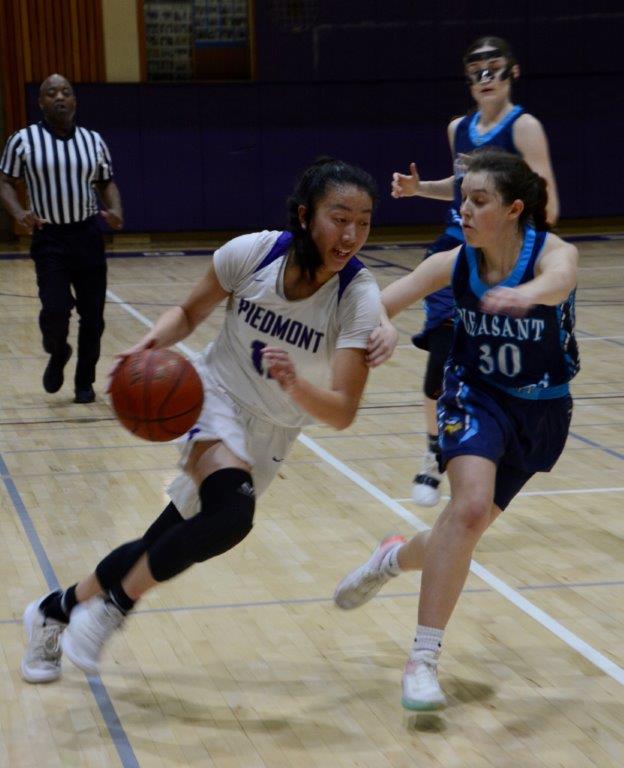 Gao was in foul trouble much of the night, picking up two in the first quarter, a third in the second quarter, and then getting called for her fourth midway through the third. Early on, the Highlanders struggled to bring the ball up court with Gao on the bench, but eventually they righted the ship.
"We're not used to playing without her sometimes and we just weren't very sharp in the first half," Gardere said. "Second half we woke up, tried to make a few adjustments just being sharper with the ball, valuing the basketball.
"I'm proud of the girls. They did a great job."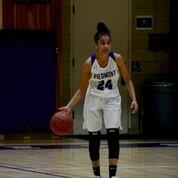 Said Seyranian, "I had to step up (with ball-handling). I had to take Ashley's role and I knew if I didn't do it, nobody else could and I had to help my team."
Pleasant Valley guard Chloe Mayer did her best to keep the Vikings in the game. One sequence in the second quarter showed the 5-foot-4 senior's talent. Piedmont led 21-12 when Mayer made a long 2-pointer for her first points of the game. She came down and buried a 3-pointer on the next possession, then hit two free throws on the next. Finally, she made a perfect pass to Cassidy King for a basket and the game was tied 23-23.
But Mayer didn't have much help. Several pinpoint passes were missed by her teammates. She ended up with 12 points, the only Viking in double-figures.
Megan Tang drives

Nakilah Johnson runs a play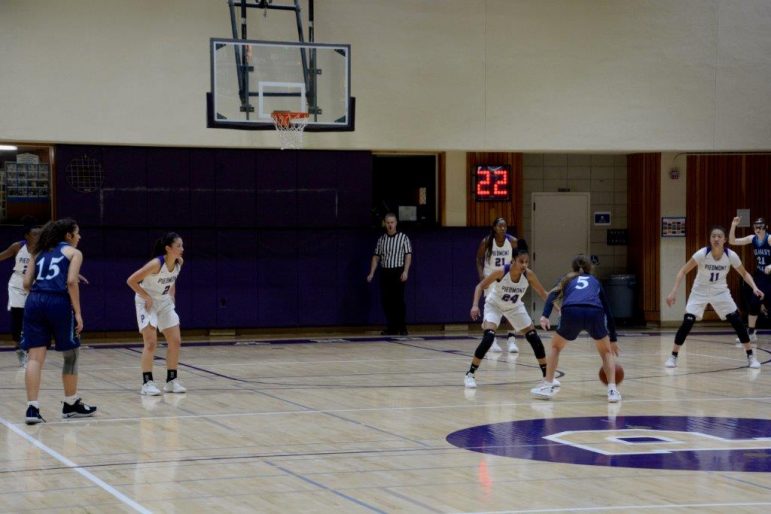 Piedmont (20-10) advances to the second round tonight, February 28, when they will face third-seeded Lowell-San Francisco, which defeated Amador Valley 59-38. The game will be at Lowell at 7 p.m.
Photos by Devon O'Shaughnessy