Jasmyne Huggins

Erin Hong

Ashley Gao
The Piedmont High School girls basketball team continued its impressive run through the North Coast Section Division 4 playoffs with a 59-35 win over John Swett-Crockett on the road on February 16.
The Highlanders (19-9) now advance to the semifinals where they will face No. 1 seed St. Patrick-St. Vincent-Vallejo. Fifth-seeded Piedmont will again be on the road, facing the Bruins in Vallejo on February 20 at 7 p.m.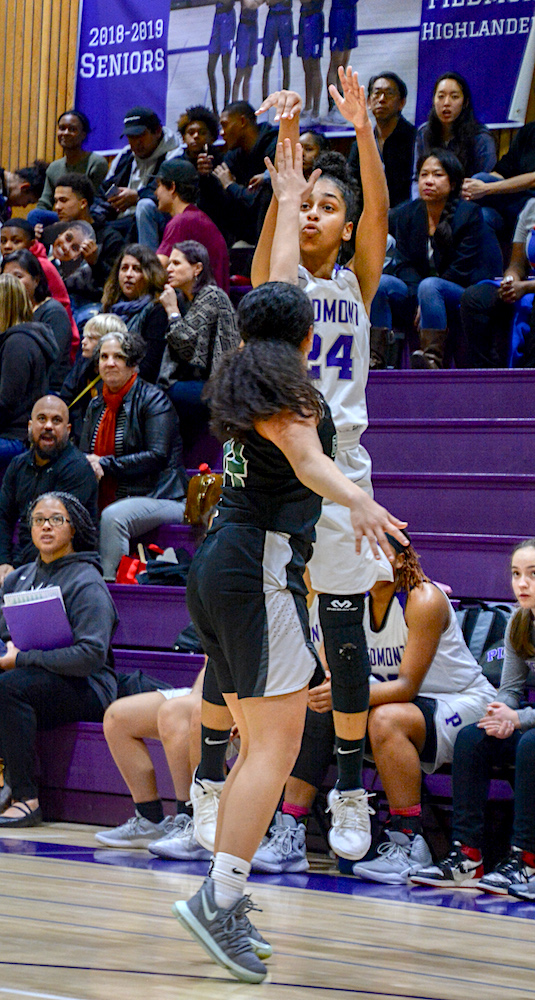 Kris Seyranian had a career night at John Swett, scoring 31 points and making seven 3-pointers. Seyranian helped break open what had been a 21-13 game in favor of the Highlanders at halftime by scoring 13 points in the third quarter and then 12 in the fourth as Piedmont pulled away.
Piedmont coach Bryan Gardere said that Seyranian was the key to the team opening up the lead. The Warriors had gone on an 8-0 run to open the third quarter when Seyranian hit a 3-pointer. "It was a close game and she kind of opened it up with her 3-point shooting in the third and fourth quarter," he said.
Jasmyne Huggins added eight points and Kai Johnson seven for the Highlanders. John Swett was led by Mia Stewart's 11 points.
St. Patrick-St. Vincent is 25-3 after its 67-48 win over McKinleyville on February 16. The Highlanders will try to limit junior point guard Tameiya Sadler, who is averaging 17.0 points and 7.6 assists per game according to MaxPreps.com. The teams have two common opponents – John Swett and Castro Valley. The Bruins split their two games with John Swett, losing on the road and winning at home. St. Patrick-St. Vincent beat Castro Valley while Piedmont split with the Trojans.
"It looks like it should be a good game if you go by scores online," Gardere said. "But honestly in high school basketball it's whichever team shows up. They do have a good team and well have our hands full."
Nakilah Johnson beats her defender

Piedmont girls defense closes in on Castro Valley

Kris Seyranian drives
The Swett win means the Highlanders will make the California Interscholastic Federation tournament no matter what happens the rest of the way in the NCS bracket. The CIF takes the top four teams out of each NCS division.
"You win the first two games, you do get to advance," Gardere said. "That part is fun for the kids."