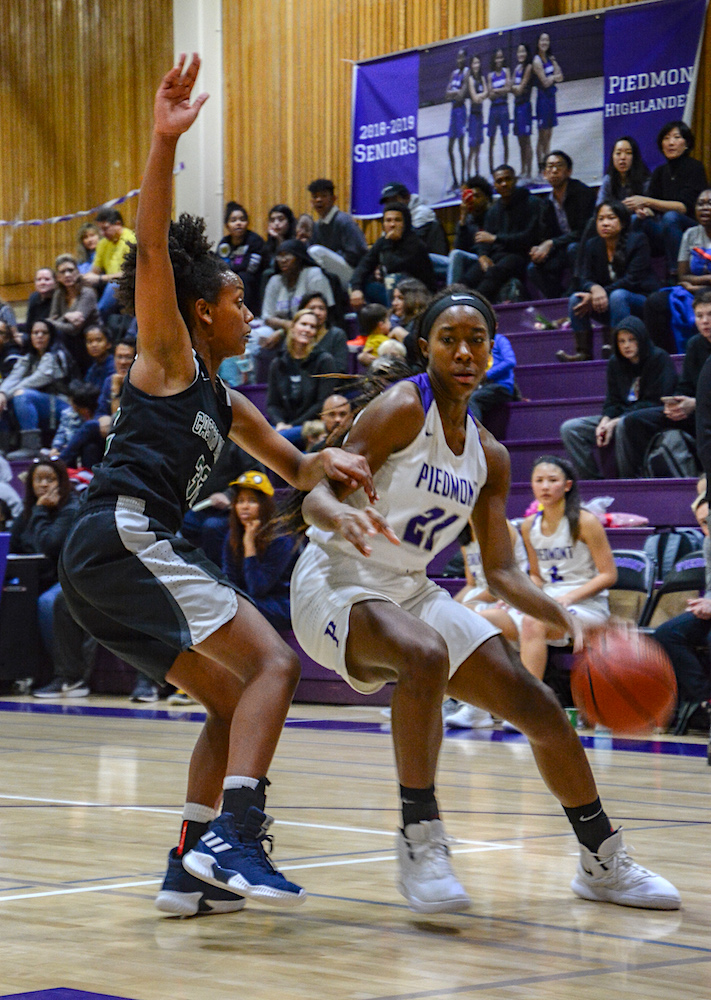 Two nights after an historic win for the Piedmont High School girls basketball team, the Highlanders fell to visiting Castro Valley on February 1, 50-48.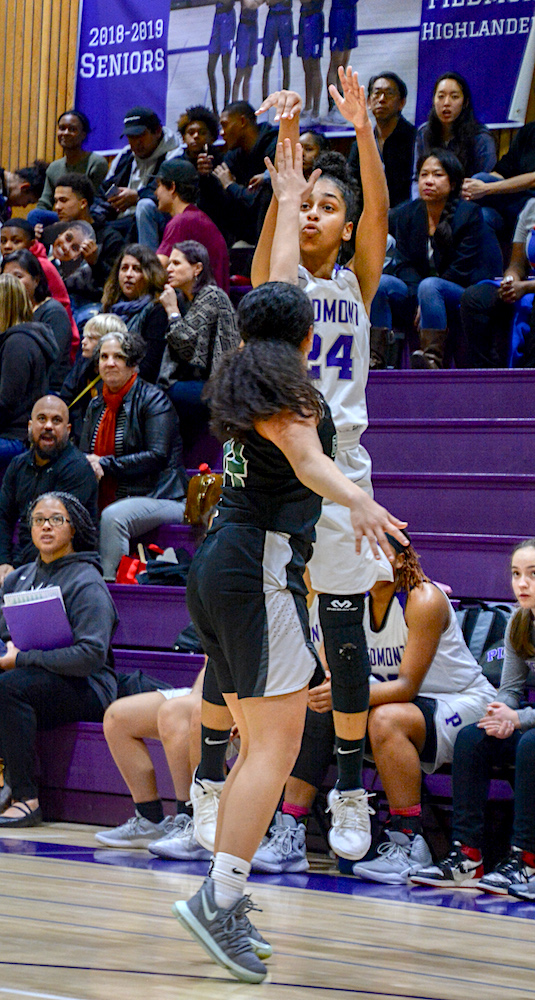 Sydney Burnama scored on a drive with eight seconds left for the Trojans, breaking a 48-48 tie. The Highlanders called a timeout and tried to set up a game-winning 3-point attempt by Kris Seyranian. But Piedmont couldn't get the ball to Seyranian in time and the buzzer sounded before she could even set up.
For the Highlanders, it was a missed opportunity on senior night, with seniors Seyranian, Jasmyne Huggins, Ashley Gao, Megan Tang and Erin Hong all playing their final regular season game at home. Piedmont was never able to shake Castro Valley, which has struggled this season; with the win, the Trojans are now 8-16, 3-5 West Alameda County Foothill League.
Castro Valley took a 10-9 lead after the first quarter, thanks in large part to Burnama, who scored nine of her game-high 20 points in the quarter.
The Highlanders (16-8, 4-4) never had great flow but they played gritty. Gao made a circus shot in the second quarter, falling to the floor hard as the ball went in. That tied the score at 19-19. The Trojans led 23-19 at the half.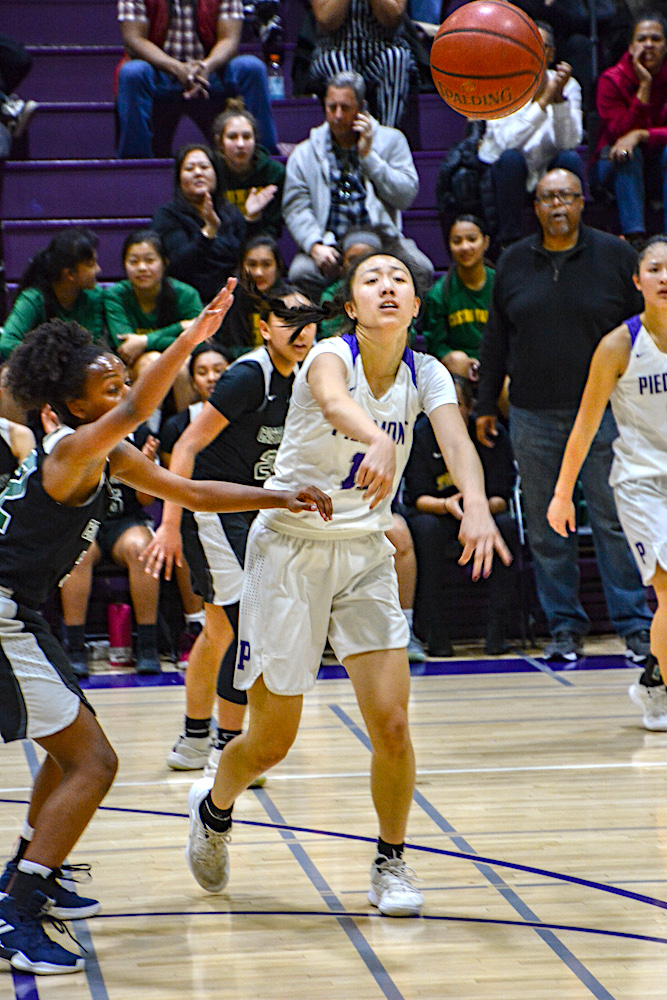 Gao continued to be a play-maker, connecting with Huggins twice on the baseline early in the third quarter to tie the score. Huggins scored again to give Piedmont a 25-23 lead, and Castro Valley kept it close throughout.
Seyranian made two pairs of free throws late in the fourth quarter to put the Highlanders up 48-45. However, with 33.0 seconds remaining, Gao was called for a foul as Payton Stanberry tried a 3-pointer. Stanberry made all three free throws to tie the score.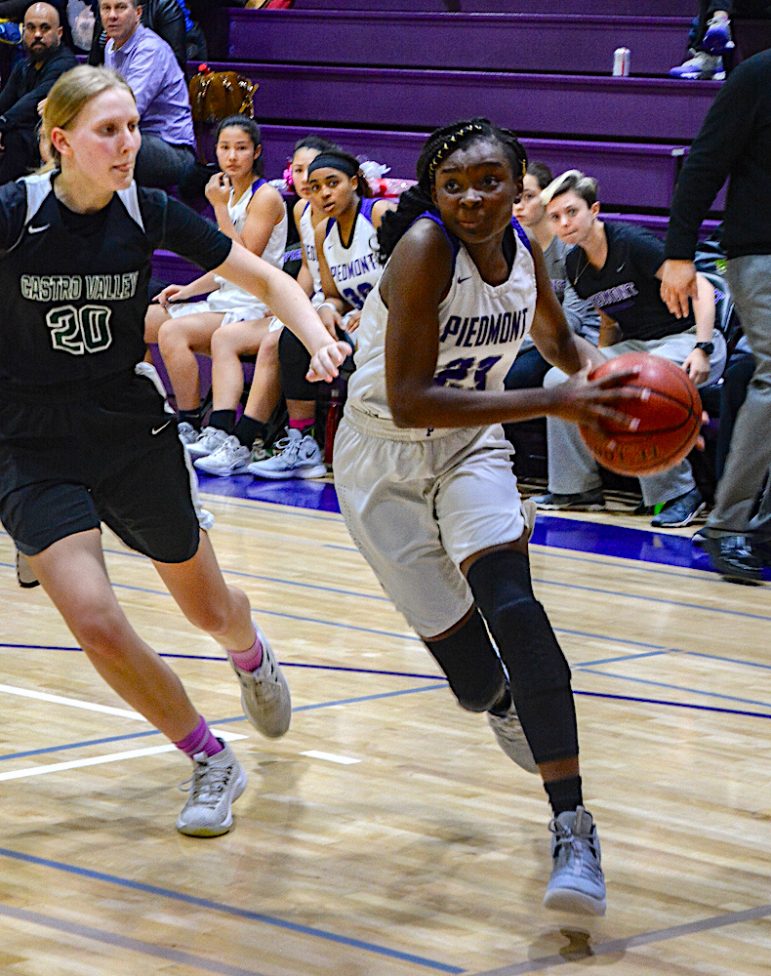 At the other end, Huggins missed a shot, got her own rebound and missed the follow. The rebound was grabbed by Castro Valley's Torrie Nelson and Piedmont's Nakilah Johnson for a jump ball. The alternating possession arrow was pointing the Trojan's way, setting up Burnama's heroics. Piedmont's Huggins finished with 18 points, and Seyranian had 10 points.
After the Highlanders ended Bishop O'Dowd's an 11-year winning streak in league games last Wednesday, Piedmont closes the regular season with games at Berkeley (February 6) and Alameda (February 8). The North Coast Section seeding meeting is on February 9, with the playoffs beginning the following week.