The same community organization behind the rescue and renovation of a vacant church building for public use has now formed the city's first-ever community orchestra to perform there.
Artistic Director Jonathan Khuner led the Piedmont Free Orchestra for its inaugural concert held Nov. 11 at Piedmont Community Church, 400 Highland Ave. A post-performance reception followed at the nearby Piedmont Center for the Arts at 801 Magnolia Ave., which will be its home venue.
The new orchestra had 21 musicians for its first performance and currently expects about 26 for its second concert in June, though room will be made if there are more.
"If we have more people who want to play, we'll change the repertoire and let them play," said Nancy Lehrkind, a Piedmont Center for the Arts co-founder and board member. "Any and all are welcome to come and play with us."
She said the all-volunteer chamber orchestra gets its name because, unlike many community ensembles, members are not assessed a fee to cover costs such as paying the conductor and renting a venue. Costs instead are covered by the sponsoring Piedmont Center for the Arts (www.piedmontcenterforthearts.org), a nonprofit program promoting art in the community.
The orchestra will perform and rehearse at the 120-seat center and conducting is a volunteer role. "By keeping expenses down we don't have to ask musicians to pay to play in the orchestra," Lehrkind said.
Piedmont now has a home option for the large pool of musical talent in the area and until now those who wanted to play often turned to orchestras in Oakland or Berkeley.
"Piedmont has never had a community orchestra,"
Lehrkind said, even though "We've always had talented musicians and we have such strong programs in middle school and high school."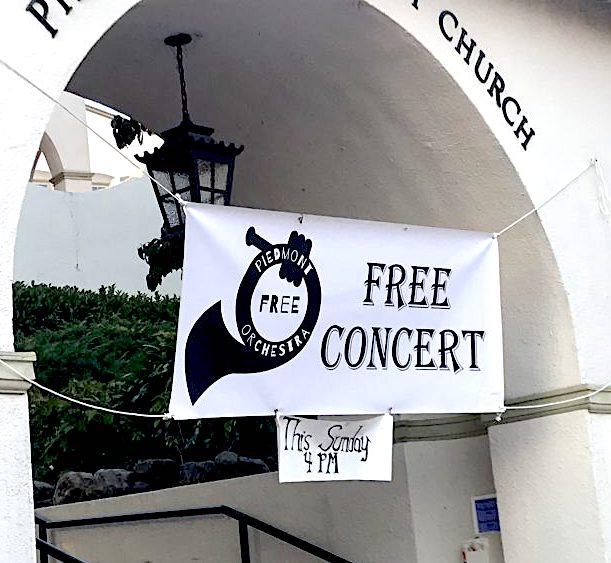 Members include professionals such as horn player Stuart Gronningen and trumpet player Noel Weidkamp, and amateurs such as violinist Bert Tuan, head oncologist at Benioff Children's Hospital in Oakland, and high school junior Kihiro Lambert.
Members "are playing for the love of music and the love of our community," Lehrkind said. "We want to share music with the public."
The first concert was a success even though the new orchestra only had two rehearsals.
"When you have professionals, they only come to one rehearsal because they can sight-read music," Lehrkind noted, organizers plan to reach out to other possible conductors and to music students at UC Berkeley who might be interested in leading rehearsals.
Plans are already being made for the next concert, scheduled for 4 p.m. June 2 at the center, featuring an overture, a concerto, a string piece and a symphony. A reception will follow the one-hour performance.
The orchestra is only the latest project for the 8-year-old center, which is a success story in itself in community organizing and engagement.
---
Piedmont Center for the Arts — a community venture FOR and BY the art lovers of Piedmont
The center was formed in 2011 to rally support for saving and putting a city-owned former church back into use for public activities.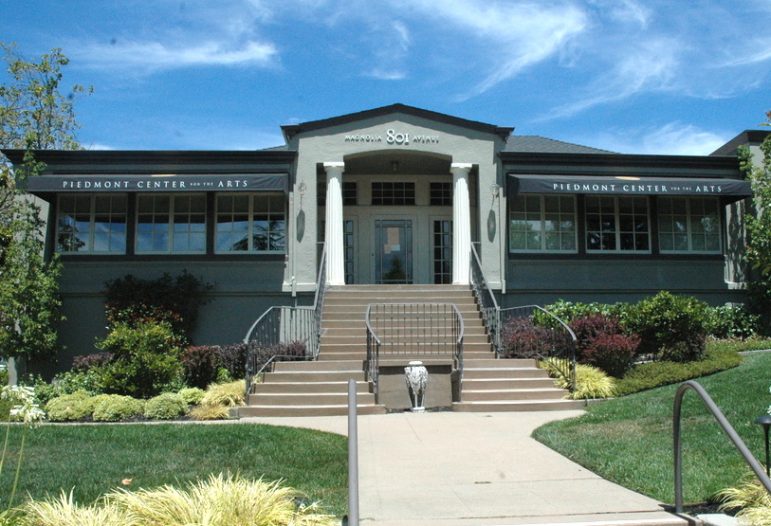 "Our lovely building (the former Christian Science Church) was purchased by the City in 2003 for $730,000 of public funds, with the promise of its use 'for City-related programs.' In eight years, no programs were established; during that period the City turned down all rental requests for the building," the organization says on its website.
"Their only idea was to tear it down," Lehrkind said, adding that it was only being used as a city storage site, "which was appalling."
A mailing to every Piedmont residence sought support for support "to take a derelict building and make something wonderful for the community," she said.
The appeal raised almost $50,000, with $20 being the average donation
"Everybody in town, I think, sent money, [saying] absolutely we want this [Center for the Arts] — let's make this happen," Lehrkind said.
City officials "were thrilled" with the idea and approval came in the form of a 10-year, lease at $1 annually, based on similar agreements nonprofit groups in Berkeley have for using city-owned buildings.
The city maintains the building under the agreement, but the nominal rent for one wing of the building came with a cost. The group was expected to make renovations that included some work on the wing still used by the city.
Along with projects such as foundation work, painting, and adding two bathrooms, renovations included adding a handicap lift in the wing of the building still used by the city.
The community also stepped up to make the project, estimated to have taken some $120,000 worth or work, a reality, Six Eagle Scout projects did projects at the center, including building a Green Room, risers singers, benches, and stage and accessibility features.
In addition, "We had many donations, beautiful rugs, chairs, tables, even high-end vacuums," Lehrkind said, and "tons of service people who did work that was donated or given at great price."
The group got the key to the wing June 1 and opened in late August. It also entered a float promoting the orchestra in the annual Fourth of July parade.
Offerings so far have included concerts, a shadow puppet performance, art and photography exhibits, and a benefit artisanal beer tasting event featuring home brewers.
In the PCA's planning is Free Flute Fridays, an evening series of three all-flute concerts by local professionals, with wine and snacks on sale.
"We did it in 2015 and it was a big hit. Now we have a new group of flautists who want to play together," Lehrkind said.
The center has already gained acceptance.
"We have people who say they can't believe the city never had a center for the arts," Lehrkind said. "We want to have it full all the time. It's a fun place to be. There's always something happening there."
Music lovers can now add the Piedmont Free Orchestra to those happenings.