As the buzzer sounded at 7:04 p.m. on a Wednesday evening, the Piedmont High School players flew off the bench, screaming and hugging their teammates on their home court. The Highlanders had just beaten mighty Bishop O'Dowd 57-53 in overtime on January 30, the first time the Dragons had lost a league game in exactly 11 years.
"This year is our senior year and we really wanted to beat them," Jasmyne Huggins said. "We just competed and executed and played our hearts out tonight."
Said Ashley Gao, "It was a great win for us. O'Dowd's always a tough team to play. It was a team effort, both offensively, defensively, take care of the ball, making those tough plays."
Added coach Bryan Gardere, "O'Dowd is always a powerhouse. They're ranked high in the state, high in the nation. We know we have a lot of talent. It's just finding that consistency. I think we're starting to hit our stride a little bit and that's awesome."
It was 94 minutes of madness, with the final two minutes of regulation stretching credulity. Epic? Well, sure if you like your novels to be like "War and Peace."
We here at the Exedra understand that you want things shorter on the Internet, so we'll try to make it brief.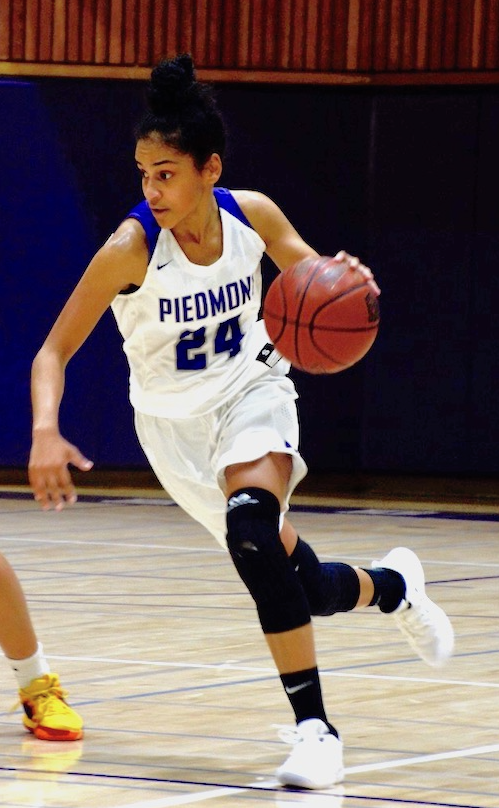 Two Kennedy Johnson free throws with 1:33 left put Bishop O'Dowd up, 49-46. Piedmont's Kristen Seyranian was called for throwing her hip out on a screen at the other end, turning the ball back to the Dragons. But O'Dowd then turned it back on a shot clock violation. Huggins was fouled on an inbounds play and made two free throws to cut the deficit to one with 35.7 seconds remaining.
Gardere chose to have his players defend rather than foul. But with 9.7 seconds to go, Huggins was called for a foul, apparently spoiling that strategy. No longer needing to get a shot off, the Dragons couldn't get the ball inbounds in five seconds for another turnover. With 4.8 left, Gao was called for a travel. With 4.0 to go, Bishop O'Dowd's Jada Holland tried to inbound the ball but it hit off the leg of teammate Lexi Love and bounced out of bounds to the Highlanders. Huggins was then called for pushing off trying to get open on the inbounds play. A quick foul sent Love to the line for two free throws with 3.2 remaining. Love made them both and it was 51-48.
(Everybody take a deep breath.)
Piedmont pushed up the court and got it to Seyranian, who tried to get off a 3-pointer. She was fouled by Kayla Hankins with just one second left. Seyranian needed to make all three free throws to get her team to overtime. No pressure or anything.
"All three with one second left," Gardere said. "I mean, are you kidding me?"
Seemingly the only person on the court not caught up in the pressure of the moment, Seyranian made all three.
"She was totally focused," Gardere said. "I think the ball barely touched the rim on the second one, the other two went in pretty cleanly. She was poised."
Countered Seyranian, "You have to fake it til you make it! I was so nervous!"
All of that wouldn't have meant much if the Highlanders hadn't come through in overtime. Huggins got them going with a traditional 3-point play and Piedmont never relinquished the lead. Huggins also made one of two free throws with 8.3 to go in the extra period to put the Highlanders up four and clinch it. Huggins finished with 18 points, with Seyranian getting 17.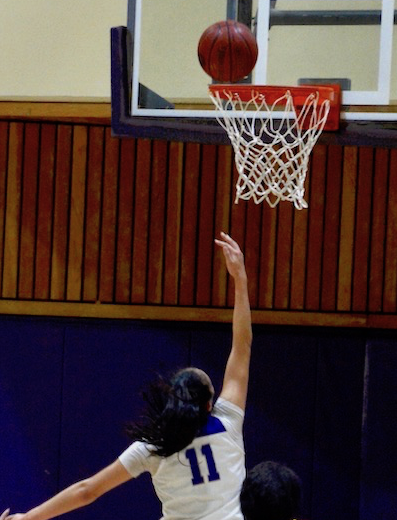 Gao was another key, chosen by Gardere to bring the ball up against the Dragons' pressure. She also did a great job penetrating the lane, scoring 13 points and handing out five assists.
"She had to bring the ball up almost every time against very, very good defense," Gardere said. "And rotating players – she was getting a fresh body every two or three minutes. We knew our strength was having Ashley initiate the offense. We call it Ball-Body-Man. She does a good job of shielding the girl and getting us into our stuff."
The win was a good statement for Piedmont (16-7, 4-3 West Alameda County Foothill League), with just a week and a half left in the regular season. The Highlanders hope to be peaking at the right time.
"They underestimate us a lot because we're such a small team," Seyranian said. "When we're all playing together, nobody can stop us. We're unstoppable."
Piedmont had lost 13 consecutive league games to Bishop O'Dowd since the schools were placed in the same league in the 2012-13 season. According to MaxPreps, the Dragons (13-9, 6-1) had won 135 consecutive league games. Their last league loss came on January 30, 2007, when they fell at Arroyo, 52-49.