Luke Barrett has been on the verge of a breakout all season. The Piedmont High School junior forward has shown flashes of his talent but never seemed to put together that one great game.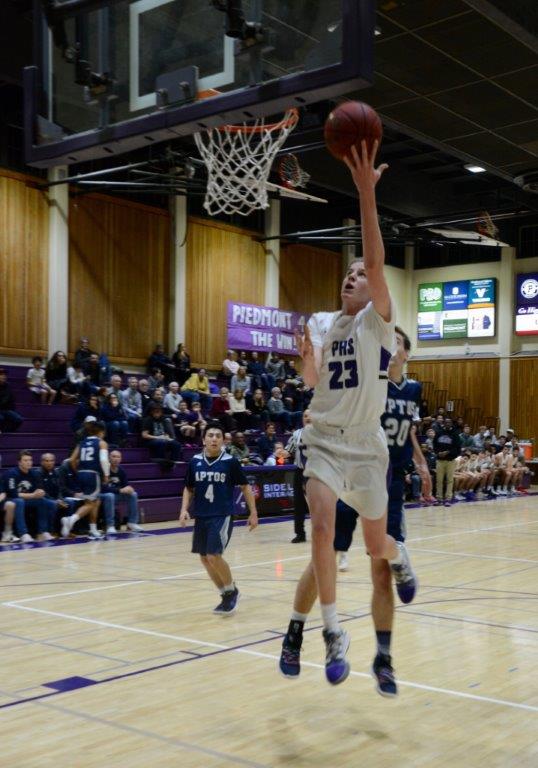 He did on February 26 in the opening round of the California Interscholastic Federation Division IV playoffs. Barrett scored 30 points and grabbed nine rebounds to lead the Highlanders to a 62-46 win over visiting Aptos. Second-seeded Piedmont will now host Cupertino in the second round tonight, February 28 at 7PM.
"I've been a little bit cold most of the year with my threes so it was nice to have some of them fall today," Barrett said. "I definitely have got to be aggressive."
Said Piedmont coach Mike Hudson, "Everybody knows how talented that kid is. When he scores like that, we are pretty much unbeatable. We definitely want him to come in aggressive. We knew they didn't have anybody to match up well with him. We knew he was capable of having a great game tonight. Barrett – he was in video game mode!"
"He went all out tonight and that's what we needed. The state playoffs. Big-time players, they step up in those moments. That's what he did."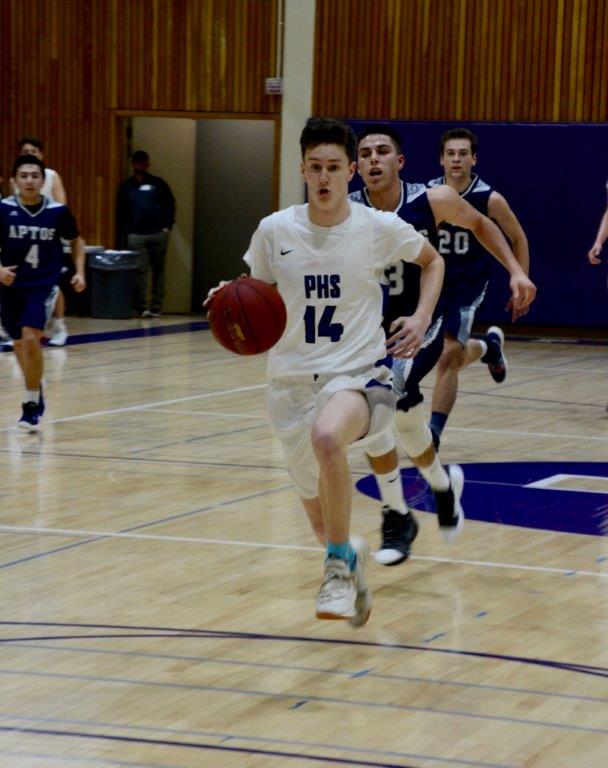 Barrett's biggest play, however, didn't come on a basket. It came on one of his two assists on the night. Piedmont had held the lead throughout, taking a 27-16 advantage into halftime. But then, Aptos started battling back. Max Pepperdine hit a 3-pointer late in the third quarter to tie the score at 37-37. Barrett responded with a bucket but the Mariners (18-12) then worked the clock down. Hunter Matys took a game-tying shot but it missed, and Barrett grabbed the rebound with about four seconds on the clock. He went coast-to-coast, fed Paul Davies on the break, and Davies hit the shot at the buzzer to make it a four-point lead. Piedmont (20-10) then scored the first 10 points of the fourth quarter to regain control of the game.
Barrett said it was his defensive mistake that started the sequence.
"I got backdoor cut," he said. "I got lucky that he (Matys) missed that layup. That was bad defense. That would have tied it up for them but luckily, he missed it somehow. I thought I had just enough time so it worked out."
Carvel Tefft shoots

Jordan Hunt goes up for a block

DeRon Benson calls a play
Jordan Hunt had another strong game, scoring seven points and pulling down 13 rebounds. Carvel Tefft had 10 rebounds to go along with his three points. The Highlanders held a 43-20 advantage on the boards.
Matys finished with 15 points to lead the Mariners.
David Kisieu in traffic

Luke Harris defends
Piedmont will now host Cupertino, which defeated Oakland Tech, 56-55. Game time is scheduled for 7 p.m.
Photos by Devon O'Shaughnessy