2019 boys soccer seniors

2019 boys soccer senior parents
The Highlanders remained unbeaten in West Alameda County Shoreline League play at 8-0-1, and are now unbeaten in their last 10 matches. Piedmont is 10-4-2 overall.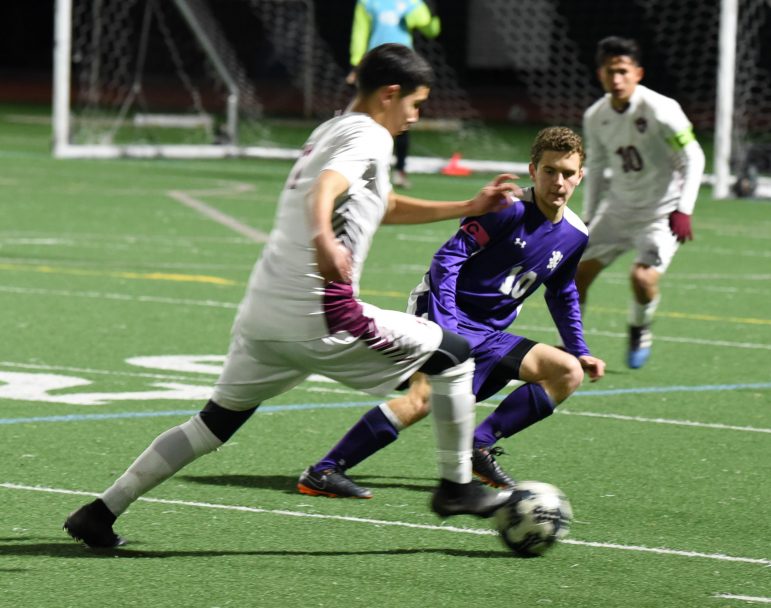 Rafael Stankiewicz scored on a penalty kick in the 64th minute to lift the Piedmont High School boys soccer team to a 2-2 tie at home against San Lorenzo on February 5. It was a festive senior night, with 11 seniors (and 2 brothers) celebrating before the game with their families.
The penalty kick was awarded when Ricardo Barker took a shot for Piedmont and it was batted away with a handball by San Lorenzo's Jorge Martinez. Stankiewicz beat goalkeeper Miguel Espinoza on the kick.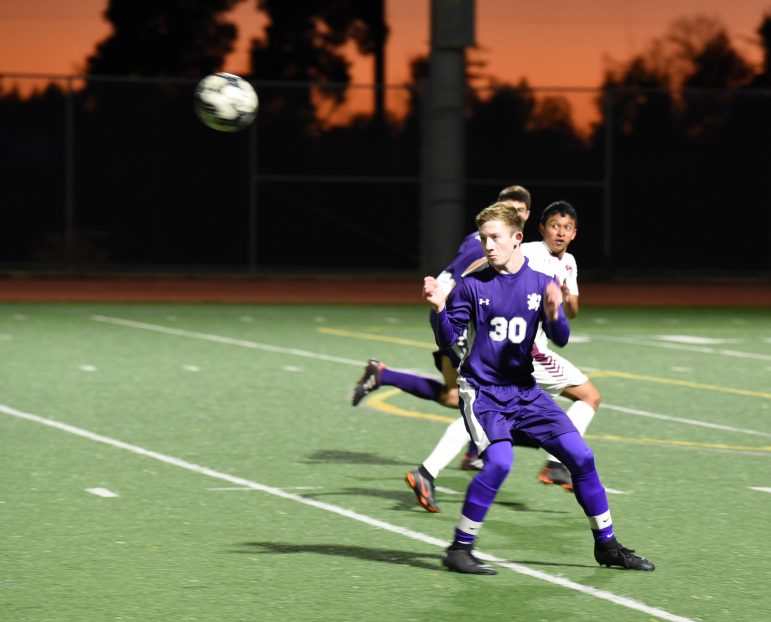 The Highlanders were in an unusual position almost all night – playing from behind. Alexis Santana put the Grizzlies (11-5-2, 7-2-2) up in the 18th minute when he beat Jackson Cavenaugh off of a free kick. The game remained 1-0 through the halftime break.
Piedmont regrouped at halftime and was much more aggressive in the second half. Will Kalmbach got the equalizer when he headed in a corner kick by Conner Curtis in the 45th minute. However, San Lorenzo went back up four minutes later when Jose Vasquez made a pretty shot from the side that just eluded Cavenaugh's outstretched hands.
The Highlanders had several chances in the final 16 minutes, but couldn't punch in a game-winner. Piedmont has already clinched the league title, so the tie didn't hurt the team in the standings. And San Lorenzo has been at the top of the league in recent years, so it came against a quality opponent. The Highlanders are trying to tighten things up heading into next week's North Coast Section Division 4 playoffs. Piedmont is seeded 4th and will play Hercules at Witter field on February 13.
Robin and Hunter Disco and family

Jackson Cavenaugh and family

Mitch and Conner Curtis and family
"These games are important for seeding," Stankiewicz said. "I'm glad we didn't lose today, but it would have been better to win. Even though we won league, we still have a long way to go. We need to keep our focus because it's easy to lose that. But we have bigger aspirations than that this year."
Piedmont had 18 shots, 16 in the second half. Espinoza, a freshman, was terrific, making nine saves. The Grizzlies finished with eight shots and Cavenaugh had two saves.
Patrick Filler and family

Cooper Ford and family

Will Kalmbach and family
"The boys were dropping deeper, giving the opposition a lot more space," coach Todd Sullivan said about the first half. "They knew the threat that the opposition caused. They were more worried about defending rather than getting involved in the game. In the second half, that was exactly what I wanted them to do. Taking more risks. That really improved in the second half, the way we took risks. It looked like we wanted to win the game."
It was senior night for the Highlanders, the final home game of the regular season. Sullivan made sure all of his seniors got playing time, starting several of them in the second half.
Sam Reynolds and family

Josh Rogers and his mom

Cole Stephens and family
"Every senior got their minutes on the field, some more than others," Sullivan said. "The plan was to play one half starters and the second half put the rest of them in but it was difficult because we were 1-0 down. I kind of managed that a little differently than I was going to at the start."
Piedmont concluded the regular season on February 7 at Tennyson.
Dylan Thayer and family

Will Suppiger and family
Photos by Todd Marshburn