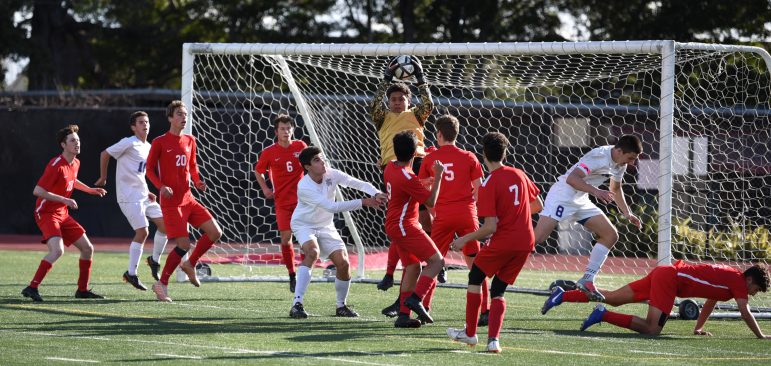 The Highlanders' successful 2019 campaign ended with a second-round NCS loss to St. Mary's, 3-0. The Panthers' Wyatt Meyer scored two goals and set up the third, all in the second half. Piedmont finished with a 12-5-2 overall record, including a 9-0-1 record and league title in the West Alameda County Conference-Shoreline Divison.
Rafa Stankiewicz

Will Kalmbach

Conner Curtis

Andre Stankiewicz
The game was played on a cold, blustery day at St. Mary's home field in Berkeley. Piedmont couldn't take advantage of the wind in the first half, putting two shots on goal, but neither one a major threat to score. Captain Will Kalmbach took the shots, with creative passing from midfielders Rafa and Andre Stankiewicz and Conner Curtis.
Ian Work

Dylan Thayer

Ben Marshburn
Meanwhile, the Highlanders' defense stymied the Panthers in the first half, with backs Ben Marshburn, Ian Work, Dylan Thayer, and Rico Barker helping keeper Jackson Cavenaugh maintain the shutout through the first 40 minutes. Thayer was particulary solid on defense, and contributed his trademark massive throw-ins to the offensive effort as well. Cavenaugh made a great save on a breakaway by Meyer to keep it scoreless as the first-half whistle sounded.
Josh Rogers

Jackson Cavenaugh

Jake Richmond
With the wind now in their favor for the second half, St. Mary's went on the attack. Meyer scored on an acrobatic header off a free kick in the 29th minute. Coach Todd Sullivan remarked that this goal changed the game: "Down 1-0, we had to start taking more chances, and that opened up the field for them." In the 11th minute, Meyer led a 3-on-1 breakaway, which ended in a goal by Ayal Kariv. Meyer finished the scoring with two minutes left on another breakaway.
Coach Sullivan called the loss "tough to take. We had set the bar so high during the regular season, and had high expectations for an NCS run. But St. Mary's had playoff experience, and threw us off our game. Once we fell behind, it was tough to catch up."
Hunter Disco

Patrick Filler
Sullivan is optimistic for next season: "After accomplishing so much this season, I think we have a very bright future. We're losing a lot of seniors, including our top scorer and keeper, but we have great young talent that got important experience this year, and we should be very competitive in 2020."
Photos by Todd Marshburn