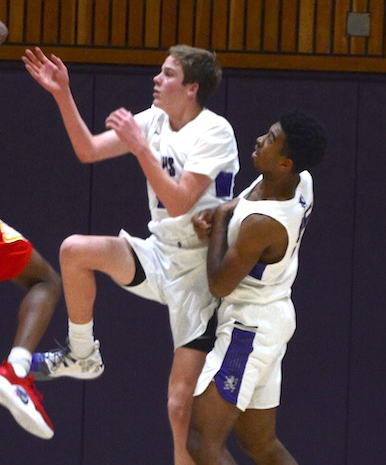 Luke Barrett scored 12 of his game-high 20 points in the third quarter to help the Piedmont High School boys' basketball team break open its game at home against Castro Valley en route to a 71-48 victory on February 1.
The win lifts the Highlanders to 16-8 overall, and 4-4 in the West Alameda County Foothill League.
"I think Luke has been struggling a little bit," Piedmont coach Mike Hudson said of Barrett. "He kind of woke up in that third quarter. I had a talk with him. We have high expectations for Luke because he's such an important piece of our team. He knows he needs to get going ASAP because he knows that playoffs are coming around. I'm not worried about Barrett. He's a scorer and scorers sometime go in ruts and he'll be fine."
Barrett made eight of 14 shots from the floor on the night including six of seven from 2-point range. He hit a 3-pointer to open the third quarter and begin a 21-6 period for Piedmont. Especially impressive was the Highlanders' defense, which held Castro Valley to 2 of 11 shots from the floor and forced nine turnovers in the period.
Isaiah Campbell

JoJo Murphy

Josh Eidam
Piedmont played 14 players, starting Isaiah Campbell, Jojo Murphy and Josh Eidam along with Barrett and Jordan Hunt. Hudson said he was looking to play more of his team against the Trojans (6-18, 1-7).
"We were able to get a lot of guys in so our rotation was a little funky tonight," Hudson said. "We wanted to get some guys some opportunities. They've been working hard in practice. And I thought they performed well."
Luke Harris goes up for a layup

Carvel Tefft fights for a rebound
Luke Harris, normally a starter, came off the bench to score 10 points. Carvel Tefft scored six points to go along with 11 rebounds. Patrick Selna scored five points, grabbed six rebounds, and delighted the Highlanders bench when he sank a pair of free throws in the fourth quarter.
It was a laugher for the home team, at least until things started to get a little rough late. Piedmont's Campbell and Castro Valley's Robert Chang and Alex Ma were each called for technical fouls. The second half dragged on as officials called a total of 25 fouls.
Caleb Davis had 15 points to lead the Trojans. Kheti Goss added 11.
The Highlanders finish the season with a game at Berkeley on February 6 and then a home game against San Leandro on February 8. Piedmont should draw a berth in the North Coast Section Division 4 playoffs, which will begin the week of February 12.