PIEDMONT — Thefts and burglaries have been going up regionally, and local law enforcement officers said Monday night this situation has affected Piedmont in the form of increased 2018 property crime totals over 2017.

Piedmont's 2018 crime statistics were the subject of a report to the City Council Monday. Included in the presentation were traffic collision stats, and those were up slightly in 2018, too — with an outsized share of them happening on Grand Avenue.

In 2018, there were a total of 222 "part one" crimes in Piedmont, as designated by, and reported to, the FBI. That overall number is up from 195 reported in 2017 — a year police Chief .Jeremy Bowers said was a low crime year.

These "part one" crime categories are homicide, rape, robbery, aggravated assault, burglary, larceny/theft, vehicle theft and arson. Bowers said that in Piedmont, "assault" includes everything from aggravated assault to domestic violence to less serious physical attacks.

The most notable increase in 2018 over the previous year was with larceny/thefts, up from 97 to 123. This includes things taken from yards, packages from front porches and other items from open areas, Bowers told the council. Motor vehicle theft also increased in 2018, to 25 from 16 the year before.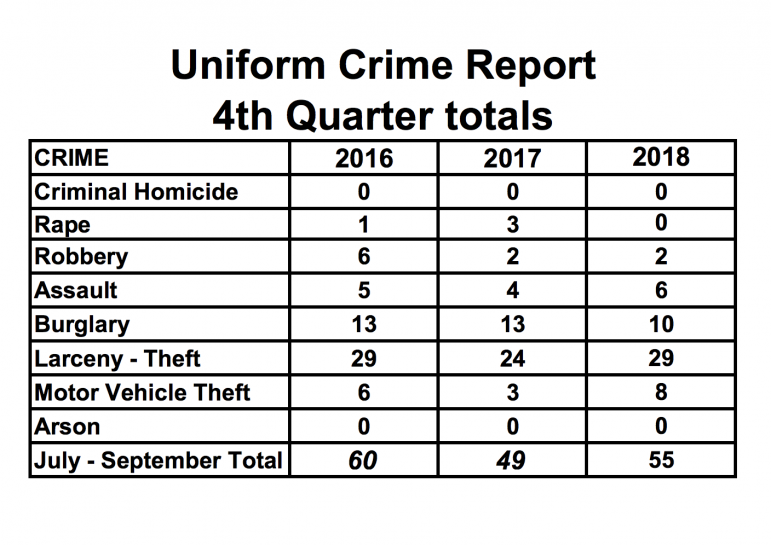 Robberies went up from one in 2017 to 10 in 2018. Most were what the Bowers' report termed "street robberies," but one was a home invasion robbery, on Jan. 24, 2018, on Lorita Avenue, where three armed men ransacked the house. Bowers noted those suspects have been arrested and charged with numerous felonies.

License plate readers help solve crimes
Bowers and council members praised the city's automated license plate reading cameras — specifically for helping identify the suspects in the Lorita Avenue home invasion and for providing plate information helping detectives find the suspects of a similar home invasion burglary last month on Scenic Avenue. They also encouraged local homeowners to invest in home security cameras, which also help detectives with such crimes.

"It just feels like however cameras (the city) deploys, we'll never cover the whole city," Councilwoman Jen Cavanaugh said. The city has a registry for residents who have installed such cameras, which can help law enforcement.

Two residents told Bowers and the council they want more prevention and enforcement in the Upper Trestle Glen rea. Resident Bob Kunselman said that after an armed robbery there recently, some three dozen people signed a petition to request for police protection there.

Burglaries are generally defined as the unlawful entry into a dwelling or other building with the intent to commit a theft or other felony. They are distinct from robberies in that burglaries do not include confronting a victim and taking by use of force or fear. In Piedmont, reported burglaries dropped from 60 in 2017 to 47 in 2018.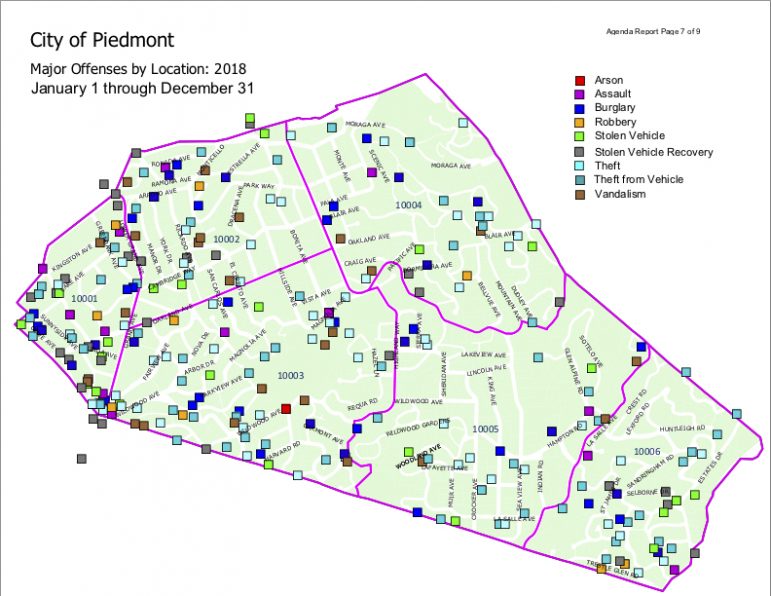 Bowers was careful not to blame Prop 57, approved by state voters in November 2016, for the uptick in property crimes.
That proposition enabled more nonviolent offenders to qualify for parole, and many were subsequently were released from state prisons. But Bowers noted the correlation, and other law enforcement officials from the East Bay and elsewhere in California have more bluntly stated they believe Prop 57 was at least partly to blame for increases in property crimes in many parts of the state.

It's possible that construction work on Grand Avenue in at least partly responsible for a slight increase in traffic collisions in Piedmont in 2018, with 149 collisions reported — 17 more than in 2017. Speed and driver inattention, Bowers' report said, continue to be the main factors, but some council members suggested that with Grand Avenue a hotspot for collisions in 2018, that better flagging of traffic around work spots may be in order.

Piedmont police officers, Bowers said, do selective traffic enforcement targeted primarily in and around city schools and on the more highly traveled streets including Grand, Oakland, Highland, Wildwood, Moraga and Linda Avenues, Estates Drive and Hampton Road.

Council members praised the police department's efforts to prevent local crime, through community events like National Night Out, Dog Walker Watch and Coffee, Cars and Cops. But Bowers noted, "It's hard to get data on crimes you prevent."

The crime statistics in Piedmont, by almost any measure, reflect an unusually safe community.
One study, by the security-conscious website Alarms.com, ranked Piedmont in 2018 as the eighth safest city in a state with 375 cities with a population of 10,000 or more (Piedmont has about 11,000 residents).
This ranking was achieved using some fairly complicated methodology, which included a variable called "police adequacy" measuring total crimes divided by the number of the city's police personnel.

For Bowers and police Capt. Chris Monahan, such formal rankings mean relatively little.

"I am pleased that we ranked 'safer,' but numbers are numbers," Monahan said a few weeks ago after the Alarms.com rankings were published. "Residents are still being victimized and we are still looking for ways to minimize crime. Collaboration, technology and hard work all come to mind."

At that same time, Bowers said in an email, "I am sensitive that for victims of crime, particularly violent crime, rankings and statistics don't mean much.

"Literally the day after we issued a press release on the successful resolution of several home invasion robbery investigations over the last couple years, we had a home invasion robbery occur in our city where a 9-year-old boy was knocked to the floor by suspects who barged into the family's home and confronted the father with a gun. Yes, these rankings are good news but we must continue to be aware and employ effective and just methods to maintain the safe community we all enjoy."