Enrollment for PRD's Preschool Programs is NOW AVAILABLE for Piedmont residents and its surrounding communities!
Our team of preschool educators is committed to providing a warm and safe environment to best support children's natural curiosity and enthusiasm for learning. Allow your LITTLE ONE to continue exploring their world in one of PRD's play-based preschool programs!
Registration Brochures and Forms
Available at the Recreation Department and can be downloaded from the City Website. Learn more about our six play-based Preschool Programs by visiting the City of Piedmont website at www.ci.piedmont.ca.us.
Please submit forms, and tuition payment, via in-person or mail to the Piedmont Recreation Department, 358 Hillside Avenue or via email at prdpreschools@piedmont.ca.gov to be included in the preschool lottery. Any registrations submissions following the deadline dates will be processed first come first served and pending availability (see FAQs for details).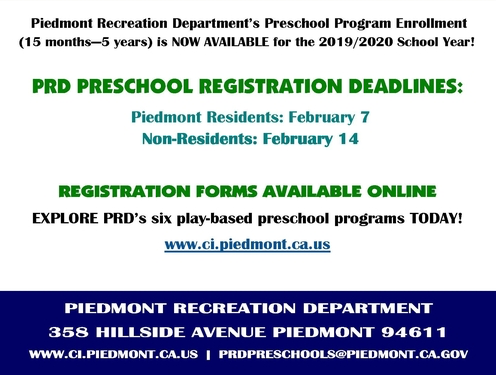 2019-2020 preschool school year registration deadlines:
Piedmont Residents: Thursday, February 7
Non-Residents: Thursday, February 14
Not sure which program to sign up for?
Email prdpreschools@piedmont.ca.gov for assistance! For more info: visit http://www.ci.piedmont.ca.us/preschool-registration-for-2019-2020-school-year/