When I first became interested in collecting vintage jewelry, during my early 20's, my grandmother humored me by allowing me to sift through her costume jewelry collection, commenting only that she didn't understand why I would want "those old things." At the time the B52's were hot on the scene, and living in Athens, Georgia, I had the chance to dance to their live performances and naturally had to have exactly the correct mix of vintage fashion pieces.
Fast forward a few decades and I find myself visiting painter Mike Welch in his studio, admiring his new work slated to go up February 1-3 at the Piedmont Center for the Arts. Feeling a nostalgic tug when viewing Welch's subject matter, I suddenly understood the wonder my grandmother felt when her young granddaughter admired the jewelry she had worn in her youth.
Jimi Hendrix, Miles Davis, John Lennon and Marilyn Monroe, now distant enough in the past to be legends, are given new life in large scale portraiture that Welch creates in a lush painterly manner. His paintings walk a line between Andy Warhol and Kehinde Wiley with a nod to the graffiti of Banksy along the way. Welch mostly uses a restrained and moody palette of dark values, sometimes mixing mediums such as acrylic, collage and oil to convey a certain emotional environment in which he places his famous subjects.
Betraying a maverick's sensibilities, Welch declares that when his art professor said that paint drips were "unprofessional," he vowed to use more drips. Not a person to allow imperfections in art or life be a cause for concern, Welch in fact uses those conditions to make something admirable.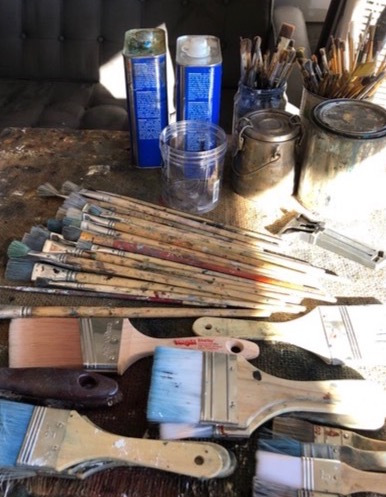 After a few years in a corporate gig, Welch found his true calling in the dual role of full time dad and artist. Welch works out of his garage-cum studio, originally built to accommodate perhaps one car, and currently still experiencing a few rain-related problems. Within this somewhat restrained space, Welch produces an amazing amount of work which sells briskly between annual shows and his online presence.
Inspired by jazz music and Jackie Robinson, but definitely not by the Dodgers, Welch paints in bursts of time as his dad duties allow, sometimes producing many paintings in two- to six-month periods. Welch also enjoys the company of his two children in the studio with son Cooper, 7, often reading a book and daughter Grace, 9, painting alongside him on her own easel.
With a career as an emerging artist and as a dad with young children in the schools, Welch cares deeply about the enrichment programs offered at PUSD. This year as in past years, Welch will be participating in The Big Art Show benefitting The Piedmont Fund for the Arts, and will also be donating a percentage of all sales from his February solo show to PRAISE and PFA.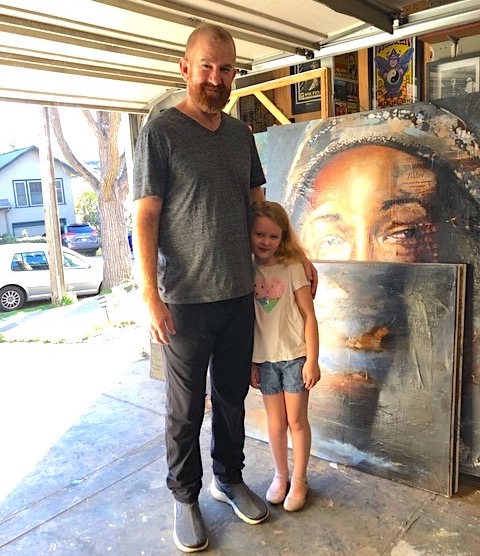 Welch fondly recalls winning what fellow students called 'The Golden Ticket' when in high school in Oklahoma; a chance to take art instead of the more mundane PE and Home Ec classes on offer. Always excelling at math and humanities, Welch decided to major in business when attending University of Wisconsin while also managing to take enough art classes to become the first person there to earn a double major in art and business.
As a young student, Welch tended to work not only with dark materials like ink and charcoal but also tapped into sometimes dark and scary subject matter. Now, Welch connects viewers with a remembered, creatively noble past through his choice of subject matter and sometimes even through the actual painting support. Welch has successfully experimented with painting on antique wooden grape collection boxes found at early morning jaunts to the Alameda Flea Market.
What's old is new again rings true in the work of Mike Welch.
To see Welch's new work, plan to attend his solo show February 1-3, 2019 at the Piedmont Center for the Arts or visit his website.