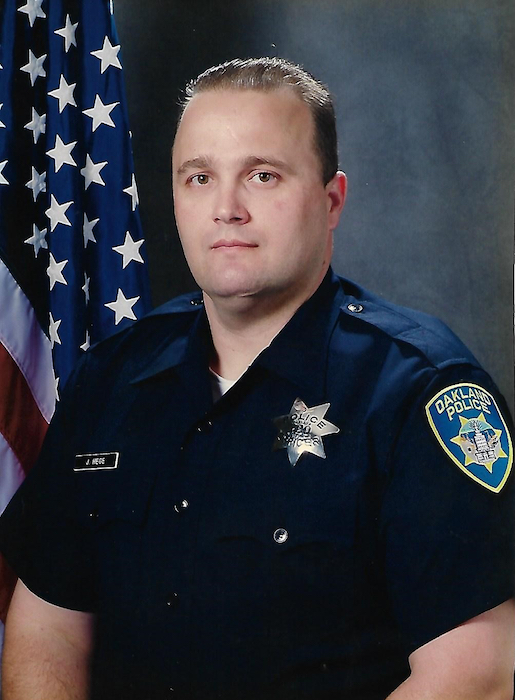 The mother of an Oakland police officer killed in the line of duty almost a decade ago got all the reassurance she needed Sunday that the memory of her son has not faded and will be remembered for years to come.
The community made that clear at the well-attended and moving dedication of the new John Raymond Hege Memorial Backstop on the baseball diamond at Hampton Field, held during a steady downpour.
"I was thinking maybe no one would come and we would just turn our page over and move on," Tam Hege said in thanking the gathering of friends and dignitaries who braved the elements to attend the afternoon tribute.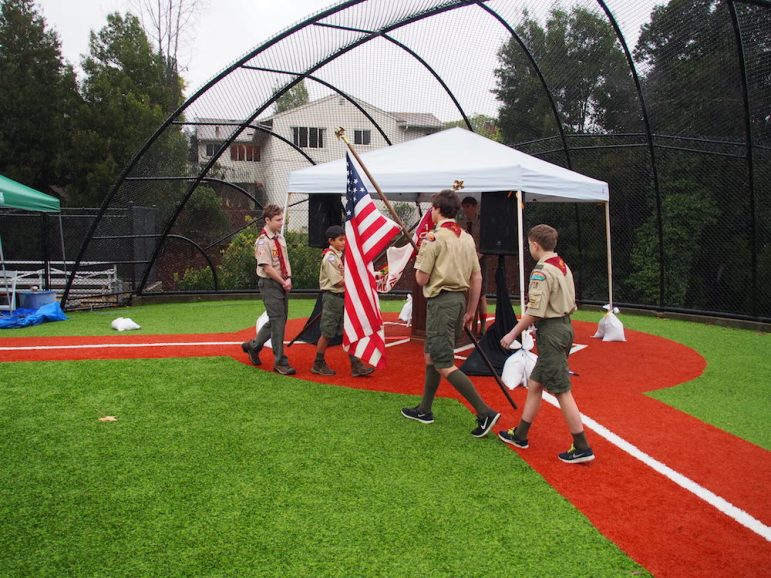 "I especially want to thank the color guard from Troop 15," she told the audience. "Troop 15 was really an important part of John's life. I don't know if anybody remembers that Bruce Westphal was head of the Cubs group that John was part of, and every one of those boys made Eagle and it was really an accomplishment. And John was always, I think, really proud of making Eagle."
A line of police motorcycles stood outside on La Salle Avenue as Piedmont and Oakland officers in dress uniform joined others in paying tribute to Hege.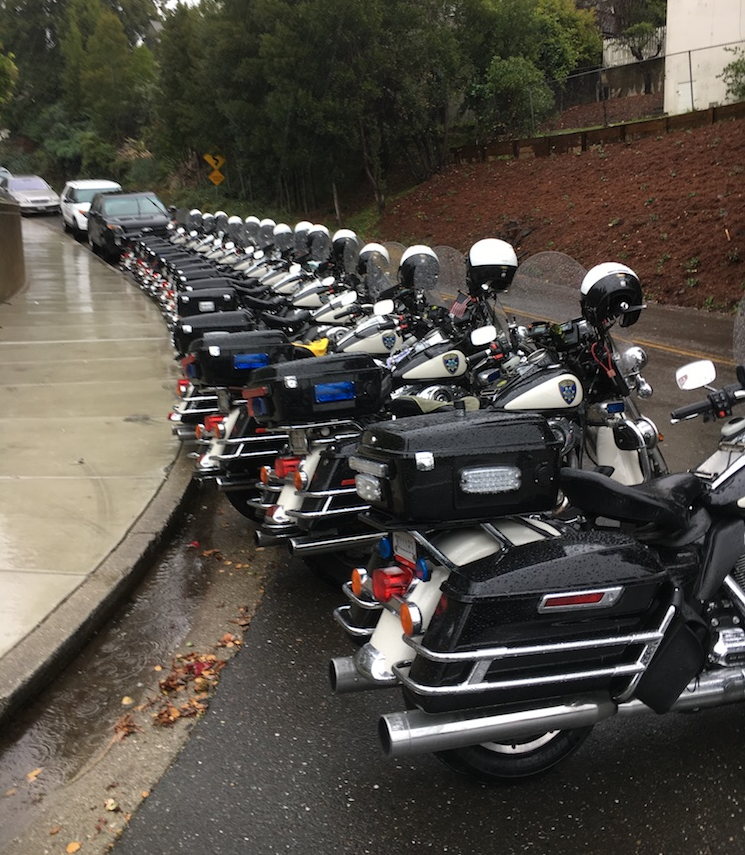 The 41-year-old Piedmont native was one of four officers fatally shot following a traffic stop in East Oakland on March 21, 2009 and the only one to remain alive long enough to allow his organs to be donated to people in need of a transplant.
Speakers noted that Hege started as a volunteer reserve officer with Oakland in 1993 and was hired as a full-time officer in 1999 after his graduation from the department's academy.
He became a training officer, "and then while shaping future officers, passed down his commitment to service," said Oakland assistant police chief Darren Allison.
"Even after paying the ultimate price for service, Officer Hege continued to save lives through his organ donations," he said. "You see, even in passing, he had a desire to help people, and through his love and compassion, people were given hope. He truly cared for others and consistently gave of his time and of his energy. And he didn't do it because he had to, he did it because he wanted to. He demonstrated a greater sense of purpose."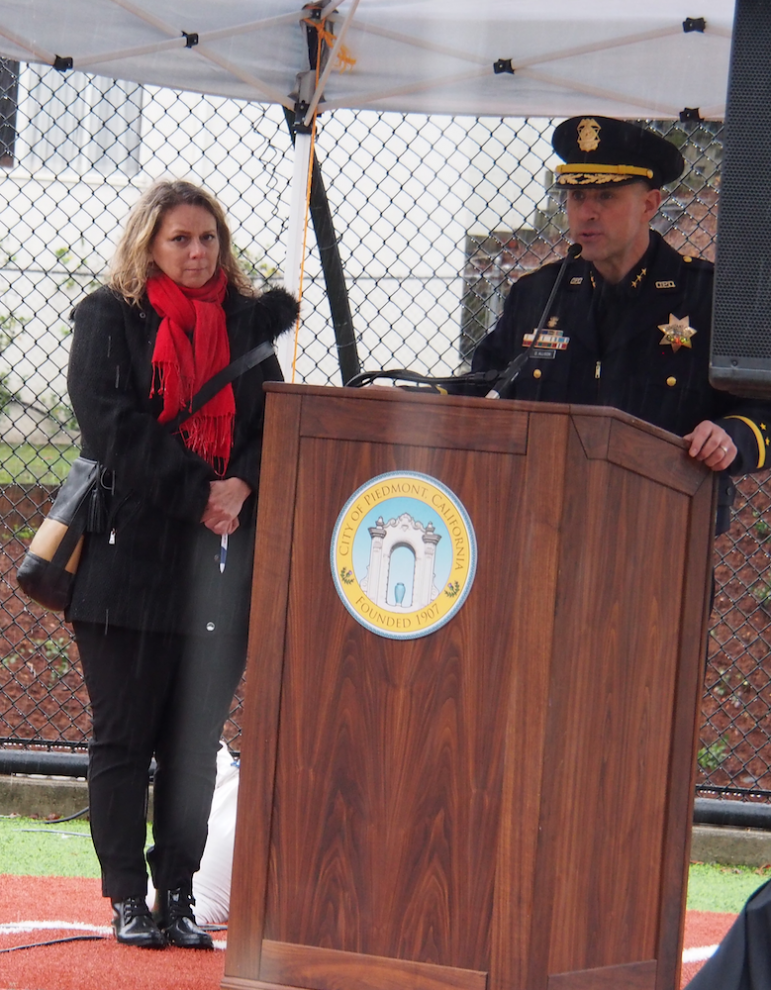 It was a sense of purpose Hege had learned mentoring young people as a teacher, coach and umpire earlier in life. The plaque dedicated in his memory states that "In addition to coaching football at Piedmont High, John umpired hundreds of games here at Hampton Field."
"Whether it's a young athlete he motivated, or a rookie cop he trained, or a victim he helped, or a life he saved, there is someone who has been impacted by John Hege, someone who will reveal and carry his legacy, a legacy that can be shared to make society a little better," Allison said. "We will never forget what officer Hege did for us and for the community he served."
With Mayor Bob McBain unable to attend, Vice Mayor Teddy Gray King handled the master of ceremonies duty.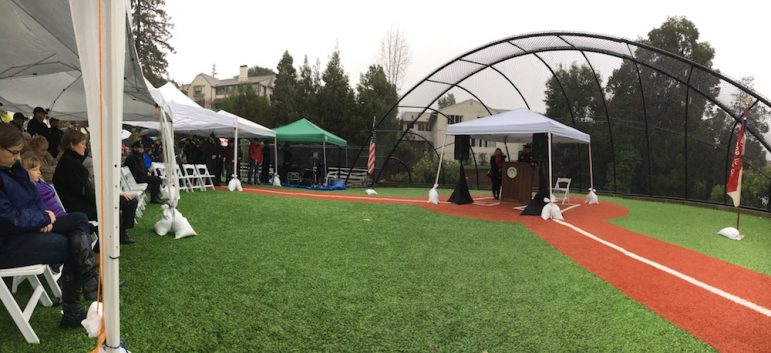 "Today we come together out of a spirit of gratitude for the tremendous and indelible sacrifice" Hege made in the line of duty, she said, suggesting that the gloomy weather "adds to the solemness of this day."
Many speakers had their own connections and memories of Hege, including city Recreation Director Sara Lillevand.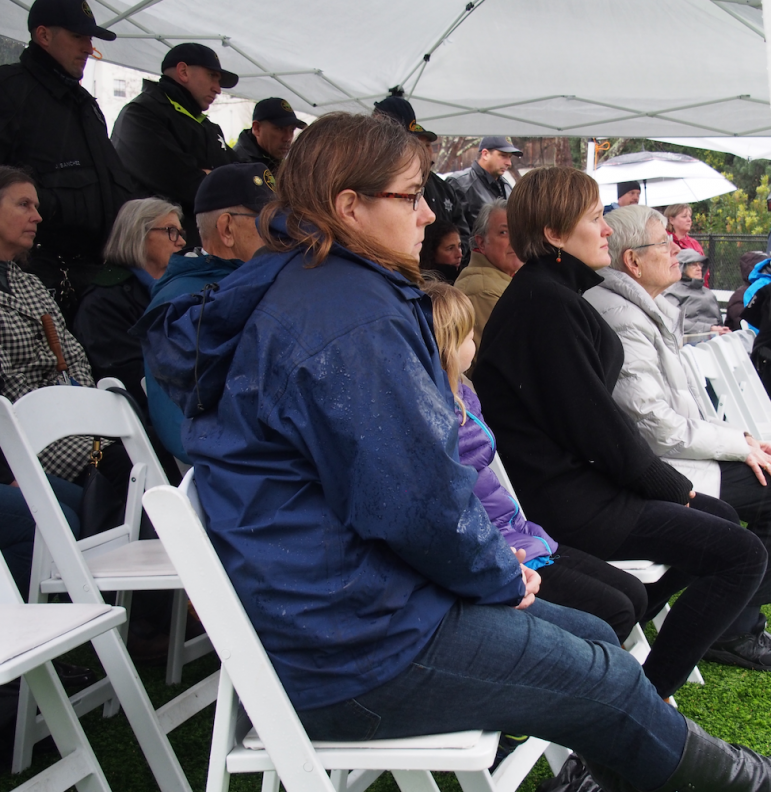 "Those of us who grew up in Piedmont in the '70s and '80s knew him simply as 'Hege'," she said, adding that he "went pretty far down the path for a career as an umpire. I think it helped prepare him for his true calling as an officer" because both are "rarely appreciated."
Lillevand recalled that was working at Cal State East Bay when she learned of his death and suggested immediately that the city should do something to honor Hege's memory, "Then I forgot about it," not realizing the complexities of government in carrying out such an idea.
As recreation director, "I met his parents at their home just a few blocks from here. They were open to the idea."
Unfortunately, his father, retired physician John Steele Hege, did not live to see the completion of the field renovation and backstop dedication in his son's honor, dying in February 2017.
"John Raymond Hege, please know you are truly appreciated by the city of Piedmont and we dedicate this backstop in your memory," Lillevand said.
As an umpire and a police officer, "His positions in the community were rooted in compassion and selflessness."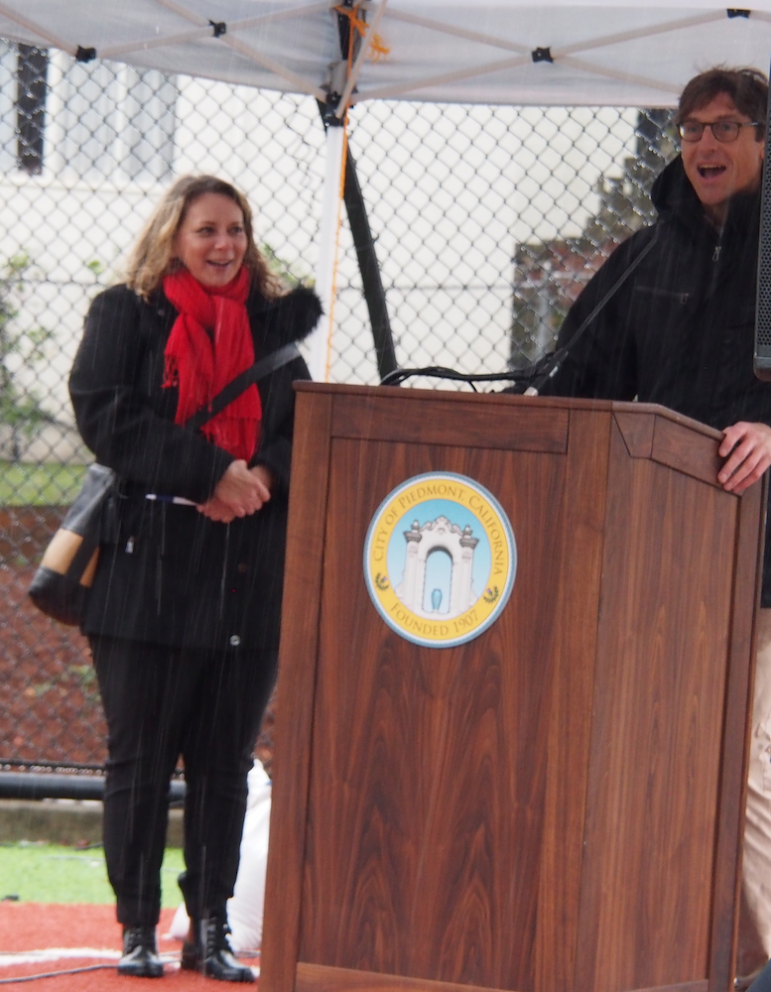 Steve Collins, president of the volunteer Piedmont Recreational Facilities Organization, commended "the ability of the Piedmont community to rally support and raise funds" for a tribute to one of their own.
"It's hard to envision a better outcome and a more suitable and caring donation than a backstop where he spend so much time," he said. "What do you think — would he have called the game today? Would he have let them play?"
Tam Hege was upbeat and gracious in her remarks at the podium and in talking with well-wishers afterward, but acknowledged that "This is going to be a bad year because it's the 10-year anniversary."
She said she only learned recently that on his last day of duty, John Hege was at a youth baseball celebration in East Oakland, where he shared his love of the game and let kids sit on his motorcycle.
Tam Hege said that among the four OPD officers killed on March 21, 2009, her son was the lone organ donor.
"He was the only one who got to Highland Hospital still alive," she said. "He was given CPR by someone on the street — we don't know who it was."
She said her son was inspired to get an organ donor card after learning a friend of the family's received a donated kidney.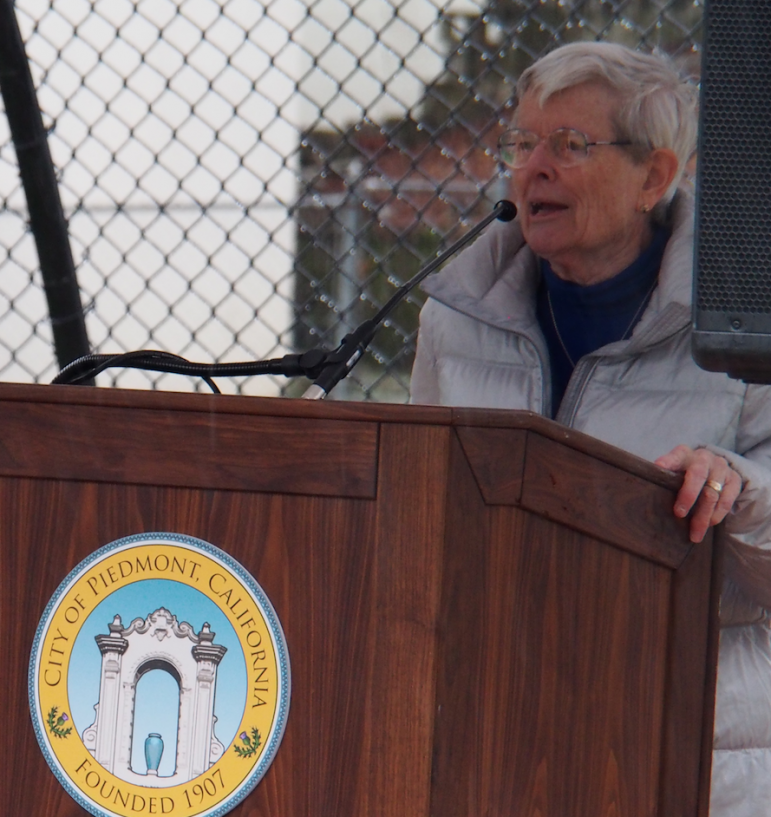 "John wasn't a perfect child, but he loved what he did and he was a good police officer," Tam Hege said.
"It means a lot," she said of the backstop dedication. "This was a crummy field until they did the work."
During her remarks Hege explained why it was important to her husband that the backstop dedication include the middle name of their son. John Raymond Hege was given his middle name in remembrance of his grandfather. Capt. Raymond Webster Hege, a U.S. Navy physician, was among 346 men killed May 11, 1945, in a kamikaze attack on the USS Bunker Hill, which was providing support for the invasion of Okinawa during World War II.
She said her husband would have appreciated the tribute and wished he was alive to see it.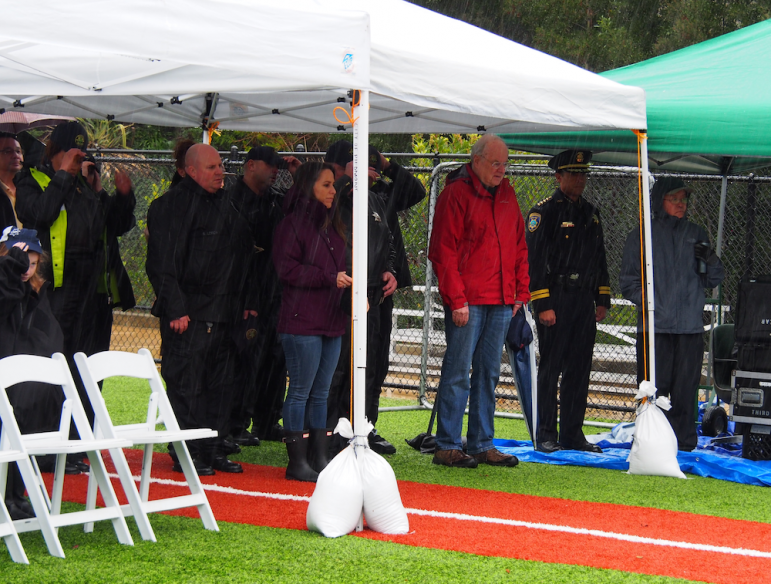 Among those who came to talk to Tam Hege after the ceremony was Patrick Richards, a classmate of one of Hege's sisters and "a couple of years behind John" at Piedmont High, who is now a paramedic some 150 miles away from the Bay Area. Richards said after the ceremony that he was on a call for a man having heart trouble "a year or so after John was killed in the line of duty." He noticed that the man wore a wristband proclaiming that he was the recipient of John Hege's donated heart.
"It was serendipity," Richards said. "The odds of it happening are too high to think about."
---
TO DONATE: For those interested in making a donation to Piedmont Recreational Facilities Organization in John Hege's honor, please click HERE.