The Piedmont High School boys soccer team all but wrapped up the West Alameda County Foothill League championship with three matches to play with a 2-1 win over Alameda on January 29.
Josh Rogers scored the game-winner in the 48th minute. The win at Thompson Field in Alameda lifted the Highlanders to 9-4-1 on the year, 7-0 in WACFL play. Piedmont can clinch the league title at home against winless Hayward on February 1.
"At the beginning of the season we set a list of goals," Rogers said. "And we keep it on our white board in our locker room. And one of those goals is to win league. And that we're so close to achieving it is a dream come true. Especially because it's my senior year and this is the best we've done in a long time."
Will Kalmbach

Rafa Stenkiewicz

Patrick Filler

Piedmont's Dylan Thayer and Connor Curtis
A league championship would be a first for the program in 10 years. The 2008-09 team won the Bay Shore Athletic League crown. That team made it to the North Coast Section 2A semifinals where it lost to Acalanes on penalty kicks.
Third-year coach Todd Sullivan said he has never been in this situation – a chance to clinch with a week to go – with any team he has coached.
"I didn't expect to be at this stage already," he said. "A lot of it is credit to the team. We've got some really good youngsters coming through. It looks like the future is bright for Piedmont High School soccer."
The win over Alameda (8-5-2, 5-3-2) came on a chilly night before a spirited crowd on the road. Members of the Hornets baseball team came out to cheer their classmates on, chanting "Where's your ankles?" (clap clap clap clap clap) after one of the Alameda players made a nice move around a Piedmont player.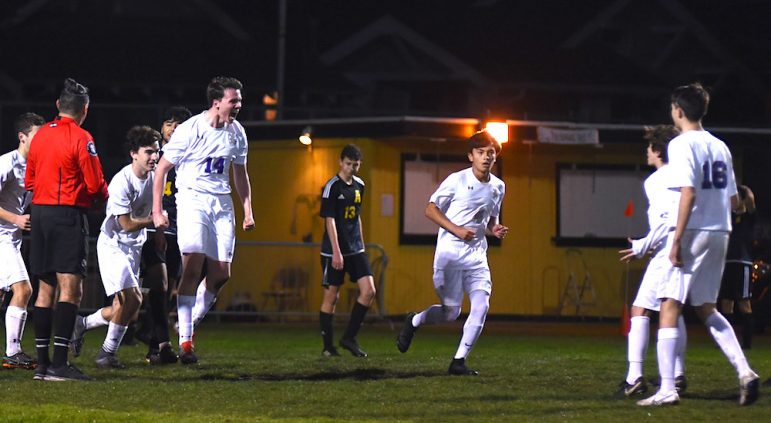 But it wasn't enough for the home team, which got only five shots on the night compared to the Highlanders' 15. Piedmont dominated the game after halftime, getting 11 shots in the second half.
Still, it was even at the break. Freshman Conner Curtis put the Highlanders up 1-0 in the ninth minute, scoring from right in front of Alameda goalkeeper Kian Van Der Meer. Curtis later hit a post with a shot in the first half.
"He has been an inspiration this season," Sullivan said. "Scoring goals and setting up goals."
In the 26th minute, Piedmont's Ricardo Barker was called for a foul on Elexsio Palayo, who was awarded a penalty kick. Highlanders goalkeeper Jackson Cavenaugh guessed right and Palayo went to his left to level the game at 1-1.
It stayed that way into the second half when Rogers worked his magic. Patrick Filler started the action with a corner kick. Initially, the Hornets cleared the ball but it came back in to Rogers, who seemed to take something off of his shot into the right bottom corner.
"I saw it coming," Rogers said. "It came to my left. I had two options – I had power and I had precision. I went precision. It just went in. It's just really hard to block those shots."