Luke Barrett got 15 points and a pair of blocked shots to help lead the Piedmont High School boys basketball team improve to 12-5 with a 57-55 win at home over Berkeley on January 18.
"In the first half I was getting a lot of good looks in transition and just getting out running," Barrett said. "The last couple of games, we were playing against a lot of zone so it was nice to play against a team that's playing man."
Said coach Mike Hudson, "He's definitely a big part of what we do. Luke's a long guy. He made some big blocks. If he don't make those blocks, we don't win that game. They had a clear-cut layup and he came out of nowhere."
Piedmont's Paul Davies (14) drives around Berkeley's Hyram Jacob during the Highlanders win over the Yellowjackets

Piedmont's Luke Barrett (right) blocks a shot by Berkeley's Jordan Ashworth during the Highlanders 57-55 win over the Yellowjackets
That's exactly what Barrett did. Berkeley's Jordan Ashworth was on his way to the basket and Barrett emphatically rejected the ball with a loud thwack that was heard throughout the gym. Barrett got his second block a moment later, also at the expense of Ashworth.
The first quarter was close all the way with the teams tied at 13-13 at the break. Piedmont began putting some distance late in the second quarter. Barrett got an old-fashioned 3-point play with 3.5 seconds remaining to give Piedmont a 33-23 lead at halftime.
Things continued to go the Highlanders way through the first part of the third quarter. Luke Harris's old-fashioned 3-point play with 5:14 remaining pushed the lead to 43-27.
Two things happened after that: Piedmont got sloppy with the ball (six turnovers) and the Yellowjackets (8-11) began to wake up. The Highlanders went scoreless the rest of the period and Berkeley, behind Omari Preston-Jordan and Tyvon Spivey, began to chip away at the lead. The Yellowjackets cut it to 43-39 at the end of the quarter, then pulled ahead 46-44 early in the fourth quarter.
Piedmont's David Kiseu fights Berkeley's Jordan Ashworth for a rebound during the Highlanders game with the Yellowjackets

Piedmont's Carvel Tefft, left, and Luke Harris (4) guard Berkeley's Isaias Brown during the Highlanders 57-55 win over Berkeley
Then, the Highlanders got it together with a 10-0 run to retake the lead. Barrett got the run going with a basket, then Harris hit one, then Carvel Tefft hit two in a row. After Isaiah Campbell got in on the fun, it was 54-46.
Berkeley got close in the final moments but Piedmont was able to hold on.
"It wasn't the prettiest of games but we're getting near playoff time and you've got to be able to win those ugly games," Hudson said. "I think we locked in more so than where we were and we just grinded it out. That was a grind game. Going into playoffs, you've got to be able to win games like that."
Said Barrett, "We went through a stretch where we were turning the ball over a little too much. I think we just focused, got a little more sense of urgency and finished it off."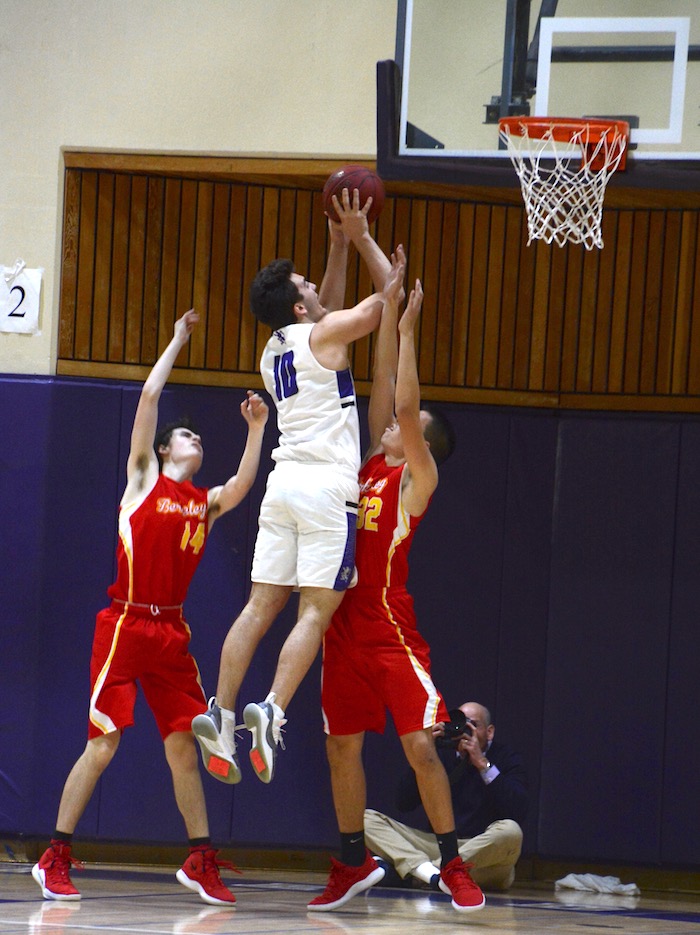 Barrett was the sole Highlander in double-figures but Tefft had nine points and seven rebounds and Harris had eight points. Daron Benson had seven rebounds to go along with five points. The Piedmont defense was outstanding, forcing 27 turnovers.
The Highlanders have now won two consecutive West Alameda County Foothill League games to even their record in league at 2-2.
"It's good to come out of a game like that with a win," Hudson said. "We understood that we can play a lot better but basketball sometimes doesn't work out like that."
Said Barrett, "It was really important (to get the win). Right now we really needed to get momentum going into the last few games of league."
Highlanders trounce Gators on Saturday
The Highlanders followed up the win over Berkeley with a 67-44 non-league home win over Sacred Heart Prep-Atherton on January 19. Barrett and Harris led the way with 12 points apiece and Jordan Hunt added nine. Piedmont broke open the game after halftime, when the score was 31-31. The Highlanders outscored the Gators 23-9 in the third quarter and romped the rest of the way.
---
All photos by Devon O'Shaughnessy