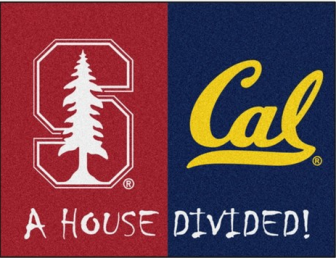 For Cal grad Mike Adams and Stanford grad wife Lori, today is a day packed with traditions of fun, excitement – and more than a dash of competitive sparring. Lori and Mike met just as Lori was starting at Stanford and Mike was finishing Cal. Both families have a long history of attending Cal. Lori, however, is the family rebel – choosing the Cardinals over the Bears.
Back in 1983, undeterred by her budding romance with Mike in her sophomore year, Lori managed to pull off a master prank on unsuspecting Bear fans, including her new flame. Wrapped in a giant "Beat Cal" banner concealed by a large overcoat, Lori made her way past security and up the elevator to the top of the Campanile. From there, she and her friends unfurled the huge banner for all of Berkeley to see. By the they came back down the elevator, school security was on to them, waiting to escort them off the campus. Lori exclaimed, "Even though we missed the game, it was totally worth it."
They have attended every Big Game together since then, getting together with rival Cal and Stanford friends, and enjoying some competitive ribbing, though none that warrants getting shown the door.
Mike's most memorable Cal/Stanford game had nothing to do with romance (sorry, Lori!), but is a standout nonetheless. It was the Saturday, November 20, 1982 game and forever to be associated in history with "The Play." The Play refers to a last-second kickoff return, when members of the Stanford Band came onto the field midway through the return, believing that the game was over. Confusion ensued. The Bears broke through the musical melee to score – and capture the win.
Here in the shadow of both Cal and Stanford, Piedmont embraces the epic rivalry between the universities. We know there are others out there in our small town (Dianne and Justin Roach to name one) — please share your stories and photos with the Exedra! (Post your news HERE or use the comment section below.)