Bay Area artist Peter Foucault makes things happen — in his studio work, for the community and for hundreds of other artists. On the rainy winter day that I visited his studio, Foucault was simultaneously prepping for an upcoming solo show, packing and preparing to move into a new, much more expansive studio and juggling the schedules of several public art venues that he curates.
Foucault deploys an enviable range of skills to produce art that is part performative, part tech-driven and completely elegant, expressive and contemporary. Drawing on a background and education that would make any STEAM educator proud, Foucault brings coding, printmaking, sound and mark making into his work.
Still in the launching phase of his career, Foucault has already enjoyed attention from such storied institutions as the NASA Aimes Research Center, The Getty Museum, The Smithsonian Institute's Freer and Sackler Gallery, and internationally at England's University of Salford and the Kit Schulte Contemporary in Berlin, Germany.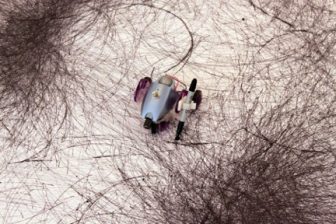 Foucault has always gained energy and inspiration from working collaboratively. As a young teen growing up in Seattle, Foucault spent time perfecting his skateboard technique on the half-pipe at the local skatepark. With skateboard deck art as an initial entry point into art making, Foucault went on to earn a BFA at University of Washington where the print making lab was an especially collegial place. But it was while earning his MFA at San Francisco Art Institute that Foucault became enamored with performance art and its capacity to positively affect the greater community.
Perhaps unconsciously recalling the collective sounds and scrapings made when skateboarders perform tricks to impress each other on a vertical ramp, Foucault formulated the idea to use crowd sourced sounds to generate marks on paper using toy robots that he has coded. Foucault has since developed an ingenious Mobile Printmaking Lab, which notably was recently used in collaboration with Capitol Public Radio and the California Museum in Sacramento for a year-long student/teacher project at an underserved low-income school.
In his studio art, Foucault draws inspiration from the conceptual possibilities that Chance Operating Systems offer the scientist and the artist as a way to create something entirely new that they couldn't do when working alone. Foucault will begin with the crowd sourced marks made by mechanical objects such as robot and EKG machines, and further enhance these with collaged papers and maps, tossed and splashed ink or painstaking hand drawn marks. Currently working on huge 8' x 20' aluminum panels depicting his signature "Chatter Drawings" in preparation for his May 2019 solo show, Foucault has drawn inspiration from conceptual artists such as On Kawara, Lee Walton and composer John Cage for their connection to art related to chance operation systems.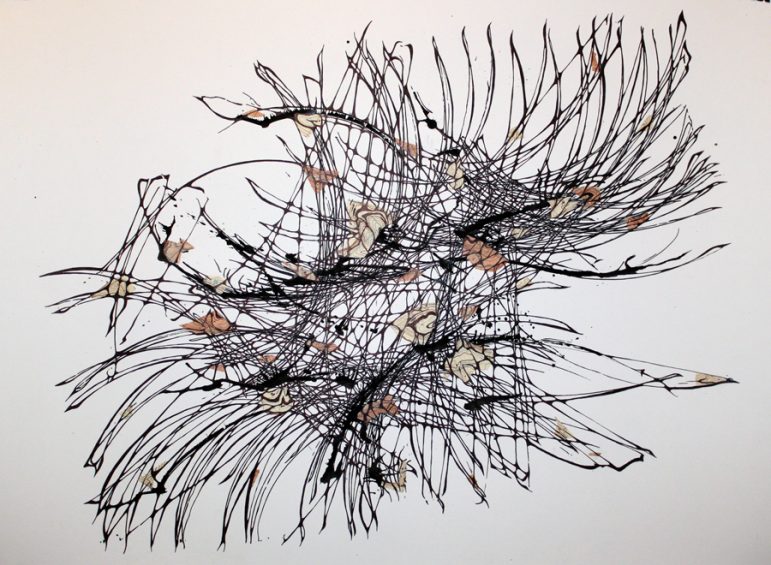 For years pencil and paper have been giving way to keyboarding as a means of communication and handwriting is fast becoming an anachronism. To many, today's plugged-in world of technology bodes poorly for basic human relations. For some, it can seem as if the world really is an isolating place. Yet for Bay Area artist Peter Foucault, technology is not a way to disengage from the crowd. Rather, tech is a medium for making art that connects us in ways that bring joy, solace and thoughtfulness.
And this is what has drawn Foucault to his prestigious public work. Sometimes working with government grants and sometimes in collaboration with museums or even fellow artists, Foucault has worked tirelessly to bring art making opportunities to the general public, in response to local calamities such as the Ghost Ship Fire in Oakland and especially to underserved communities. As an artist Foucault strives to use technology for the creation of art that increases the greater good, by connecting us to each other through sound and mark making.
STEAM may not have been the hot buzzword during Foucault's high school years in Seattle but now Foucault is playing a big part in creating an environment that fosters the true cross-pollination between art and technology, leading to a new genre of democratically created art.
---
Foucault is represented by K. Imperial Fine Art in San Francisco, CA and Room Art Gallery in Mill Valley, CA.