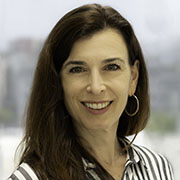 Teens and pre-teens are exposed to unhealthy attitudes and behaviors about sex and relationships through the internet, pop culture, and online pornography, said Narda Skov at the Education Speaker Series talk on December 4. An adolescent sexuality educator and reproductive health specialist with over 25 years experience working with young people, Skov spoke to a crowd of around 100 students and parents in the Ellen Driscoll Theater about the world of easy access to porn that kids are facing, and how parents can start meaningful conversations about their values and safety as it relates to sex, relationships, and pornography.
The porn industry is enormous; bigger than the NBA, MLB, and NFL combined, said Skov. Thirty percent of all internet traffic is porn and sixty percent of teens first see porn on their home computer, usually while doing homework. Pop-up ads for hard-core porn can appear on seemingly "safe" websites and even with parental controls set to screen out X-rated content, porn purveyors are very good at evading these restrictions so innocent search requests can turn up inappropriate content, she said.
Given the proliferation of sexually explicit content online, parents often find themselves confronting these issues sooner than expected, and with kids who may not even know what sex is. When this happens, "it's important for parents to explain pornography in an age-appropriate way, and, no matter the age, avoid making them feel ashamed," she said. For example, you could say to a middle- or high-schooler "Hey. You know, this is a bit embarrassing for me to bring up, but I'm a bit worried about some of the stuff I've stumbled across on the internet recently, and I'm worried you've seen it, too. I want to make sure we talk about it." For parents worried that they may have missed the chance to have these talks with an older child, Skov says it's never too late to start.  Any conversation is better than no conversation at all. "Parental messages matter! " said Skov. Most parents think their kids only listen to their peers when it comes to sex and relationships, but, she said, kids are actually more inclined to listen to their parents.