He is entranced in his book, falling into the depths of some imaginary world, and out the train window the city whirs by. The train comes to a halt, and he looks up, quickly realizing that the stop he has arrived at is unfamiliar to him. The faces around him are all strangers, and suddenly he is frightened. But he takes a deep breath, and thinks it through. He knows what to do. He learned it in Home Base.
Home Base is one of the specialized education programs at Piedmont High School. They have partnered with the Center for Independent Living (CIL) to teach students skills that are necessary for life outside of school.
According to their website, the CIL is an organization based in Berkeley that provides advocacy and services that increase awareness, collaboration, and opportunity among people with disabilities and the community at large.
"The district has partnered with the CIL for students ages 14 to adult to give them training and skills in all areas of their life. This resource is free to its clients so it has been a great partnership," said PUSD Program Specialist Carrie Poole.
CIL Programs Manager Jennifer Fick said that the CIL's partnership with Piedmont is through their Youth Transitions Program, which focuses on supporting students with disabilities as they transition into life after high school.
"The Youth Transitions Program consists of five pathways," Fick said. "Self-Advocacy, Youth Employment Preparation, Sports and Recreation, Independent Living Skills, and Academic Enrichment."
Special education co-department chair Nicholas Bruno said that students in his class have done a lot of work this year on Pathway One, Self-Advocacy.
"There are fifteen topics in our Self-Advocacy Pathway curriculum, and [Bruno] chose from those the most important to focus on," Fick said. "I come to Piedmont once a month to teach hour-long workshops on each of the topics, or modules, that [Bruno] has chosen."
Home Base class goes on field trips in partnership with the CIL, Bruno said. Last year his students went on a cooking field trip, and this year they are going on a STEAM field trip in Alameda to learn about careers in STEM and use 3D printers.
"[The CIL] is also going to do Travel Training with us, [which includes] lessons on how to use BART and the bus," Bruno said. "The trips we do are all focused on teaching life skills."
Poole said that the skills that Home Base students and other students who work with the CIL learn are important for all students to know in order to transition from childhood into adulthood.
"Students learn about community safety and how to ride and keep themselves safe on public transportation, for example what to do if they miss their stop on BART," Poole said. "[They also learn] how to create budgets, live within their means, and how to advocate for themselves to get their needs met," Poole said.
Fick said that to teach the other Pathways, the CIL offers free weekend workshops and classes for any students with disabilities to attend.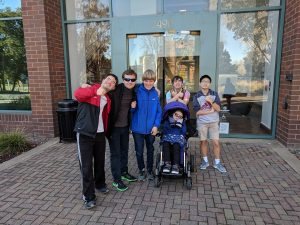 "Right now we have a media class, a social club, adaptive sports programs, and an internet safety workshop that we're going to do in January," Fick said.
Bruno said that it is important to start implementing the Youth Transitions Programs early for students, so that they can form personal connections with the CIL and get used to using it as a resource.
"Some of our students stay in a Transition program until they are 22. Transition programs work with students post high school from the ages of 18-22 if they meet the necessary requirements," Bruno said. "But more and more, people are finding that if you start transition earlier, it makes your adult life a lot easier because you learn important life skills earlier on. Then you can really practice implementing them in your [post-high school] transitions program from [ages] 18 to 22."
Poole said that the goal for special education is the same as the goal for all education: to help students become independent learners, thinkers, and functional members of society. The CIL is just one example of a resource that supports students in this way.
"All of the students on this campus are the same in many ways," Poole said. "Everyone has differences, but they're all young teenagers, young adults trying to find their way and navigate the world. Sometimes we all just need a little extra help."