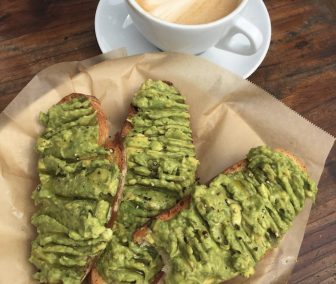 Mashed, sliced, slathered, there are many ways to assemble a delicious avocado toast. It might seem silly to have an article dedicated to something as simple as avocado toast, but there really is an art to it.
A few things need to be in perfect harmony: the bread needs to be sturdy and crunchy; there needs to be enough acid to bring out the avocado's flavor – and a good amount of seasoning to bring it all together. Yes, you could definitely make avocado toast at home, but boy – does it taste better when it's made for you.
Here are three of the best East Bay spots to enjoy a slice of avocado toast:
Firebrand Artisan Breads
2343 Broadway, Oakland, CA
First and foremost Firebrand is a bakery, so you know the bread they use for their avocado toast is going to be "next level." It's cooked in a wood-fire, brick oven and shaped by hand. This attention to detail creates delicious artisan loaves that are cut thick, and crisped to perfection as the base for the avocado toast. Piled high with mashed avocado, pickled red onion, a seed mixture, and a perfect hard boiled egg, Firebrand's avocado toast is filling enough to be a meal you want to eat every day.
Bartavelle Coffee & Wine Bar
1603 San Pablo Ave, Berkeley, CA
At the Berkeley cafe, Bartavelle, it's all about the toast, and not just of the avocado variety. You can eat toast from dawn until dusk, with different types served all day – and a whole menu section reserved just for this straightforward delight. Begin the day with the millennial favorite, avocado toast. It is served with Brokaw Ranch avocados on a thick slice of Acme pain au levain from their bakery next door, and topped with a simple yet satisfying seasoning. Complicate your sliced bread around lunch time with prosciutto or smoked salmon on top. No matter what toast you choose, it's going to be delicious.
Awaken Cafe
1429 Broadway, Oakland, CA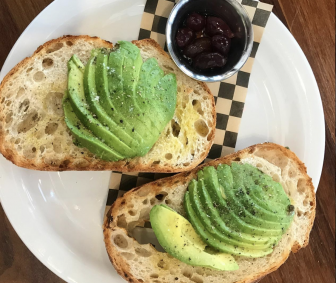 If you're looking for a complete hipster experience to accompany your overpriced (but totally delicious and definitely worthwhile) avocado toast, Awaken is the cafe for you. Artisan coffee, slam poetry, craft beer, and the absence of wifi create the ultimate atmosphere to enjoy your toast. Perfect hass avocados top two slices of Acme bread for a classically prepared avocado toast. Although one of the more simple toasts on this list, the twist comes from the small dish of kalamata olives on the side, the perfect salty accompaniment (pictured above).
---
Ollie Ramsey loves to eat. Her passion for food extends into her career as a marketing professional in the packaged food industry. For more of the best food in the East Bay follow @eastbayeats on Instagram.