"At Christmas, may you never forget what is worth remembering or remember what is best forgotten."

A Christmas toast
Oranges, pomegranates, and mint are recollections from my very young holiday years. Our Christmas stockings often had an orange buried in the toe. You see, my Mum came of age during the war years in Great Britain and married an American GI during WWII, coming to the American suburbs to have a family. She was like Mary Poppins, loved children, baking, English gardens and afternoon tea with maybe a Gin Tonic or a glass of sherry. Her family was from the north country near Preston. Mum went away to boarding school between the wars when she eight years old, and when WWII developed, the U-boat blockade cut off almost all fresh produce from coming into port. Oranges were particularly coveted and a desperately missed treat. The courts of Europe had even built elaborate orangeries to grow the coveted fruit. One of the prized rare treats during these hard blockade years was a juicy ripe orange stuffed into their stocking. When we were kids we thought it was just mean, may have well been a piece of coal. As for pomegranates; growing up in SoCal we had 4 pomegranate trees in our yard. I would sell them out of my Radio Flyer Wagon up and down the block. My Mum would always be rolling her eyes at the mess we kids made, breaking open the fruit and sucking the seeds, staining our clothes and our hands.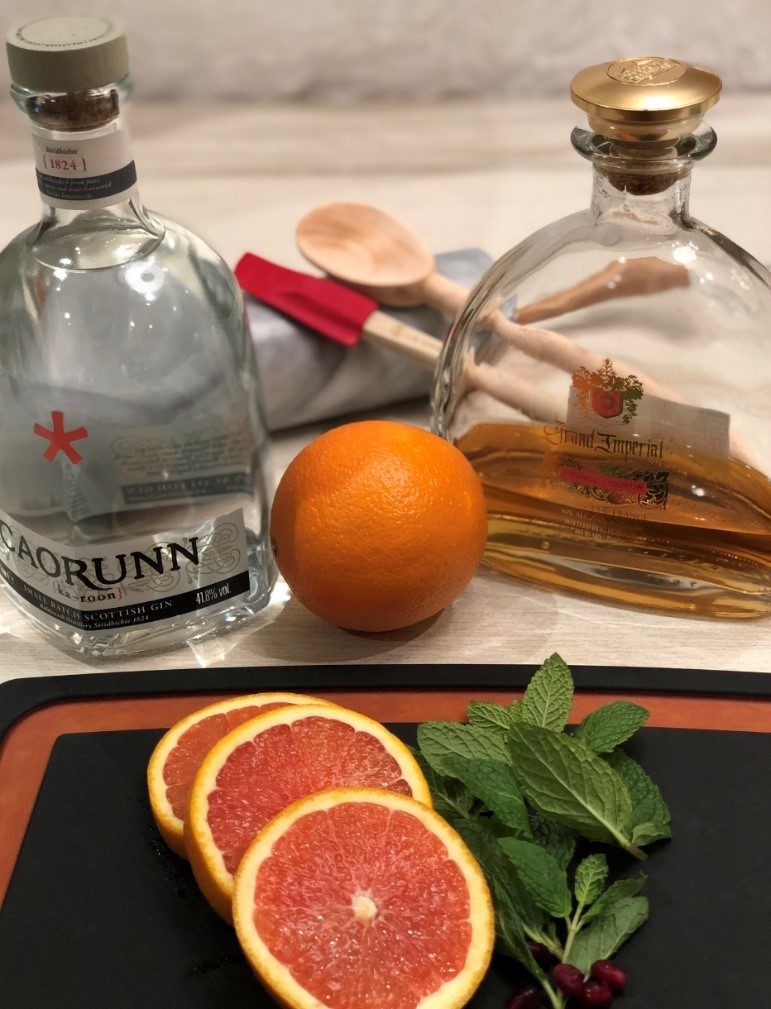 So, at Christmas I created a little homage to Mum, figured I would start with oranges, pomegranates, mint and gin. A lot of family in the north border country was Scottish, hence I selected a Scottish gin. Holiday colors and visual interest are big for me, so Christmas red and green needed to be part of the result. I decided to freeze mint leaves and pomegranate seeds into the ice cubes to create a colorful addition to the Blitz. Oh yeah, why "Blitz"? During the war, the Blitz terrorized the cities of England, my Mum never quite got over the Blitz. So, several English decided they would simply get "blitzed". Not recommended but understandable.
Ok and now for the Blitz:
Muddle a couple of mint leaves, not too much, not a mojito just a touch of mint, quarter or slice an orange, squeeze into a shaker with the muddled mint leaves, should have about a 1/3 of cup of juice from the orange.
Now use some (again not too much) of the orange rind to muddle with the mint leaves. Use 1/3 to 1/2 cup of Pom juice, 1/4 cup of orange liquor (I like the Grand Imperial that I get from Wines and More) then 1/2 cup of gin.
Now shake vigorously with ice until you have a very cold concoction and pour over your special pomegranate and mint cubes. Adjust ingredients to your taste. Garnish with mint sprig. I like a lot of gin, but Barbara, not so much, so I start with a little lighter pour and then add some octane after pouring hers. If you really want to experiment, try just a dash of Chambord but be light, Chambord can over power. You can play around with holiday garnish, but for me the ice cubes are really a fun way to jazz it up.