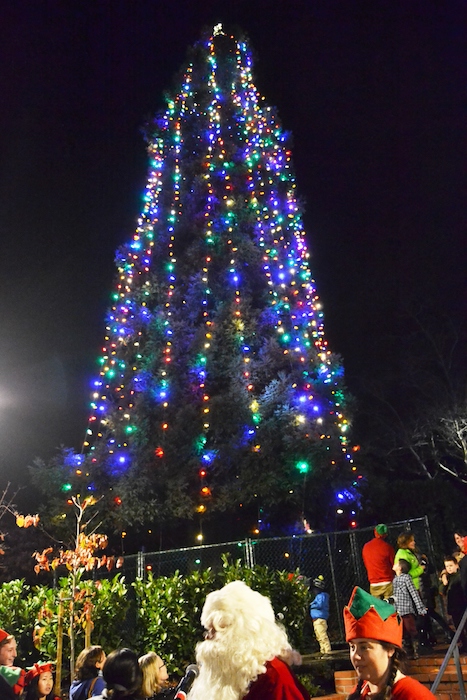 The annual Holiday Tree Lighting ceremony at Piedmont Community Hall was the place to be on Wednesday night. The event, hosted by the Piedmont Beautification Foundation (PBF), is a city tradition dating back to 1921.
Undeterred by a chilly wind, neighbors and community members enjoyed cookies, apple cider donated by Piedmont Grocery, and candy canes distributed by Boy Scouts from Troop 1 while listening to music from the PHS Troubadours. After remarks by Mayor Bob McBain and PBF president Patty Siskind, Santa Claus arrived just after 7 p.m. to herald in the lighting of the 80-foot redwood, to the delight of all in attendance.
This year, the city also hosted a table for "Dear Santa" letter-writing, part of Macy's "December Believe Campaign" in which Macy's donates $1 to the Make-a-Wish Foundation for every letter it receives.
After the tree was lit, revelers headed over to Piedmont Community Church for Christmas caroling with the PCC Choir members. Music director Steve Main led the singing on piano. "I don't have a very good voice, but with the choir dispersed among the crowd, it was easy to enjoy belting out the carols," said Claudia Harrison. "Singing Christmas Carols with our community really jumpstarts the holidays," added Lisa Settlemier.
Supporters of Piedmont Exedra celebrated its launch across the street from the festivities at the home of Jim Gustke and Barbara Love. More than 100 people stopped by for holiday cheer and to say hello.
Community members are invited to donate to PBF's Holiday Tree Lighting Fund. In addition to hosting the annual event, PBF maintains, installs, and removes the colorful LED lights that decorate the tree each year.
Thanks to the generosity of Piedmont citizens, Piedmont Beautification Foundation (501c3) is able to partner with the City of Piedmont to beautify, maintain and renovate the greenscape and public buildings. Donations to the seasonal "Holiday Tree Lighting Fund" give donors an opportunity to send Holiday Greetings through PBF to friends and family.
---
Photos by Sharon Hom